Review: Racing Gaming Chair from EarthCroc
When I came across the Gaming Chairs offered by EarthCroc, I was pleasantly surprised by the great choice of colours, which were absolutely necessary for picking a gaming chair. Although they may not offer a huge variety of chairs, I found this company is all about quality over quantity. Much to my astonishment, the gaming chair from EarthCroc was nothing short of outstanding in terms of comfort. I found it to be the perfect seating device an avid gamer!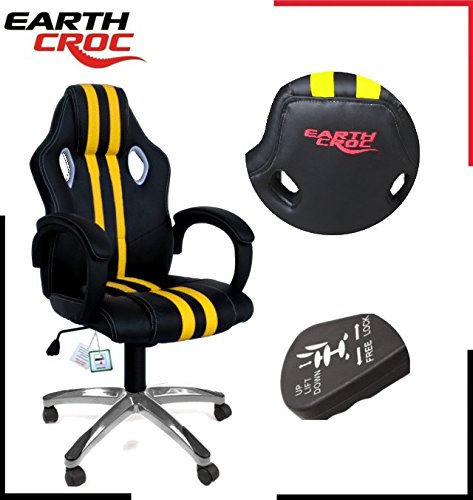 Features & Specifications
Mesh
PP padded armrest
Locking-tilt mechanism
80mm class 2 gas lift
Steel base
Nylon castor
Earthcroc Logo on back
Product size: 65*65*115-123cm
Packing size: 78*33*64cm
Package:1pc/carton
Package weight: 17.5KG
Noteworthy points of this gaming chair is the great combination of colours, I love the bright yellow contrasting with the black and think it looks really good. Even as a replacement for an office chair, this adds a kick of colour and is tons better than a bland black office chair.
The EarthCroc Gaming Chair stands out due to its modern design, which, after sitting on it, has been clearly implemented for comfort. The chair has an almost ergonomic feel to it, making it very comfy for my lower back. This meant I could lay back and play on the PS4, or sit forward and do some PC gaming.
I'm quite big, so I was happy to see some adjusting options, allowing me to sit in the chair comfortably. When sitting at a desk, my elbow rests on the arm rest when using the mouse, allowing for a much more snug seating arrangement.
But what I think really puts this particular gaming chair ahead of standard office chairs is the high quality of materials used. The middle of the seat is fabric covered with mesh, this is great as it provides ventilation to my back during the entire time I am sat on the chair. This is a huge plus for me, as in the summer months, sitting on a non-breathable chair can get quite uncomfortable.
As mentioned the height of the chair is adjustable, so whether you're short or tall, you should be able to sit comfortably either way. The seat though spacious, may not be able to accommodate individuals with slight weight issues, so to speak.
For me the only drawback is that its a little small for my size. That's no blame on EarthCroc, my thinner colleagues all sat in it perfectly. It just would of been better for me, if it was a little bit taller in the back, and bit wider in the seat.
I consider the EarthCroc Gaming Chair one of the better gaming chairs for around £80. The chair will keep you comfortable all day long, and the padding won't become flat, as seen in cheaper products. They offer a number of different colours and styles, and the shipping was next day, so thats a massive bonus. Currently I am the envy of the office, while everyone has their black dull chairs, I'm racing around in my yellow and black gaming chair from EarthCroc.