Glasgow based RHA have been consistently impressing the world's most discerning audiophiles with the outstanding sound quality delivered by their headphones. Their wired T20 in-ear earphones would have to be one of the most popular, so we were excited to be able to check out T20 Wireless – a new version that adds the convenience of Bluetooth.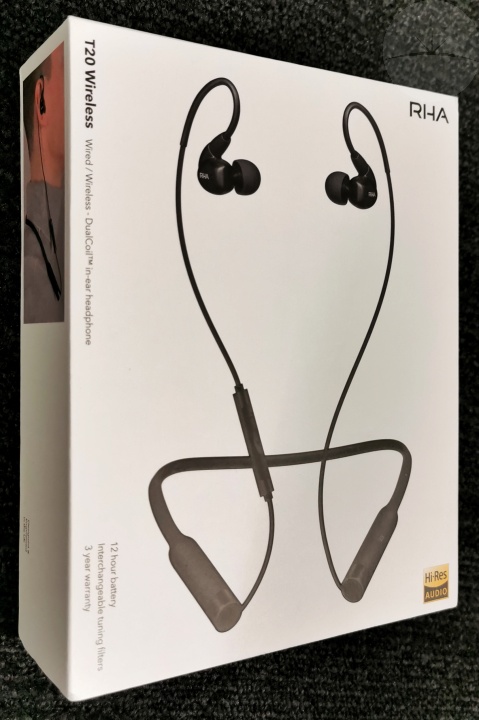 When you open the box, the packaging has the detached earpieces and Bluetooth neckband on show with the rest of the accessories hidden underneath. Along with the wireless neckband, you have the option of fitting the earpieces to an oxygen-free copper cable with 3.5mm jack. You also get a zipped neoprene carry pouch, USB-C charging cable, tuning filters, clothing clips and no less than 10 pairs of ear tips in total – including various sizes of single and double flange silicone tips plus a couple of pairs of medium sized Comply memory foam tips.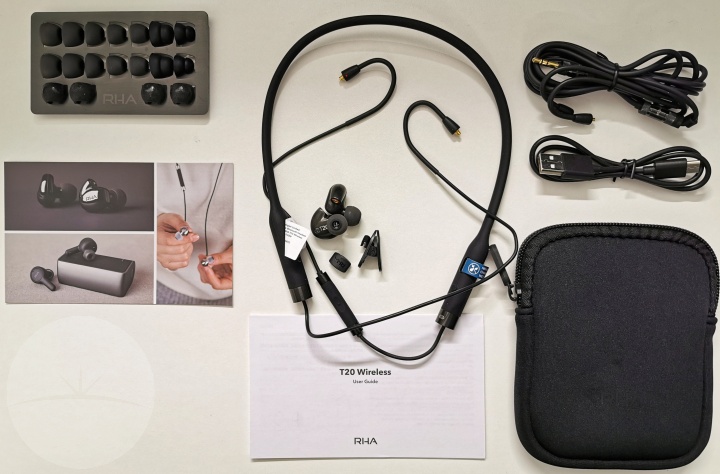 The flexible, cylindrical neckband is coated with a rubberised material and is worn around the back of the neck. A generous length of earpiece wire comes out of each end and loops over the back of the ears. The right side of the band has the indicator light, power button and USB-C charging port while the left side can be used for easy pairing via NFC. Unlike the plain wired cable, the right earpiece wire also has a 3 button in-line remote.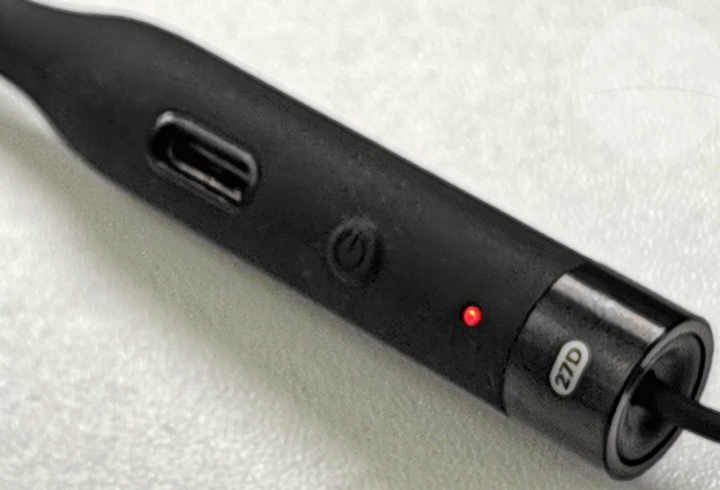 With it's IPx4 water-resistance, we'd expect this headset to be durable. Overall build quality seems excellent – everything seems well made from top quality materials. The injection-moulded stainless steel earpieces have a matte black coating and use standard MMCX connectors (allowing you to use them with a wide variety of cables). They also stick together magnetically for those times when you just want to wear them hanging around your neck.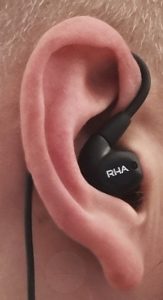 The neckband stays in place very nicely, with the earpiece wires molding around your ear for a great no-snag, no-tangle fit. The wide selection of ear tips also ensure you should have no trouble getting a comfortable seal. It can take a few seconds to locate the in-line controls with your hand, but apart from that we had no complaints and were able to happily wear T20 Wireless for extended periods throughout the day.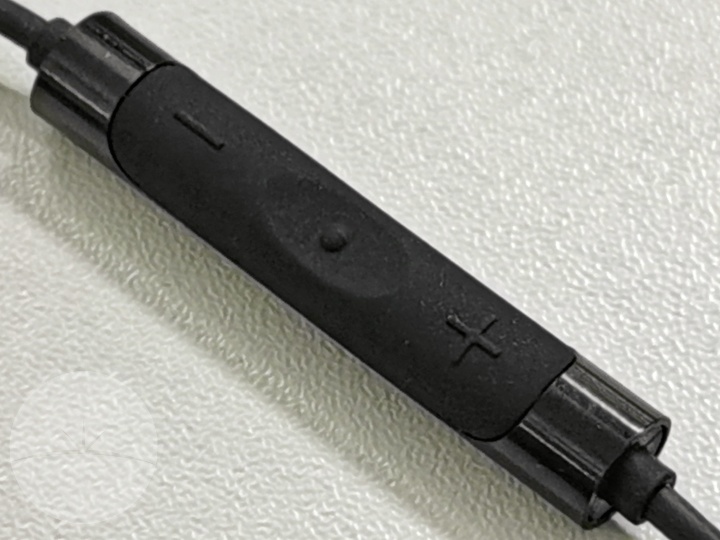 When it comes to storage, the width of the neckband prevents it from getting tangled but does make these a little bulky compared to many Bluetooth earphones on the market. We found the included zipped case worked well for keeping them stashed in a jacket, but they don't fit in a trouser pocket very well.
Bluetooth reception was strong within the 10M range and we didn't encounter any drop-outs. However RHA have stuck with the older Bluetooth 4.1 standard, which doesn't give the same Bluetooth 5.0 range we've enjoyed on some recent headsets.
A full charge via USB Type C cable takes up to 1.5 hours, and we found this gave us around 10 hours of battery life – good for a decent day's listening but not quite the 12 hours advertised.
Moving on to the all important audio performance, and it's this that really elevates T20 Wireless above the competition. We weren't able to check out the wired T20's when they came out back in 2015, but we can certainly understand why they received so much praise.
Sound quality is fantastic, from deep, rich, distortion-free bass to crisp, crystal-clear highs. The earpieces give a very natural response with distinct sound separation and a broad sound-stage (almost as if we were in the same room as the performer). We'd expect to notice a little frequency clipping when listening over Bluetooth, but to be honest we detected very little shift in audio performance between using wired or wireless configurations.
T20 Wireless also have stainless steel tuning filters that you can unscrew from each earpiece and swap out. Along with the fitted reference filters, you get a couple of treble and bass filters. These allow you to tweak the sound profile slightly to match your taste, but this may not be enough to satisfy those who really like to apply a lot of customisation to their EQ settings.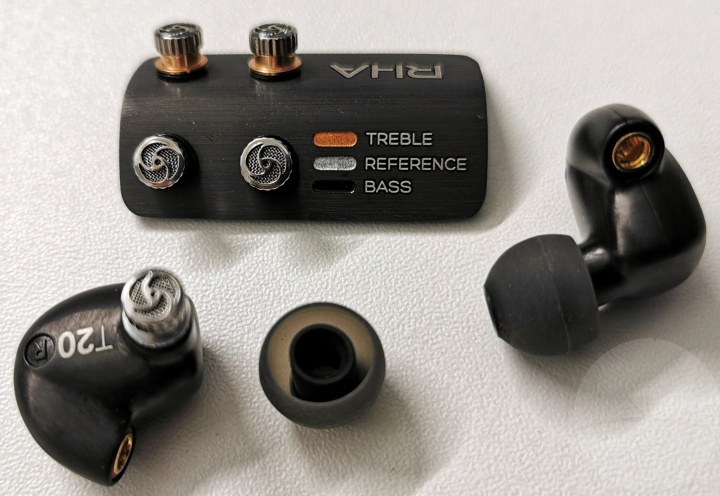 RHA T20 Wireless are currently selling for $235 / £199 which could be considered fairly expensive compared to many pairs of Bluetooth earphones on the market – especially considering the lack of Bluetooth 5.0 and ANC.  However many will find the terrific audio performance easily justifies this price – not to mention the great comfort, battery life and convenience of being able to use these wired or wirelessly out of the box. If you're looking for top audio performance from a Bluetooth headset then these come highly recommended. Follow the links below for more details…