Review: Ring Video Doorbell from ring.com
The doorbell goes, you're eating a chinese and Doctor Who is on, what are you going to do? Well now I can check my phone and see exactly who it is and even talk to them. All thanks to the Video Doorbell from ring.com. This nifty piece of kit was an absolute breeze to setup, and now I can see who is at the door, and even people who have been near my door when I'm away.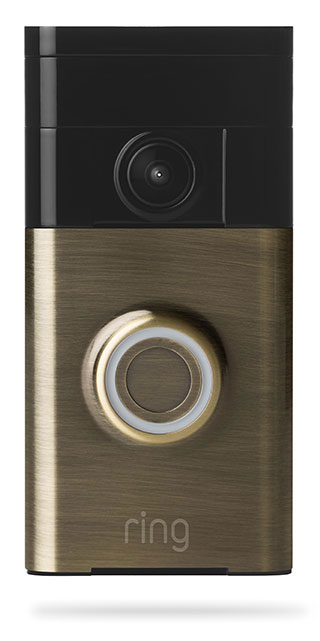 The Ring comes in a variety of colours to pick from to match your door, I ended up going for brass. Unlike other solutions which go for a more futuristic look, the Ring doorbell has a more classic doorbell look, and won't look out of place on a variety of different doors and walls.
The Ring has two main parts to the front component, the camera along the top which streams 720p video directly to the app on your phone via wifi and not bluetooth. The second is the doorbell button, which is big and obvious. Once pressed the Ring makes a doorbell noise, and a fantastic blue led swings around the perimeter of the button.
The Ring comes in two parts, one which attaches to the wall using included tools, and the other is the Ring itself. As it has to be charged via micro-usb, it needs to be easily removed to charge when needed, which is actually once a year as the battery is meant to last a year with regular use. This does worry me a tad, as anyone could Google the Ring Doorbell see it can just be slid out, and take it. Though with the camera lense looming over them, I think people may think twice about it. Though my mind was put to rest instantly as Ring had thought of everything, they include a "security plate" which uses proprietary screws so people can't just walk over and slide it off as I thought.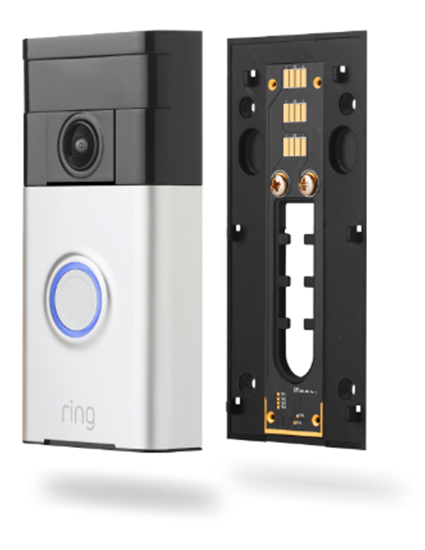 Installation of the Ring was a two step process. The first was to fully charge the Ring, download the app, and follow the setup instructions. Charge took a couple of hours, and the setup via the app was a breeze and was done in a matter of minutes. I was able to press the button, accept the "call" and see what the camera saw and speak to whoever was around to listen.
The second part was the more DIY dependant process, and that involved attaching the backplate to the outer door frame of my flat. The Ring came with all the door needed (expect the pencil) to attach the backplate easily. It comes with a level, which goes onto the backplate, so when lining up you can see when it's flat. You can then screw in the back plate, with the screws and screwdriver supplied with the Ring.
Lastly you slide in the Ring, and then attach the previously mentioned security plate on the bottom with those proprietary screws. As it only needs charging around once a year, I don't really mind having to unscrew it.
The Ring offers a couple of nifty features, two way communication, one way video without the door ringer knowing. The voice calling feature worked fantastically with the Royal mail delivery man, whilst getting changed to answer the door. The wide angle of the lense also means that I can see around the person ringing the bell.
The feature I was most interested in was the motion detection, combined with the cloud recording service offered. This means that when I'm at work, I can see if anyone goes near my door, and can get a recording sent to the cloud whenever that happens. So I can see from any computer what time they were near my door and have a look at who it was. This is the cure all those "We did come to your door, but you weren't there", so you can see when anyone came to your front door. I would also think this has some great security features for breakins etc.
Stats for nerds:
Dimensions: 4.98 in. x 2.43 in. x 0.87 in.
Weight: 9.1 oz
Battery: 5,200 mAh
Power Input: 8-24 VAC or 5 VDC @ 1 A
Camera: 1280 x 720 CMOS
Field of View: 180 degrees
Video: HD (720p) 30FPS
Encryption: Bank-grade
Audio: Two-way talk with active noise cancellation
Night Vision: infrared LEDs
Warranty: 1 year on parts, lifetime purchase protection
Operating Temperature: -5°F – 120°F
Certified for outdoor use
I am in love with the Ring doorbell and will be bringing it with me to every house I get. I can see this being a huge advantage to big houses, or big gardens where you have to normally run for the door. The motion detection is great too, as it allows for a huge upgrade to security and works really well. This is going for £199, this is a big spend, but this does include a lifetime purchase protection which will replace any broken or stolen Ring doorbells.