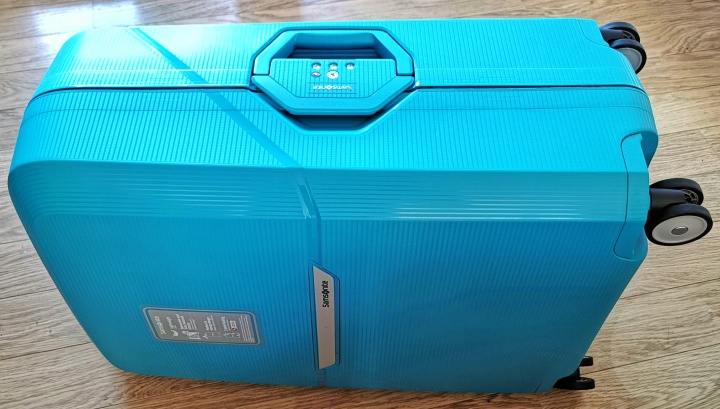 The name Samsonite needs no introduction as they've been a top name in high quality luggage for many years now. Today we take a look at their Magnum Spinner zip-less suitcase which has a tough polypropylene shell and 4 spinning wheels.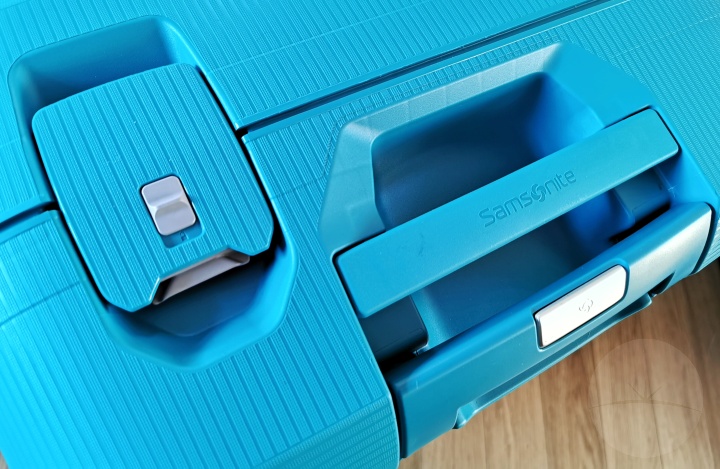 Available in the choice of 3 sizes including 38L and 104L versions, we evaluated the medium-sized 80 litre capacity. The first thing that stood out to us was the weight of the Magnum Spinner (or lack of). Despite the 4 wheels and extending aluminium handle, it feels incredibly lightweight at just 3.8 kg (just over 8 lbs). This is due to the use of a special lightweight polypropylene material that's shock resistant and extremely durable while remaining easy to clean.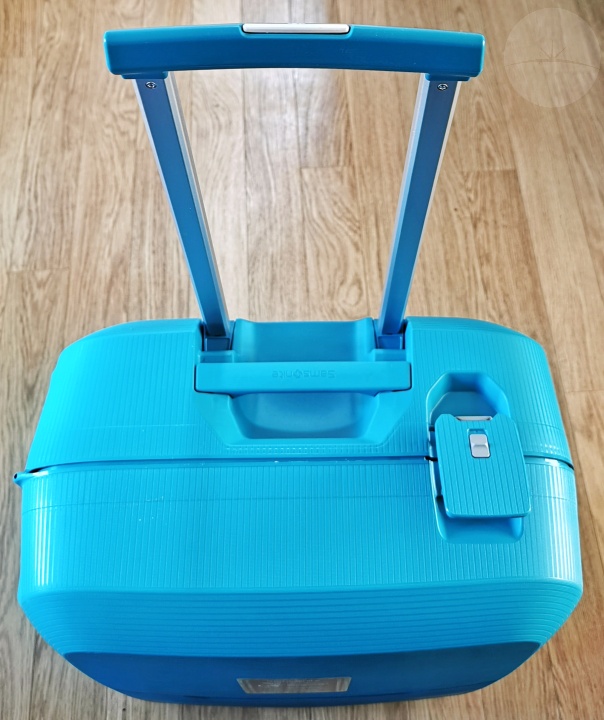 Our only criticism would be the look and feel this material gives this suitcase as it can seem a little plasticy. However we'd say this a small sacrifice considering the weight, protection and durability benefits. You get 6 colours to choose from and apart from the Samsonite logo at the front, this is a fairly plain looking case that shouldn't stand out to potential thieves. The tubes that house the extending aluminium handle sit flush to the back, while between them there's a small window with an insert for your contact details.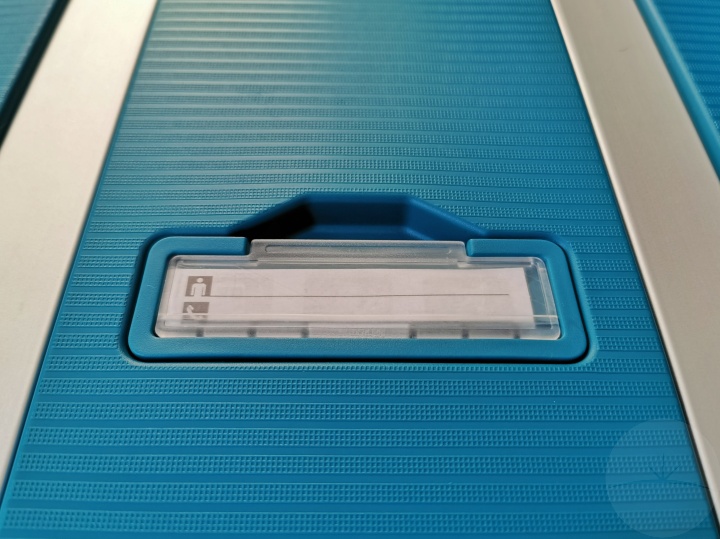 If you've ever struggled with a suitcase zipper (and who hasn't) then you'll definitely appreciate the clever design of the Magnum Spinner. Instead of closing with a zip, the top and bottom halves clip securely together with a TSA approved 3-point combination locking system. The main clip is located down one side, with a smaller clip at both the top and bottom of the case. Not only are these clips a lot more secure – they also make it quick and easy to get the suitcase open and shut.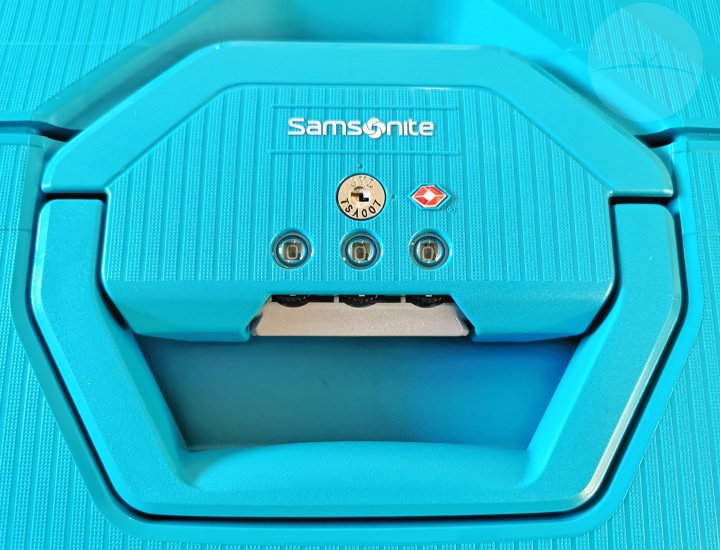 The combination lock consists of 3 dials that need to be set correctly before any of the clips will open (although TSA staff will be able to bypass this with a special key). Once the case is open, you simply lift a red lever inside the main clip in order to set a new combination. It's great having this handy lock integrated into the Magnum Spinner as it means you'll have no padlocks or keys to worry about on your travels.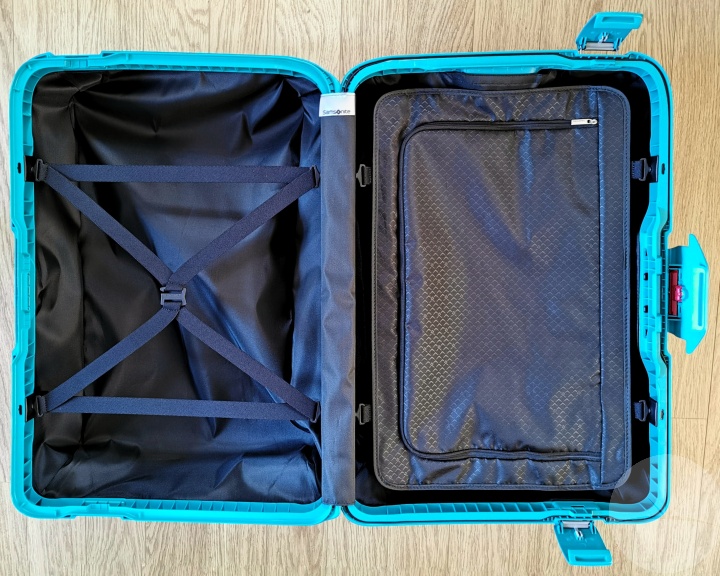 There's a removable black fabric lining inside the case, and the contents of the lower section are held in place with elasticated straps. The top section has a fabric divider that can be removed and reattached at different heights to hold the contents more tightly. There's also a zipped pocket on this divider which could be handy for flat items like papers. We found the suitcase's straps and divider do a good job of holding the contents in place and you can open the case without any worries about the contents falling everywhere.
We had no problems getting around with this medium-sized case and found it had plenty of space to hold a good week's worth of gear. While carrying the suitcase, the retractable handles give a secure grip at the top and side. Extend the top handle and you'll barely notice you're wheeling the Magnum Spinner around thanks to the 4 relatively large wheels that turn smoothly in any direction to give maximum maneuverability.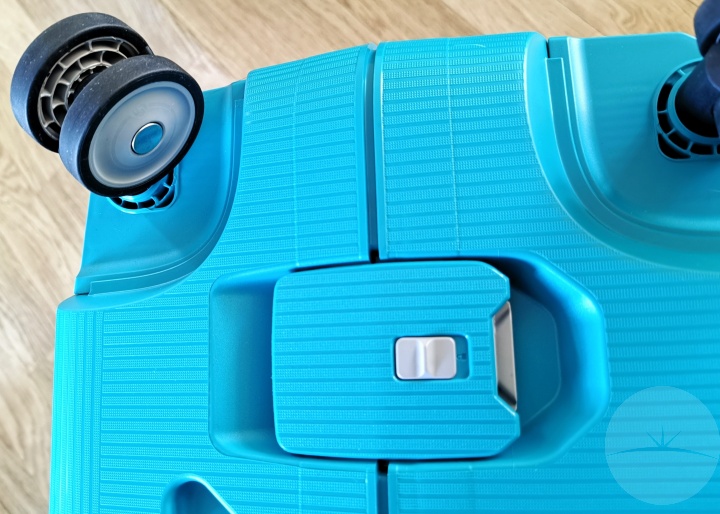 Overall we'd say Samsonite certainly know how to produce a great suitcase. However they also know how to charge for it with this medium-sized version retailing at £195. While this is more costly than many suitcases on the market, we have no problem recommending the Magnum Spinner to frequent travellers. The strong build materials backed up with a 5 year warranty mean they'll see a good return on their investment over the long-term – not to mention the clever design that makes transportation and access convenient without compromising security. For more details follow the Samsonite website link below…