April 11th I was one of the first people in line to pick up the Galaxy S5 from one of my local T-Mobile shops here in Columbia, SC. I actually used the T-Mobile JUMP Program and traded in my LG G2 which I was very fond of. My wife and I had an appointment to get to and I had to wait an agonizing 3 hours to unbox it and begin the process of having fun with it! Just to be clear I paid for this device myself and I used it as my personal device for about 70 days straight. I made a trip to Orlando, FL for a friends wedding and it was my only device aside from my desktop during that time. Having spent that much time with the phone I wanted to capture everything about the phone from my experience with it and I wanted to do more than just a video for my YouTube Channel.
I've broken my review into four parts to try and make it easier to follow; Hardware, Software, Gimmicks, and finally whether I would recommend the device or not. These are my thoughts for what I believe to be my unique usage pattern. I've tried to explain what will and won't work for others as well as sharing my personal experience. Let me know what your experiences were.
Hardware
Specifications – On paper the Galaxy S5 is a monster of a smartphone. With it's top of the line 2.5GHz quad core processors and 2GB of RAM along with Android 4.4 you would not think you would have a problem with speed or lag. Your thinking would be flawed but we'll cover that in the software portion of this review. Other specs include a 16MP rear shooter as well as a 2MP front facing selfie sensor, LTE, and a microSD card slot with support for up to 128GB cards when you just need to bring entire TV Series with you when you go somewhere. The IP67 certification makes the phone dust and water resistant which is always a positive thing.  Looking up any additional specs is so easy I've included a link to the T-Mobile website here as this is the device that I have and the Samsung S5 website here.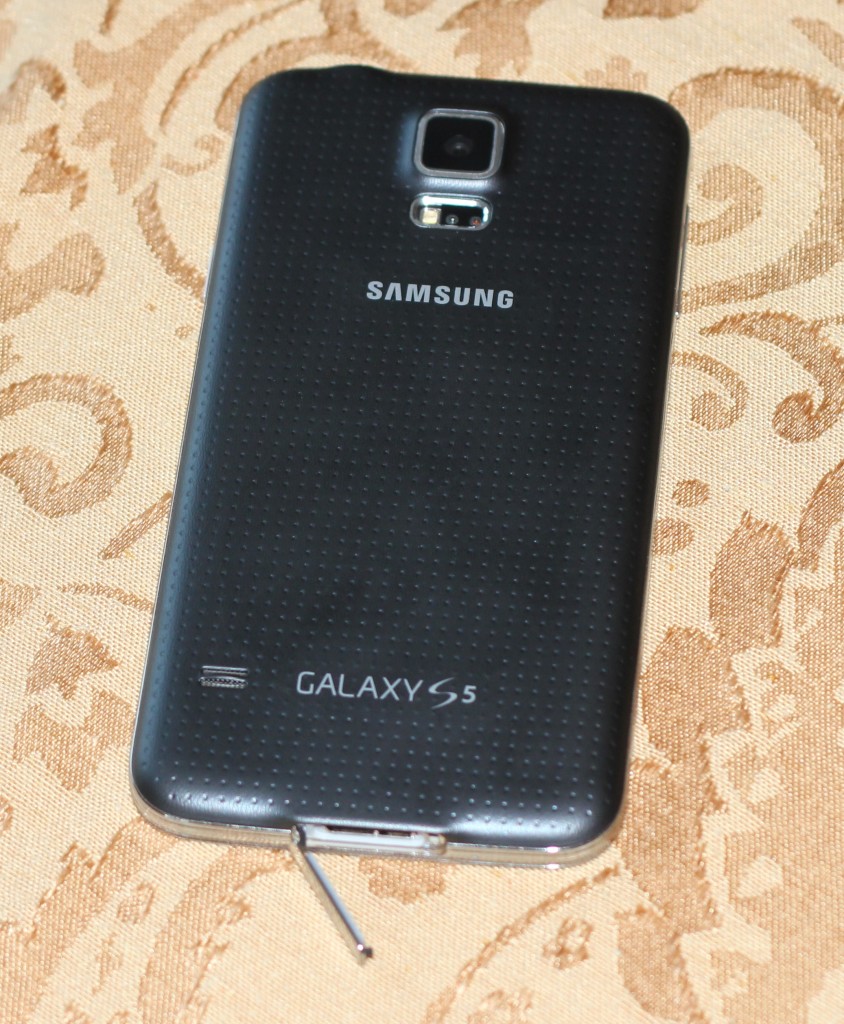 The charging port cover at the bottom of the phone.
Design/Feel – For me I truly enjoyed the design and feel of this phone. The dimpled back gave plenty of texture to the device so it was not slippery and it was actually a pleasure to hold. When you purchase a Samsung device you have a general idea of what you're getting. Power button on the right, volume on the left, removable battery, SD Card slot, and a single physical home button flanked by two capacitive buttons on either side. New to the Galaxy S5 is the recents key to the left of the physical home button as it has replaced the legacy menu button. We can go into discussion all day about whether physical or on screen navigation buttons are better but what I will point out is I have always preferred the Samsung button layout to that of stock Android since ICS. I actually prefer the back button to be to the right because as somebody who is right handed it is a shorter movement for my thumb. Since we generally use the back button more than recents or the old menu I preferred Samsung's choice. Even when I had the G2 I loved the option to invert the navigation buttons so the back button was on the right. The speaker on the back is solid but like most cell phones it is underwhelming. With the IP67 certification there is one feature that was sadly left off and has not been corrected yet. That feature is the obvious lack of wireless charging! The piece that covers the bottom charging port on the Galaxy S5 is an aggravation in every since of the word. Having to open and close it in order to charge it isn't overly difficult but could have been easily avoided by adding wireless charging. The fingerprint scanner works but it is not overly convenient. What I mean by that is having to slide your thumb (or finger) over the home button often leads to an awkward moment of balancing the phone in your hand while trying to complete the task at the same time. After about three days I turned it off and went back to the standard pin code unlock feature.
Call Quality – Since it is a phone I guess it is important to have a section dedicated to the actually quality of the phone call. I didn't have any issues on T-Mobile's network in Columbia, SC or Orlando, FL which is where I was while I was using the S5. Any issue I ever had was a T-Mobile network issue and not a Galaxy S5 issue as the call quality was great whenever there was coverage which was almost all the time.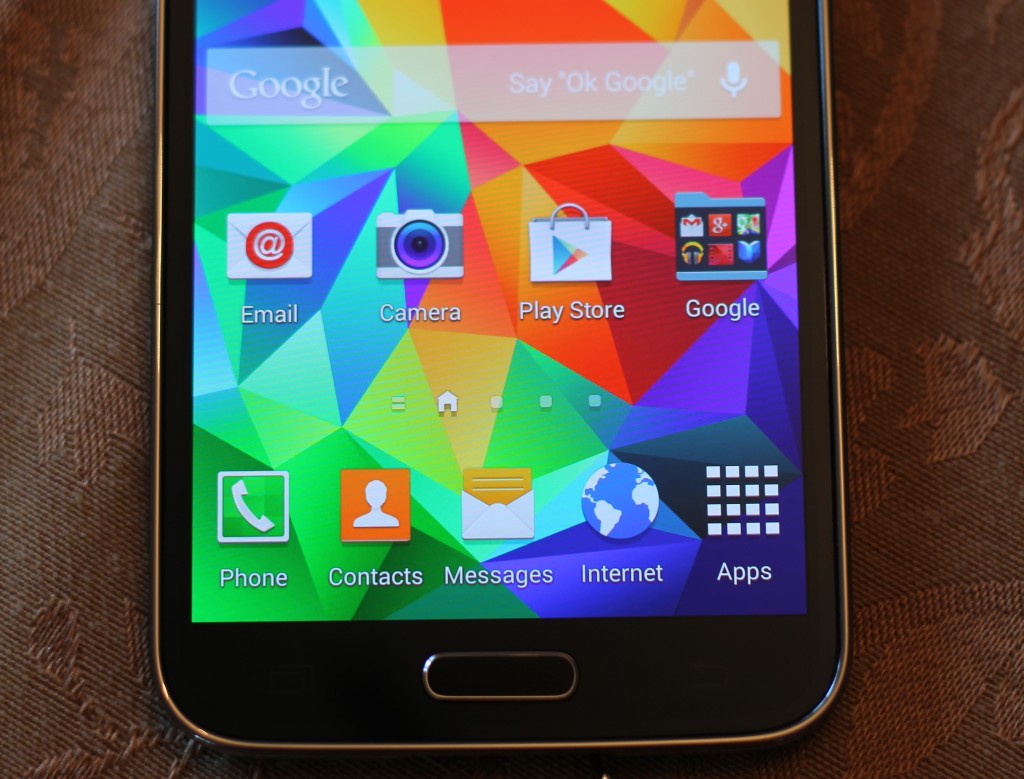 The screen beams clarity! My camera does not do it justice.
Screen – The screen is a 5.1′ 1080p SuperAMOLED piece of greatness. The screen on this device is simply incredible! Very clear and vivid colors and very bright whites. With the 432ppi your ability to zoom without losing any detail is great! This is, by far, my favorite screen on a smartphone that I've ever used. This is easily one of the two best features of the phone.
Camera – The single feature about the Galaxy S5 that continues to amaze me to this day is the camera. I am truly in love with the 16MP rear shooter. I take a lot of photos and the Galaxy S5 hasn't disappointed me yet. When it comes to taking picture of my children or even my dog the Galaxy S5 truly shines. Even in most low light situations I did not have a serious drop off. The clarity of these photos, even after zooming in or cropping, is noticeably better than the Galaxy S4, Note 3, and any other phone that I have used. The front facing camera is as solid as any other 2MP camera out there. It struggles a little in low light but without a flash that is to be expected. The photos are generally clear and in the right light look very good in their own right.
Battery – This was an area that makes me a little different with my experiences than most other reviews you'll read. I had a very interesting relationship with the battery of my Galaxy S5. Overall I didn't have any consistency with it. Just to make sure I'm clear about how I use my phone I sync one Gmail account completely and I have five other Gmail accounts that I only sync Gmail itself. I have one Facebook account, one twitter, one Outlook, two Yahoo, a Dropbox, Expedia, GroupMe, OneDrive, and a pretty cool myCarFax app account. There is a lot syncing to my phone. The battery was just not enough. It was above average but it was not very impressive. At 2800mAh it seems if it it's size is not the problem but the optimization, or lack there of, that is. On the software side I'm going to truly explain, in the best words I can, why I believe the battery has so much more potential than what I ever got out of it.
Software
Remember above where I mentioned how you shouldn't have a problem with speed or lag in a smartphone with such amazing specs on paper? The flawed thinking was because we focused on the specs and not the software optimization, well the noticeable absence of software optimization system wide. For the record I am not literate in ANY coding languages and I am far from an optimization specialist what I am is a consumer who has used literally every flagship Android phone that wasn't made by Sony in the last two years! The lag that is associated with TouchWiz is so infuriating. It is something that has been present since I can remember. Opening the great camera or the gallery app takes much longer than it should. It takes a full two seconds in order to open the gallery when it is ONLY retrieving the photos from you device. This isn't including if you have Picasa albums or FB albums that are syncing to your phone, just the local images. If you just made the "Pffffttt….This guy is complaining about two seconds" face than let me explain it to you. I open my gallery app at a minimum 10 times in a day, like I said I take a lot of pictures. That's 20 seconds a day or a minute every three days. Which if you extend that over the term of a standard two year agreement you waste 10 minutes a month, two hours a year, and four hours during those two years. We waste enough time in our lives on meaningless tasks, I don't want to add "waiting for the gallery to open" to that list. The Settings Menu is simply ridiculous. There are lists upon lists for every conceivable option. It is very Tizen looking. When I say there are a bunch of menus here is the list of menus. Not the complete list of choices but just the list of menus! The menus include Quick Settings, Network Connections, Connect and Share, Sound and Display, Personalization, Motion, User and Backup, System, Applications, Underwater basketweaving, California Roll, Shrimp and Grits, and finally a high divorce rate. Ok, so that's a slight exaggeration but only the final four aren't true. While you can change the view from icon to list and you can minimize the particular list that you don't use all the time but overall it's very poorly done. That's just the settings menu. Since this is a review of the Galaxy S5 and not TouchWiz specifically I'll leave it at that. The overall effort to make the experience better for the user is there but the optimization doesn't hit the mark. Most functions work as they should but forcing so many apps and features that the user cannot disable is a disgusting practice that truly needs to stop. If your products are so good give us the option to download them AFTER purchase.
Camera – It does take a couple seconds (I know, again with this complaint) to get into the camera app but overall the experience is smooth and very useful. We've already discussed the quality of the images the camera creates and if you choose the correct shooting mode based on your conditions you will get great images almost every time. The HDR mode is particularly impressive as it shows you a real time version of what the photo will look like on the screen whereas older models you had to take the picture then review the photo after the processing. The mode selections are easy to understand and the settings menu is comprehensive. There are a lot of choices and in the camera app they are mostly useful, again I take a lot of pictures.
Battery – I've had the battery last almost six hours strait while watching two movies back to back but with normal use my battery life varied horribly. Some days I could get 4+ hours of screen on time over 14 hours while others I'd be under 50% after an hour of screen on time and only a couple hours off of the charger. I actually replaced the phone once because I thought it was a bug in that phone, it wasn't. The Android OS and Android System, in TouchWiz, take up too much of the battery. Both were almost always combined for over 26% while on a Nexus, the G2, and even the Moto X combined they are almost always less than 15% combined. The software on the GS5 does not allow the device to stay in deep sleep very long and if you observe the battery stats you can clearly see where the device wakes excessively. While I have high hopes that if the Google Play Edition S5 is ever released the battery life will be terrific. Anything where the software is better optimized for the hardware would be great. I also want to point out that the Galaxy S5 shows it's battery percentage differently than how the G2 showed it. What I mean by that is the G2 would stay at 100% longer giving the impression that the phone wasn't being used drained very quickly at the beginning at all while the Galaxy S5 drains quickly through the first 10%. I believe this is designed by each manufacturer as to how it displays information regarding the battery life. It took some getting used to but it never truly became a consistent drain even in nearly identical situations on back to back days.
The two battery saver modes are terrific! Allowing the phone to go into greyscale is something that can almost be an enjoyable change of pace if you anticipate a long day away from a charger. The Power Saving Mode more than doubles battery life and the Ultra Power Saving mode brings back better than Nokia 5120 battery life. The Ultra Power Saving mode does limit the apps you can use but the functionality is truly useful. This is a solid feature and a useful addition to the already bloated Samsung device.
ROM Support – While this isn't something that is a concern to most consumers I believe it's fair to assume that if you are reading this on our wonderful site than it may be a concern to you. There are several de-bloated ROMs with some cool tweaks but overall you're going to maintain the TouchWiz version of Android that may not be your favorite. Some of the ROMs have even managed to remove Samsung Knox which makes the battery life a little more predictable but not nearly as impressive as it should be. There aren't any fully functional AOSP based ROMs available even now almost three months from release. Any of the ROMs that are partially functional do not have camera support yet or haptic feedback. This is the other reason I hope a GPE S5 appears soon.
Gimmicks
Gimmicks are plentiful on the device but the two I want to point out are the finger print scanner and the heart rate monitor. I already mentioned the poor implementation of the scanner and how it is used but I'm sure that has more to do with avoiding more litigation than anything else. It's one of those things that Apple does really well and Samsung wanted to find a way to implement it without appearing to copy….. Again. The Heart Rate scanner is actually accurate. I was able to test it a couple times at routine doctors appointment of mine and my children. It was within 2-3 BPM that the professional equipment produced and very simple to use. The reason I pushed it to the "gimmicks" section is because while this feature is actually useful and implemented in a smart way it is not something that adds anything to a phone that adds value to the purchase. The very select number of people who do truly monitor their pulse for health reasons can find it useful but the general public doesn't know what their heart rate should be let alone how to identify any issue with it. Clearly a gimmick describes both the finger print scanner and heart rate monitor.
Would I recommend the device?
The short answer is yes. I would recommend this device wholeheartedly. Samsung has done exactly what I believe they set out to do. They created a phone that is overwhelmingly positive and useful for a large majority of smart phone users. Those drawbacks are drawbacks for somebody like me. The drawbacks are mostly software related. Those drawbacks are glaring for a user like me. Aside from the absence of wireless charging and the repetitive nature opening and closing the charging port cover the hardware is very impressive. Clearly they have sold millions of the device for good reason. For most consumers this device will be all they've ever wanted in a flagship! Depending on your usage your experience may vary. I am picky, I am particular, but overall I had a very positive experience with the Samsung Galaxy S5!