Picking a headset can be a complicated task these days, wired or wireless, buds or cans, clip over or push in, there are a ton of choices beyond sound quality and price. the Savfy neckband sports headset is a bluetooth unit marketed towards the active user. That being the case comfort and durability will be high up the agenda for their target audience.
DESIGN
The main body of the Savfy is made up of three parts, two legs and a back strip connecting them. They  sit around your neck like a thin open neckbrace with wired buds that go in your ears. I have been using them as my only earphones since they arrived and they really are comfortable.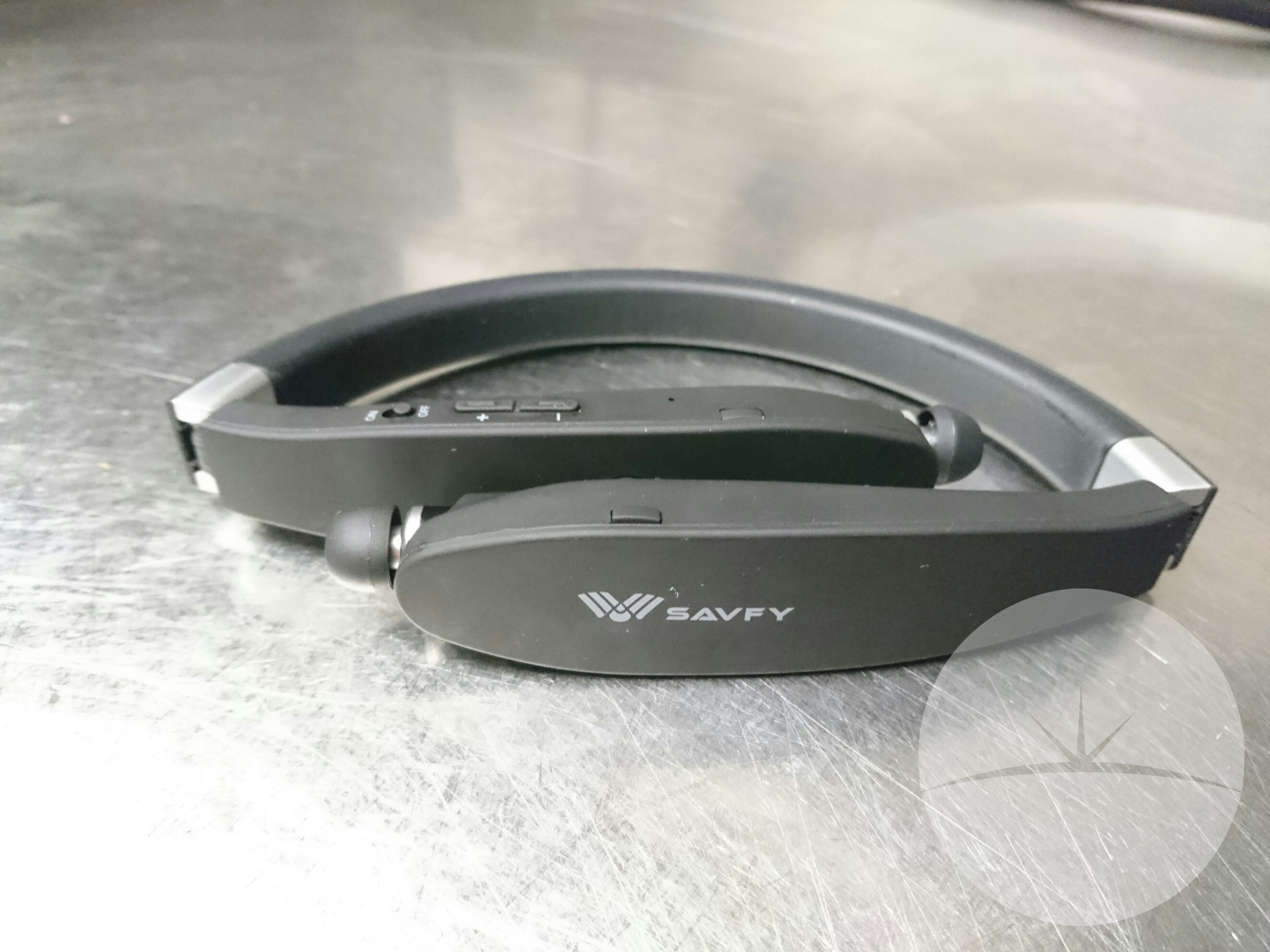 The bullet styled buds fit well in the ear and do a good job of blocking ambient noise. They are connected by a very thin cable to each of the legs and if I am being honest I would prefer something a little thicker as they feel a bit too fragile. That said they are still holding strong. The cable is attached in the leg on a spindle which gives a very satisfying click, click, click as you extend them. Each leg has a little button which will auto retract the cable where the buds will sit nice and flush. On the right leg there is a charging point and your controls, on/off, volume up and down, and a multi function button. The whole headset is made from slightly rubberised plastic except for an insert of soft rubber on the rear neck strip. They are very flexible and fairly light so should be able to withstand being thrown and banged around a bit.
The full plastic construction gives them a cheap feel but it could be a trade off that works in your favour due to their durability.
CONECTIVITY AND CONTROL
The Savfy connects via Bluetooth (obviously) and it has good strong connection covering a reasonable distance. It also has a little trick up it's sleeve by allowing two devices to have auto connect. The headset will connect to device one if available or if not attempt to connect to device two. If connected to the main device and you want to use the secondary then simple select it in your phone's Bluetooth control panel. It's a nice touch for a budget headset.
The control system is a tad awkward at first as the unit uses some buttons for three different functions depending on how they are pressed. Volume up for example is short press for next track, long press for volume up and double press to cycle through the equaliser settings. This is also repeated on the volume down button. It takes a bit of time but you do get used to it.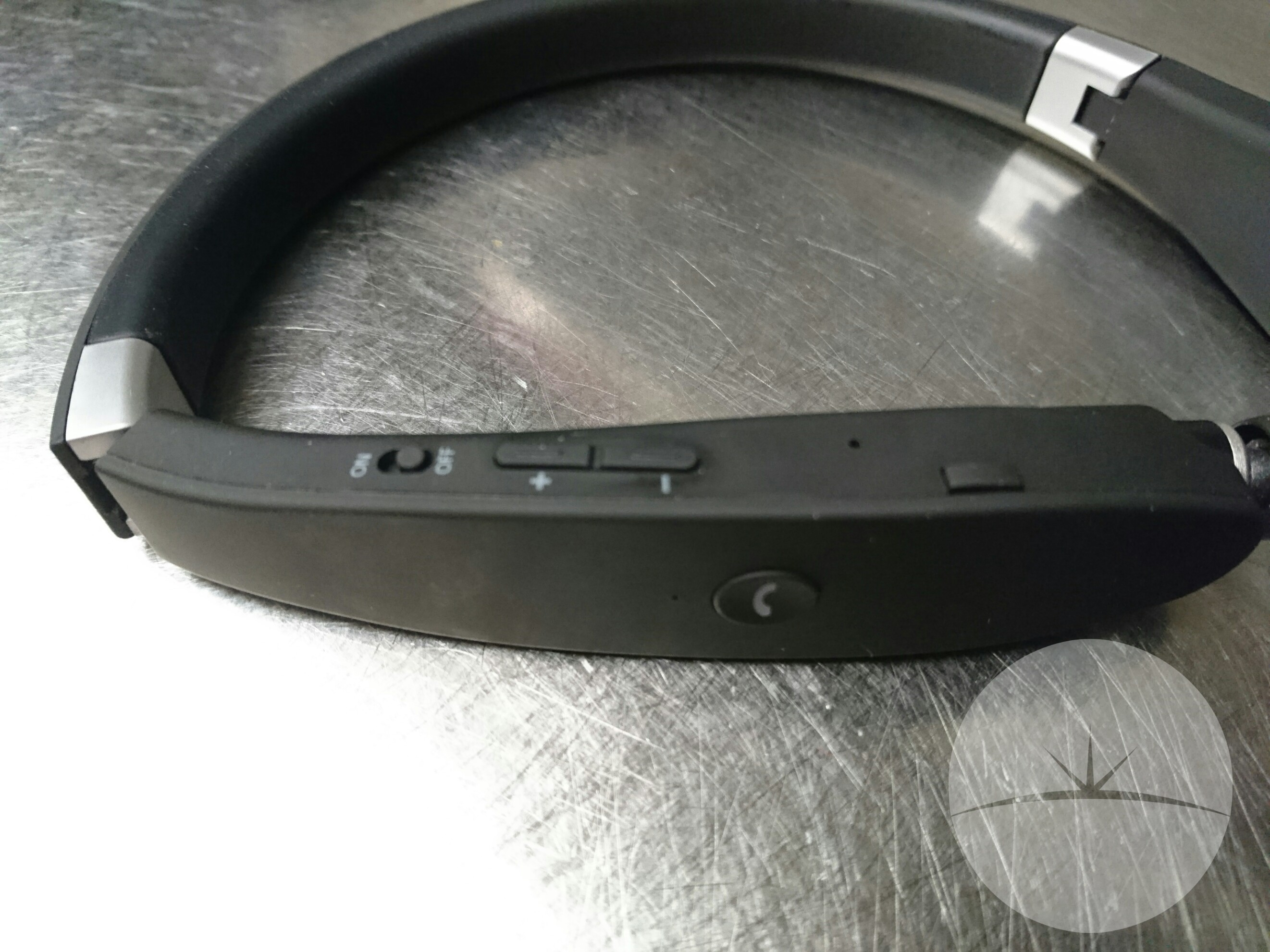 AUDIO QUALITY
This is the one area I have issue with the headset. They are as bad as the £5 bud sets that you can pick up in the supermarkets, but they are not that much better either. They dont cope particularly well with deep bass, trebble and the note clarity is not great either. When I first used them the inbuit equaliser was at the bass setting which didn't help. I also tend to listen on full volume to drown out my own singing but I did notice if I turned them down a little the quality did improve somewhat.
BATTERY LIFE
I have bee using the Savfy headset for two weeks now, to work and back every day, a couple of round trips from Glasgow to Dundee and some media at home. From my first and only full charge the headset still reports a medium battery level. I have no idea how many hours they will eventually last but it's way more than I would expect from a bluetooth headset. The makers claim they have a music listening life of 16 hours and I really can't argue with that.
VALUE FOR MONEY
The headset sits in the budget range at £21.99. For some the lack of decent audio quality will make them an instant no, for others looking for something cheap and comfortable while they are out and about they could really be worth a look. The neckband design is something that has definitly won me over, add the fantastic batery life and even with the below par audio, I like this headset.