It's can be difficult for manufacturers to make their products stand out and this is especially the case with the cut-throat Bluetooth speaker market. The shade of orange that Solememo have used with their SE90 certainly helps but does it deliver much else to make it stand out?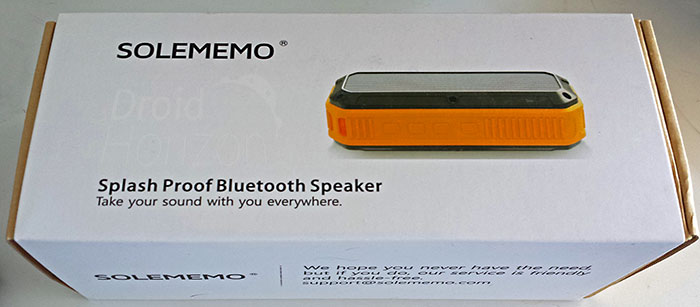 Build Quality & Design
The cardboard box packaging is a mile away from the stylish presentation of some premium products, but I guess it is recyclable which is always good since it's probably going to end up in the bin anyway.
More importantly, although the shell of the unit itself is plastic it is well made and provides mild shock protection along with IPX5 water resistance (so it can handle light rain and dust). It's a matter of taste whether you like the orange and black styling, but it's certainly distinctive and overall I think it looks pretty good.
Along the top of the speaker are the usual controls and at the back a small panel can be opened to reveal a micro USB power socket for charging, a 3.5mm audio line-in socket and a reset pin-hole.
On the bottom is a standard camera mount connector meaning you'll be able to attach this anywhere a camera can be mounted.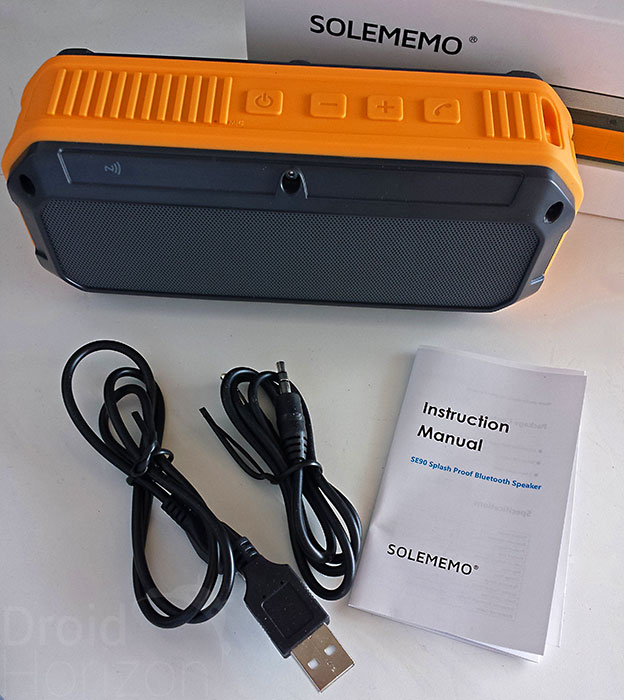 Performance
Probably the most important aspect of any speaker is the sound quality, and even taking into account that this is a budget speaker I have to say it wasn't great. Mids and vocals sounded fine, but the bass was muddy and the highs had a definite tinny quality. Solememo market this as being good outdoors due to it being rugged and splashproof. Unfortunately I can't agree as although this 3W speaker does get quite loud, at high volumes there is quite a bit of distortion and music quickly descends into noise.
Unobstructed the Bluetooth signal performed quite well, but was prone to the occasional drop-out when walls get in the way or at a distance from your phone.
The SE90 has a decent internal 2000mAh battery which takes 3-4 hours to fully charge, and then (depending on volume) lasts between 8 and 12 hours before you'll need to charge again. Although there is no way to determine the battery level on Android, when it does get low a warning tone fires every minute (this does get irritating if you're just trying to hear the last few minutes of something in peace).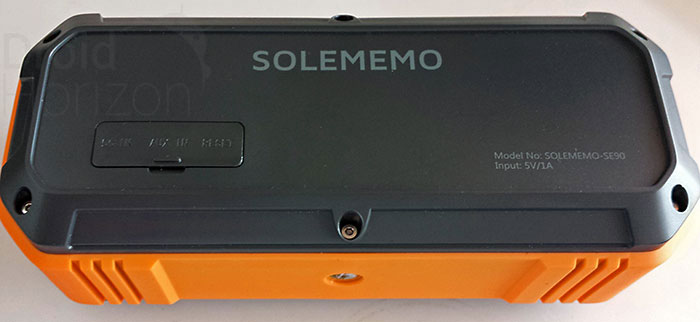 Features
No complaints feature-wise as the SE90 comes with almost everything you could ask for in a Bluetooth speaker. It has NFC pairing, a line-in socket, it's stereo, shockproof and splashproof (but not totally waterproof), fits camera mounts and has a mic so it can also be used as a speakerphone.
In Use
Pairing couldn't be easier thanks to the NFC feature, and even for non-NFC equipped devices was completely straightforward.
The four molded buttons along the top of the SE90 are big and easy to locate, if a little stiff due to the splash resistance. Tapping the plus and minus buttons skips tracks and must be held down in order to adjust volume. I'd have much preferred to have this functionality reversed as I adjust volume much more often than skipping tracks, and I had quite a few accidental skips due to the button stiffness. To make matters worse the volume level gets reset every time the speaker is turned off.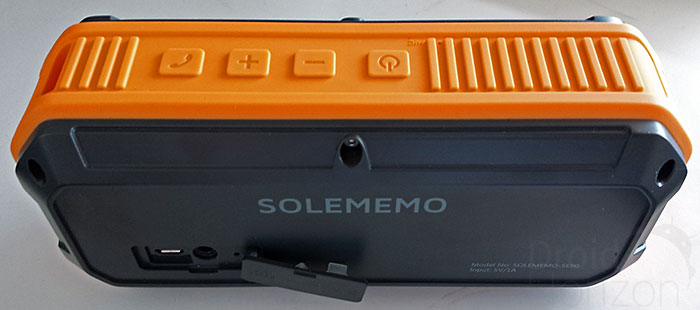 Price
The SE90 is currently priced at £23.99 on Amazon UK / $34.99 on Amazon US which is very reasonable considering this is a shock and splashproof Bluetooth speaker.
Overall
The Solememo SE90 Bluetooth speaker is an inexpensive, well designed and fully featured speaker that's unfortunately let down by it's audio performance. If you can live without the shock and water resistance then there are better sounding speakers around at this price point. However since it's splashproof, has good volume and a long battery life, it would make a good budget speaker for the shower.
You can find more details by following the link to the Solememo website or the Amazon links below…