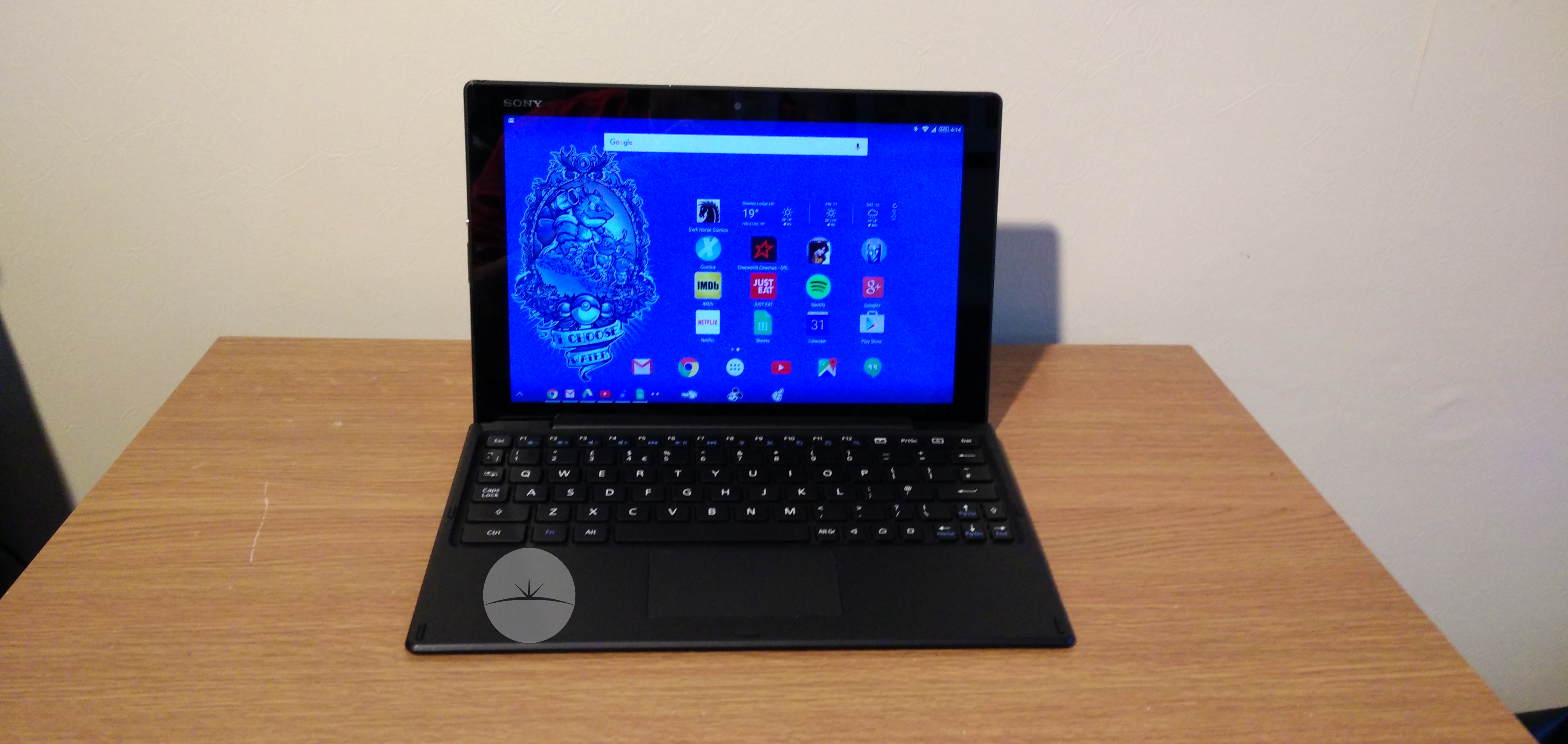 Z4 Overview
I have been using the Z4 Tablet LTE for over a month now and am truly in love with this thing, and so is everyone else who I've let play with it.  Due to the cost of the Tablet (£579 for the LTE version £499 for WiFi only), I have been trying to use it as replacement for both my work laptop and Shield Tablet. So far it's working great; I use my laptop mostly for programing embedded PCs and modems via RS232 and RJ45 and with the use of USB OTG I can do this just fine with the tablet. Commands are a breeze with the full keyboard, which also holds the tablet nicely rather than relying on a flip case. Once work is over the keyboard comes off and it's game time. Coming from the shield I'm used to fast loading games and apps but the Z4 Tablet is visibly faster than the Shield Tablet at loading anything. This tablet truly does excel in every area from looks and feel to speed and performance.
Build
The Z4 Tablet LTE weighs in at 393 grams and is just 6.1mm thin. Everyone I have passed this tablet to has commented on how light it feels. 393 grams dispersed over a 10" tablet feels so light but equally the device doesn't feel like it's going to break; no creaks or squiggly bits like I have seen on some other tablets on the market. Even though the tablet has open ports it still has an IP5/7 rating. Whilst I won't be going swimming with this tablet it's nice to know I don't have to worry about a spilt drink on the coffee table. The back isn't Sony's normal glass back, it's a slightly textured plastic which means it won't look disfigured after a few weeks without a case.
Hardware
The Z4 tablet is powered by Qualcomm's Snapdragon 810. This chip has had some bad press mostly from people who haven't used one and have just seen benchmark tests. As with all devices, when playing high end games it does warm up a little bit but having such a large surface area helps keep it a bit cooler than a phone would be in the same situation. The tablet packs a 6000mAh battery and while this isn't the largest in the market it's still plenty to keep this tablet going strong for over two days of heavy use. If you're just watching TV shows from an SD card it will last far beyond two days. The SD card supports 128GB but I bet it would be just fine with a 200GB in there. The Sony Z4 has one of the most powerful chipsets on the market and has SD card support, but you also get NFC, MHL, FM Radio and GPS, all of the other bits to make it one of the most useful tablets around. Sony placed the speakers correctly on the front of the tablet so you get great sound when watching Netflix or listening to music. The front camera is a 5.1MP camera meaning your mug will be lovely and clear during video calls.
Screen
The screen is one of the most important parts of any device, it's the part you look at most of the time. Well the Sony Z4 gives you a truly amazing 10.1" 2K screen with 299ppi. While that would be low for a phone it's rather impressive for such a large screen. The iPad Air 2 and Samsung Galaxy Tab2 9.7 both have smaller screens and fall short of this mark. Sony have thrown in their Triluminos technology so everything looks bright and beautiful – no light bleeding or washed out colours here. Sadly there is a downside to this screen; put it on full brightness and you could almost watch your battery percentage going down.
Software
Oh no, this isn't a nexus device. It has bloated, horrible software. If that's how you feel Sony have published the Binaries and AOSP code for both LTE and WiFi versions so that you can build yourself a pure experience. For the rest of us, what have Sony added? For starters there's Stamina mode which helps you to keep the battery going as long as possible, with plenty of settings offering control depending on how much stamina you need for your day. You also get Themes which can change almost all of how the device looks such as the status bar icons. Sony's theme engine is so good that Cyanogenmod dropped the T-Mobile engine and built theirs off of the Sony one. You can toggle icons on/off from the status bar; I have an alarm every day that I don't want the icon for and it's the same for bluetooth and location icons. Sony apps are preloaded onto the device such as playstation remote play, Xperia Lounge, but it's nothing that can't be disabled or removed. I don't have a PS4 so I haven't tried any of these features.
Keyboard
In the UK you can only get the Z4 tablet with the keyboard that's worth £149.99 according to the Sony online shop…not sure where they got that figure from. While it's a lovely keyboard with function keys, trackpad and a truly amazing battery life (I use about 1% a day!), I would never pay that much for it when I could get the LG rollable keyboard or the Microsoft foldable keyboard that are easier to store and a lot cheaper. The keyboard connects via bluetooth and pairs to the tablet using NFC. The tablet slots into a tight fitting groove that can be moved into the right viewing angle at your preference. As the keyboard came with the tablet I have been using it during meetings and it's just as good to type on as most work laptops are and is better than all of the netbooks I have ever used. In addition, when folded away the keyboard acts as a screen protector whilst the tablet's in my bag.

Is it worth getting?
If Sony starts selling them for £430 for LTE and £350 for WiFi without the keyboard then 100% yes – you will not regret it, not even one bit! The cheaper Nexus and Samsung tablets make spending £579 hard to justify but once you hold it and see that screen that number just doesn't seem as "HOW MUCH!!!" as it first did. If you don't mind a permanently locked bootloader you could always get the tablet from O2UK for £33 per month making it a bit more manageable.
Footnote.
The device does have a rear camera but I am not willing to even try it. Not even once. Nor should you!!!!!
You can pick the tablet up from Sony directly or from our good friends at Clove using the picture link below.