You mightn't have heard of the Soundpeats brand or their parent company SoundSoul audio, but if their budget QY7 sports Bluetooth headphones are anything to go by then brand recognition doesn't count for a great deal.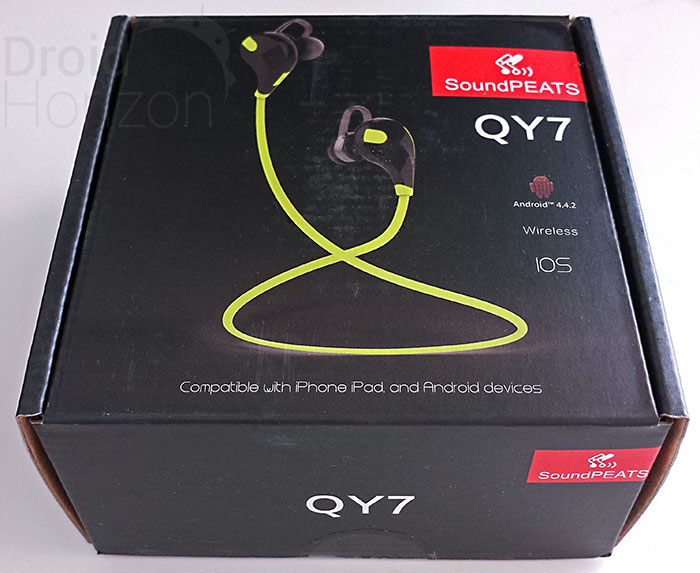 Build Quality & Design
Each tear-drop shaped earpiece has a glossy black plastic shell accented in a choice of colours – black, red, blue, yellow or green (pictured), and connected by a matching flat rubberized cable that runs behind your neck or under your chin. The cable was a few inches longer than I needed for my considerable head, but a clip is included to shorten it if it gets in the way.
As well as a choice of small, medium and large ear-tips there are a multitude of rubber ear hooks included that given a little experimentation should enable you to get a snug fit no matter what variety of ears you're sporting. The wrong size will pinch the ears or give a loose fit so it's worth spending a little time getting this right – a good fit really makes all the difference to the sound and comfort.
Finally a carry case is included which comes in handy for storing all those tips and hooks as well as the earphones themselves.
Although the headset favours plastic over more premium materials, overall everything seems well made and gives an impression of durability. An 18 month warranty is also included.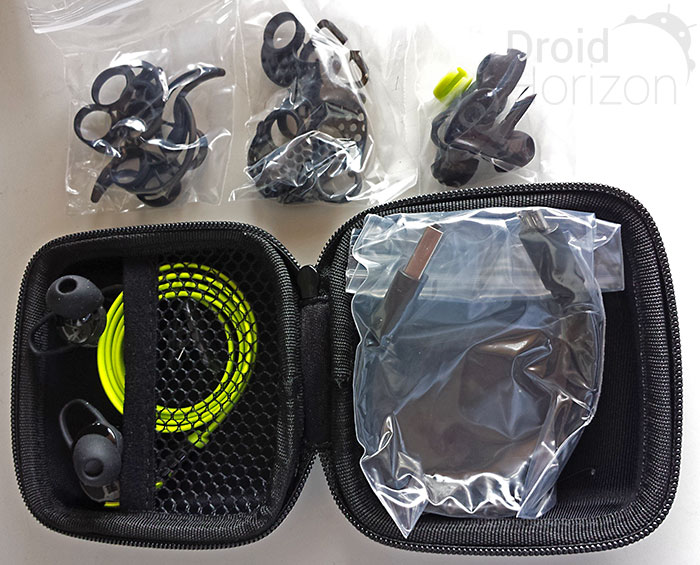 Performance
To prevent interruptions and cut-outs Soundpeats include something they call SignalPlus. In my experience there was an occasional split-second cut-out when walking about in a different room than the phone, but overall Bluetooth reception was really good with rarely any hiccups when my phone was in my pocket.
The 80mAh internal battery charges from a standard micro USB port hidden behind a rubber seal on the left ear-piece, and a short charging cable is included. It can be fully charged from flat using a 1A charge in around 1.5 hours, after which it should be good for over 6 hours of listening which is in line with the competition for these type of headphones. A couple of audible power low warnings are given minutes before the battery finally dies, but there is no power level indication on Android devices.
Audio was clean and crisp with solid bass, and even though the QY7s can be driven to pretty high volumes I didn't notice any distortion. Soundpeats have included something they call PureSound which cancels out white-noise, eliminating all trace of background hiss. While they are maybe a tiny bit lacking on the high end with more emphasis on the lows and mids, these sound way better than I'd expect from a pair of sports Bluetooth headphones.
With low levels of background noise I had no problems making calls, but being heard in noisy environments can be an issue since the mic is located on your ear – a common problem with Bluetooth earphones.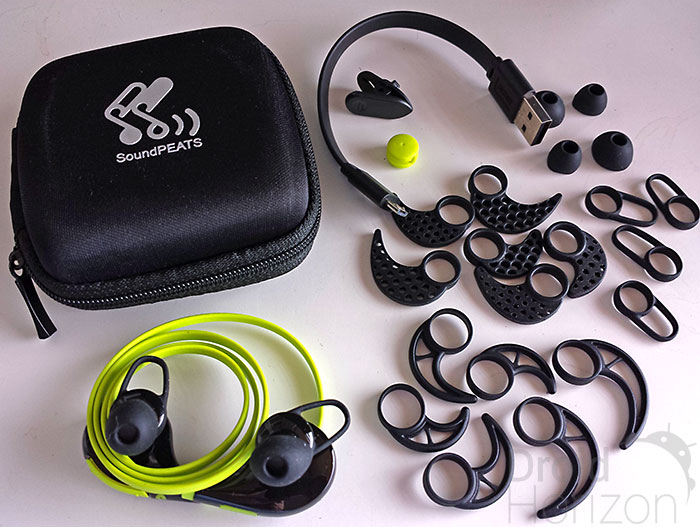 In Use
Weighing only 1.6 ounces the QY7s are extremely light and once you find the right combination of tips and hooks they fit very snuggly. I was able to wear them for hours without discomfort. Isolation was good and you should have no problems with them falling out during most types of sporting activity. However you'll need to bare in mind that while they are sweatproof they aren't completely waterproof.
You can go about your business and the tangle-free cable generally tends to stay out of the way, but it's grippiness can sometimes cause it to stick to your skin. This occasionally causes some uncomfortable earpiece pulling when turning your head, but a little care when positioning prevents this from being a problem.
The controls on the right ear-piece take a little practice to locate on your ear, but you'll soon get the hang of it after a couple of days use. They were responsive and I had no problems pausing/resuming playback, adjusting the volume or skipping tracks. Voice prompts and tones give a good indication of what is happening along the way.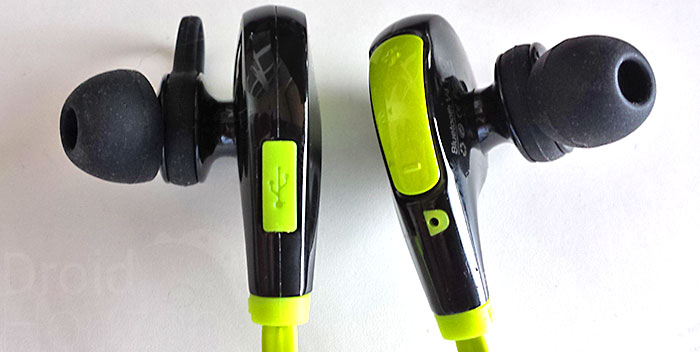 Price
As I've mentioned no major cons you'll probably be considering this is to be a fairly decent headset, but what completely blows my mind is the price. Depending on colour choice, prices currently start at £13.99 on Amazon UK and from $21.99 on Amazon US. I'd honestly rate these to be worth at least 2 to 3 times that price.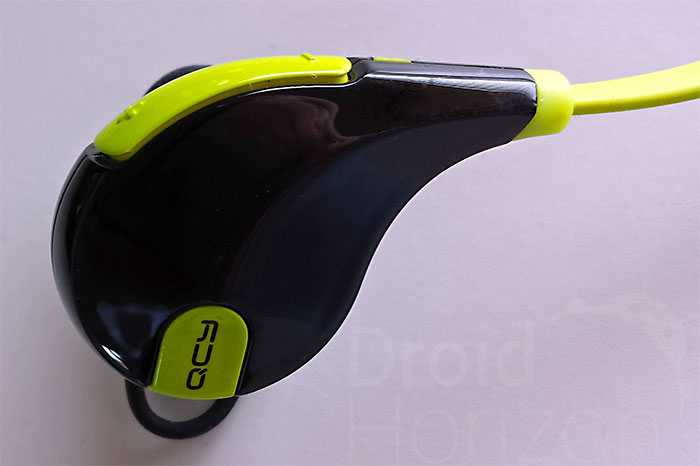 Overall
Put simply, the Soundpeats QCY QY7 Headphones are a mid-range Bluetooth headset selling at a budget price. With build and performance exceeding my expectations combined with a generous selection of ear-tips, ear-hooks and even a carry case, these are a total bargain. If you're looking for a budget set of Bluetooth headphones then you'll find these will be hard to beat.
You can check them out on the SoundSoul website or using the Amazon Links below…