Review: The Cherry MX Board 6.0
A mechanical keyboard, what's this the 90's! But actually you'd be wrong, mechanical keyboards are the future, and I am looking at one from the source. The MX Board 6.0 from Cherry is the latest in the line of MX boards. This is the combination of MX technology and CHERRY RealKey technology, all within a sexy aluminum keyboard.
This was my first experience using a mechanical keyboard and it was an experience! The box was huge, bigger then my little desk, and it was heavy. As a user of the plastic logitech keyboards, I was surprised by the weight of this keyboard. When I removed it from the included felt bag, I was greeted with a sleek all metal framed MX Board 6.0. The weight was do to the premium materials used in its manufacture.
There was a braided 200m long USB cable which was long enough to be hidden behind my desk and plugged in, and that when the magic happened. The Cherry MX Red keys lit up with a deep red light. It looked spectacular, the important keys like Windows, Caps, Num and scroll light up blue when turned on, and are instantly recognisable at a glance. When it was all configured, I was able to start typing, and I was blown away by the keyboard. They keys made the most satisfactory click I had ever heard, and were almost instantly when I clicked them down.
I did need an armrest with it, and was happy to see Cherry had included one in the box for me. It was a black rubber textured rest, which connected to the keyboard with magnets, so I was able to move it around till I was happy with the position. This was now a typing machine, and when typing up this very is still a wicked experience.
I will warm people that if you've been using a low profile keyboard, this will be a learning curve. It's at an angle and does mean that your hands may rest slightly differtent to what their used to. I found myself making more typos in the beginning, but after a couple of day I got the hang of it.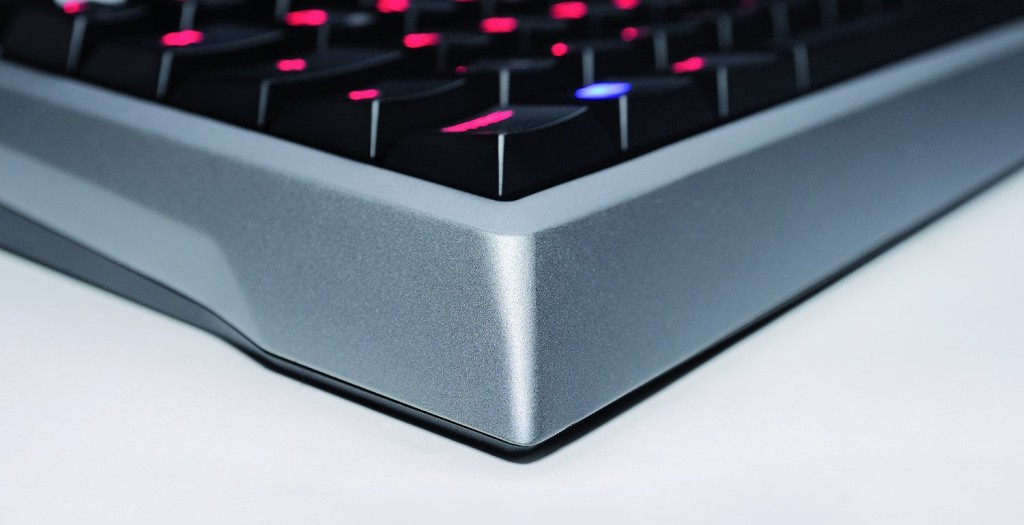 Stats for geeks:
Pure speed: The world's fastest keyboard – with CHERRY MX and CHERRY RK
Mechanics: CHERRY MX RED – Gold Crosspoint precision keyswitch for all keys »Made in Germany«
Pure design: Aluminium housing with sanded finish and grease resistant coating
Electrics: CHERRY RealKey technology – fully analog signal processing
Full-N-Key rollover: All keyswitches are read simultaneously
100% anti-ghosting: No inputting errors
Now the price tag is £140 at Amazon at the moment and for what you get the price tag isn't that bad. It's a premium product, and is built to last. I would be happy to spent £140 for a product that'll last me 10 years, then £30 a year for cheaper keyboards. The braided cable, the Cherry MX keys, the metal chassis, this is a great looking keyboard from Cherry.