Review: The Pulse from Withings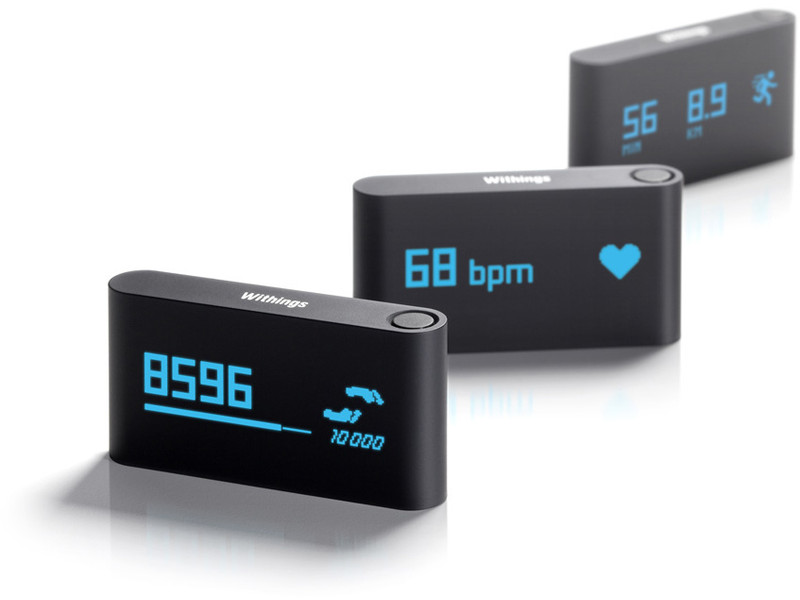 Everyone should be aware they ought to be keeping fit and looking after themselves. This is easier to do with the plethora of gadgets you can strap, stick or attach to your body, to track every bit of information it can.  Developers have come a long way from the bulky, inaccurate pedometers of my youth. They have been replaced with smart gadgets packed with sensors to tell you how well you've slept, or how many steps it took you to go to the loo.
Withings are a French company that are well know in fitness circles. They are probably best known for their heart rate monitors and smart scales that push your weight, BMI, body fat percentage, heart rate and even local CO2 levels to the cloud. But until now, it's "eco-system" has been lacking an activity tracker. Allowing companies like Fitbit to release their own smart scales and try to outdo them.
So I was excited to try out their Pulse. For £80 this small device packs a pedometer, altimeter and sleep tracker, and an optical heart rate sensor.
Withings has sculpted an excellent piece of hardware. The device itself is tiny at 1.69 x 0.87 x 0.31-inchs. There's no built-in clip that allows you to attach the unit to your belt. Instead, you place it into a sturdy, rubber belt clip. This belt clip was tough enough to withstand a full day of walking around, climbing some hills and even the occasional tree. While a matching neoprene wristband allows you to take it with you to bed, or use the device as a watch.
The Pulse only weighs eight grams! I compared it to a pack of gum and they felt about the same. But like the other offerings from Withings, the Pulse is built to withstand a lot of knocking about and didn't buckle under pressure. There isn't a lot going on with the look of this device, except a Withings logo up top as well as a button. On the bottom, you'll find the micro-USB port. Meanwhile, the rounded edges are bare, while there's an OLED touchscreen up front and the optical heart rate monitor on the rear.
I was informed that the Pulse can last two weeks on a full 40 min charge, and I have only had to charge it twice in a month.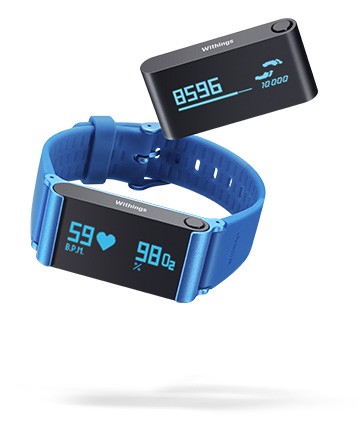 Navigating around the device was easy, the physical key allowed me to cycle through the various options and then a swipe across the screen got me more information about whatever data the unit's collected. I was able to view:
Steps taken
The altitude I had climbed
Distance traveled
The calories burned that day.
Sleep tracking and monitoring your heart rate
The current time and user account
Monitoring my heart rate meant I had to push your finger gently onto the optical sensor. Then wait for the green LEDs to light up. Using the touchscreen, you can swipe left to right through those first four options up going back to the last 10 days . I found swiping around the device to be responsive.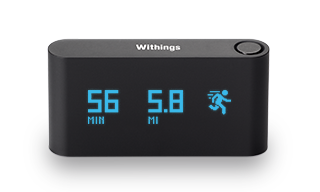 Your information and stats are sent up to the cloud, allowing you to use their website or apps to access the information wherever you are. I found the web-based system to be a little "outdated", but I was hugely impressed by the app. The Health Mate app has a great material look, and also lets you hook in data from other devices and apps like BodyMedia, MyFitnessPal and RunKeeper.
The app gave me facts based on the steps I walked that week, or the amount of days I exercised. It also provided my with encouragement, if I did more exercise one week compared to the other.
At £80 this is a great little device to have on you at all times. It unobtrusive, and I was so happy to finally see an app that looks and works as well as the device I am using.
http://www2.withings.com/uk/en/products/pulse/