Looks like we have more bluetooth headphones here to review. Today we'll check out the brand TOTU and their wireless bluetooth headphones.
I took a couple weeks to use these, and i'll just say I've used better. That said, these certainly should be consider a budget set of headphones. Has everything you should expect from spending $19.99 on Amazon. Included in the quite minimal packaging are wireless headphone, a user manual, charging cable, also 5 different size earbuds. TUTO also includes a lifetime warranty.
Build Quality:
The buttons are overly clicky and noisy. Personally I like a quiet button, with a comfortable feel. The volume buttons are where they should be and work fine. The power button is in the right general location, but the odd swooping triangular shape leave something to be desired. It was difficult for me to properly press the button while in-ear, or even in my hands, and feels to plastic, and I worried that it might just pop off the unit or break. The button also seems awkwardly small to me. A plus for active users is, these wireless headphones are very lightweight and also described as sweatproof.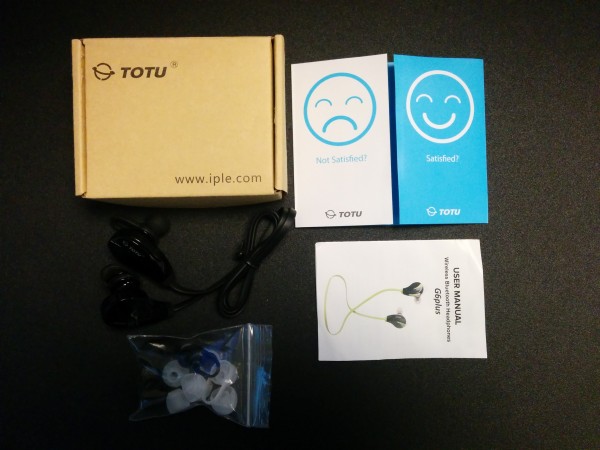 Sound Quality:
Actually, it's not too bad. Although cheap, the TOTU bluetooth headphones still put out a decent sound for the price. There's clarity, and a distinct amount of bass, that make you feel the music. They do get pretty loud. Unfortunately, if "these go up to 11" everyone within 10-12 feet of you will also be rocking out to your sick beats. Which in reality could lead to a few disgruntled cube-mates!
Bluetooth and Battery:
First Bluetooth: It works, and does connect fairly quickly with your device. I had no trouble in this area. I then took them for a walk, leaving my music at my desk. This is where it was disappointing. The produce features state, 10 meters. These particular ones, connected to my Nexus 6P, and gave me about half that distance before they started to break up. The battery for a days use at the office lasted about 4hrs. Would be nice if it were longer lasting. My go-to bluetooth headphones are about the same, but they are also 2 years old.
Overall Thoughts:
Personally, these wouldn't be for me. I'd want something that would be designed and built to last, but of course I'd have to pay more than $20 for that. These would be a good pair to have as a backup, but still usable day-to-day if you can look past the issues I noted above.