Review: Tylt Vu Wireless Charger
My second installment in what will be referred to as the TYLT Trilogy is the Tylt Vu. The Vu is simple, stylish, and a little pricey compared with plain Qi charging pads, but like the Vu Solo, the look and functionality are the key points.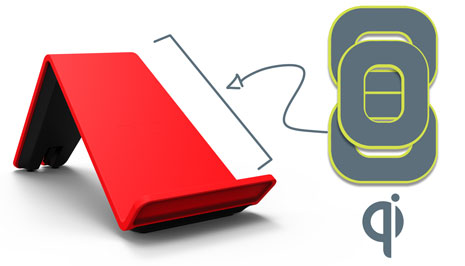 The Tylt brand name is more descriptive for this, than the Vu product name. The charger is effectively a 7.5-inch-long, 5.6-ounce one-piece plastic stand that holds your Qi-enabled mobile device at a 45-degree angle, tilting it in the process. It's available in black, green, red, and blue. It has no buttons and only a single colored indicator light under the lip of the stand. The back edge of the charger holds a thin, proprietary power port for use with the wall adapter. When looking at it straight on it could be mistaken for an art piece.
The simplicity is what I love about this device, and currently works very well as a bedside charger. As the angle allows we to check my phone quickly and at a glance.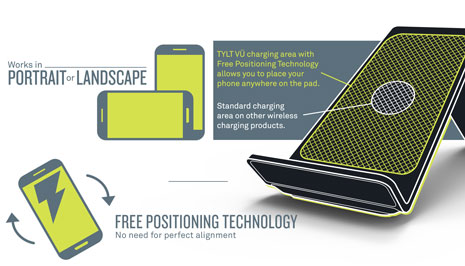 It's also incredibly simple to use. Just put it on the stand over the Tylt logo. The device will then start charging immediately, and the indicator light on the Vu will change from red to green to show this. I tested this with a borrowed S6 and a Nexus 5, by simply by dropping them (separately; as you can't charge multiple devices with the Vu) on the stand and waiting. The Vu automatically goes into sleep mode once the device is fully charged, periodically monitoring battery levels to top it off if necessary. Which is a great idea, as it isn't constantly bombarding your battery with charge.
Qi charging isn't ever going to be as fast as plugging your smartphone directly into a USB wall charger, especially in regards to quick/turbo chargers. It topped off the S6 in just four hours, which is slower than when using a included quick charger. The Vu works best as a overnight charger or a work desk charger for larger Qi-compatible devices than as an a-few-hours-here-or-there charger.
The Tylt Vu is really handy device if you want a simple drop-in charging solution at home. As with most wireless chargers it doesn't seem quick enough to replace a wall charger when traveling, and the proprietary power connection makes it less convenient to carry around. But for a simple nightstand/desk charger on which to leave your phone or tablet, it's a nice little stand. At $69.99 it is a bit pricey, but with TYLT products you are paying for a great design and functionality.
BUY: TYLT VU Qi wireless charging pad ($69.99)