Going wireless with your keyboard means you can locate it far from your system unit and if you need some desk space then you can just leave it out of the way for a while.

The VT-K01Pro comes packaged in a long cardboard box. Despite being a full sized keyboard, it's very slim with a relatively small footprint that makes it look modern and stylish. The shell is made from black plastic, but this seems good quality and overall the keyboard has a solid feel to it.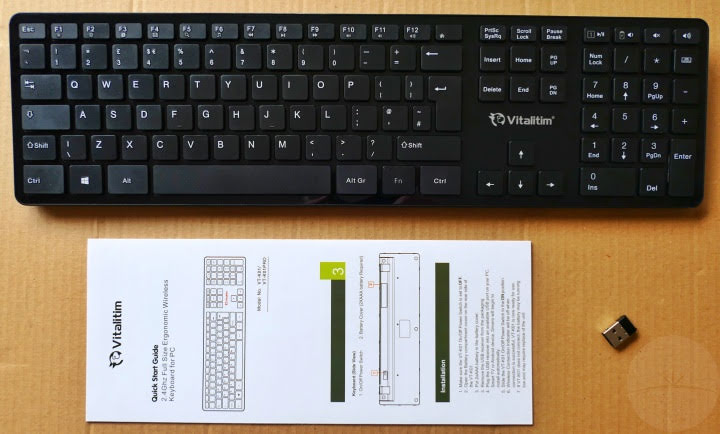 First you'll need to fit a couple of AAA batteries (not supplied) inside a hatch on the underside of the keyboard. You won't need to worry about changing them for a while as they're rated to last 6 months. There's also an on/off switch on the base – but even if you forget to turn it off there's a special power saving mode that puts it to sleep after 10 minutes of inactivity. Then you just need to press a key to reactivate the keyboard.

There's also a USB nano receiver inside the box and when I plugged it into my Windows PC it was instantly recognised and the keyboard started working right away. The only lights on the keyboard are small white LEDs on the caps lock and battery indicator.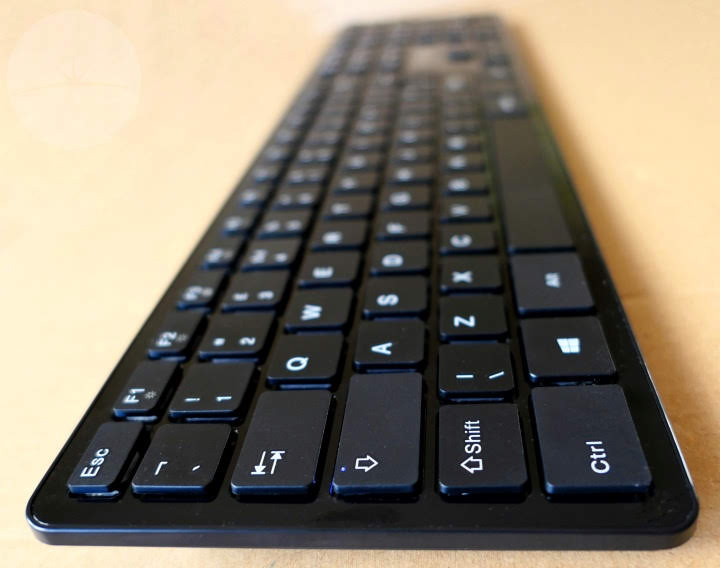 This compact keyboard is similar to chiclet keyboards you find on laptops. It's also very quiet and nice to type on (although nothing out of the ordinary). Happily the layout is the standard UK style so there's no problem finding the £ key and all the keys were mapped correctly for my PC. It's also compatible with MacOS, iOS and Android devices, with the function keys along the top row doubling as media controls when used with the Fn key.
I can definitely recommend this stylish, portable and high quality wireless keyboard. For just under £20 you get a pleasant typing experience, great battery life and everything works flawlessly. You can pick one up from the Amazon link below…