In our latest Bluetooth Headphone review, we're going to take a look at the latest model from Rock Jaw called the T5 Ultra Connect. You'll remember the brand, we've reviewed a few of their previous headphones which you can read here. As with all our reviews, we've tested the product exclusively and we'll give you our thoughts on various aspects that are important when spending your hard earned cash on new accessories or hardware. From the off, I'm more than happy with these earbuds. I've worked out, went on holidays, washed the car numerous times and fell asleep on the beach and airplane whilst listening to my favourite tunes. The T5 Ultra Connect are my go-to headphones!
You'll find the T5 Ultras come neatly packaged in a fold open box. Please please please be careful. I ripped open the packaging a little too exuberantly and the little tips and tuning filters flung across the kitchen floor. You'll notice from the image below, everything is included, extra Comply tips, a little carry case, spare USB-C cable, instructions and a little thank you for purchasing card from Joe A.Watts – Founder. Nice touch.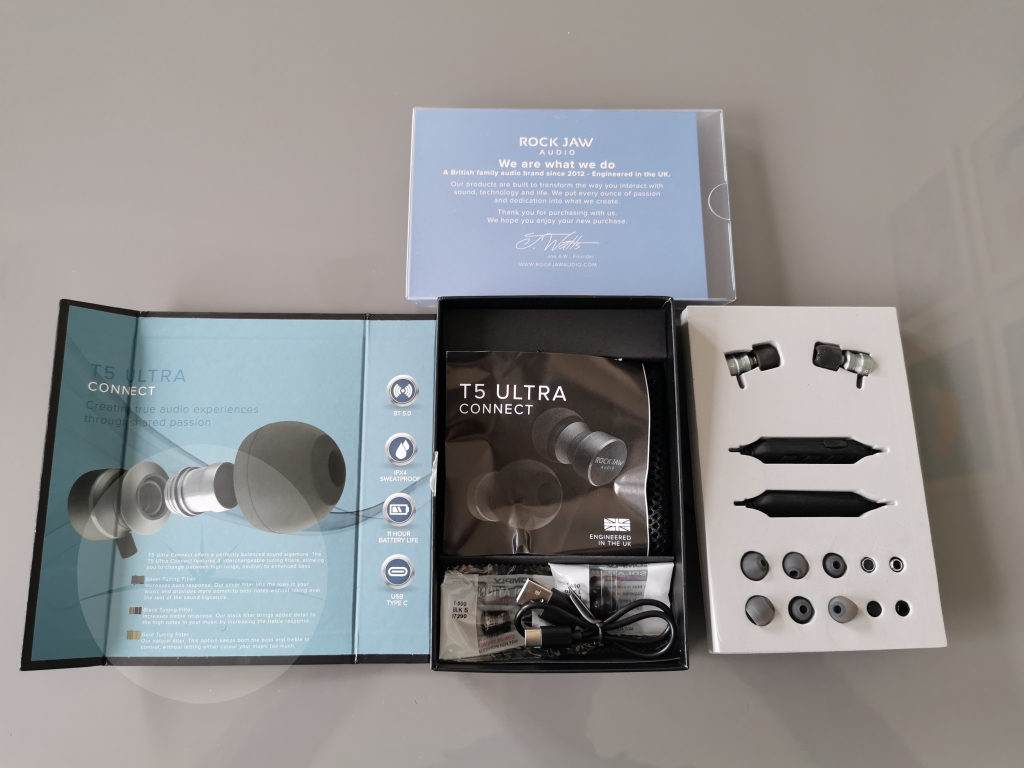 Included are individual tuning filters that can be screwed out with you fingers and replaced. Gold are installed as default.
Silver

This is mainly for genres such as rock, Hip-pop, R&B, and electronic music. My go-to filter since I tested them all. I enjoy all genres of music but if I'm honest, electronic is my fav. The silver filter offers a deep rich bass without being overemphasised. I've been listening to John Digweed mixes on MixCloud, Boiler Room guest sets on YouTube and This Is Marshmello on Spotify playing highest quality setting.

Gold

These natural tuning filters are engineered to offer a well-balanced, natural sound signature, suitable for all music genres. Indeed a natural sound, perfect for all genres. Not too deep bass with clear mids and highs. If you listen to podcasts or even DAB stations the gold will be perfect.

Black

Emphasise the higher audible frequencies for enhanced audio in genres including classical, acoustic and jazz. Sometimes I like to swap to the black filters and kick back and chill. Some MTV Unplugged / Acoustics sounds fantastic!! Micheal Stip's voice on "Losing My Religion" takes me to another world. Crystal clear highs and accurate crisp notes. Bliss! You can nearly hear how high Kurt Cobain is singing " Where Did You Sleep Last Night."
The sleek aircraft grade aluminium with a brushed finish make these inexpensive earphones look more expensive than they are. Less is definitely more from this design standpoint. I don't particularly like garish bright neon colour headphones. The T5 Ultras look smart and classy. Although these aren't wireless, the left and right are connected by a wire. I wear with the cable behind my neck, when I take them out they connect together magnetically so they don't fall off, very cool.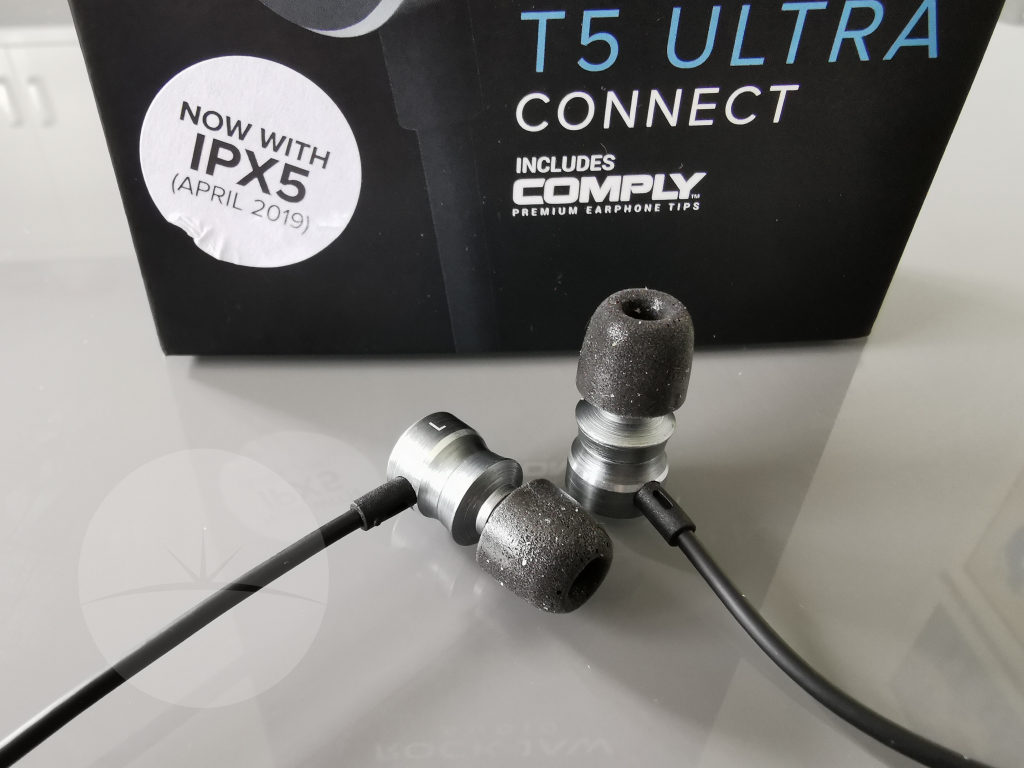 The standard tips are comfortable but the included Comply tips take your listening comfort to another level. I've worn these headphones for over 3 hours without them popping out once. My ear canals after extended use didn't feel sore, I'd put them in, queued up some Bob Marley while we were on the runway apron and woke up three hours later to disembark. Best flight ever! Yeah the T5 Ultra are super duper comfy.
Featuring AptX & AAC drivers and titanium-coated diaphragm, CCAW voice coil, the T5 Ultra offer top quality internals matched with IPX5 rating sweat and waterproof. Range is listed at 12 meters which seemed like loads in real life usage. You've also got the benefits of Bluetooth 5 and USB Type C charging. These earbuds pack the latest standards in a sleek design.
The volume up / down rocker is to the right with power in the middle, you'll soon be familiar. Left houses the chip and internals which has no buttons. Syncing with your device gives a familiar audio notification. There is a LED also which shows a different colour, when not connected, connected and when battery is running low.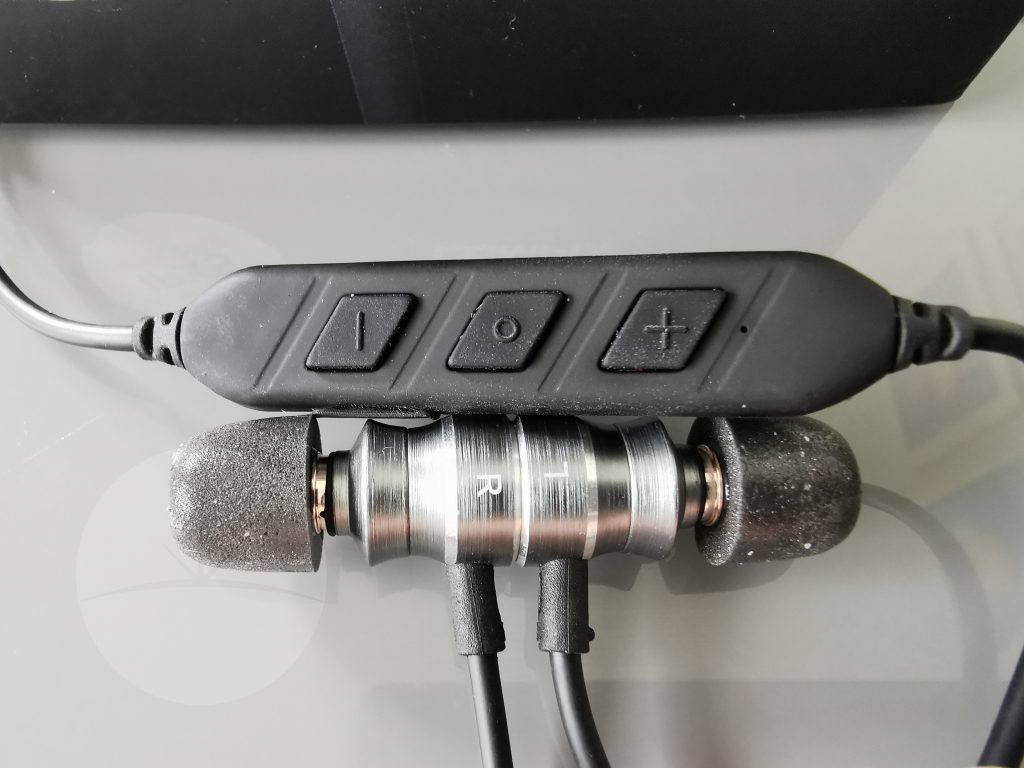 Would I be happy to recommend our readers to purchase the Rock Jaw T5 Ultra? You bet! These buds look more expensive than they are, they sound more expensive than they are and offer the buyer choices to match their particular genre with the included removable tuning filters. We love having choices!