RockJaw Audio ALFA Genus V2 Review
RockJaw Audio is a UK company specializing in mid-priced quality wired earphones. In this review, we will be testing their ALFA Genus V2 buds which sport interchangeable tuning filters to hopefully help you get the best possible audio experience from the product.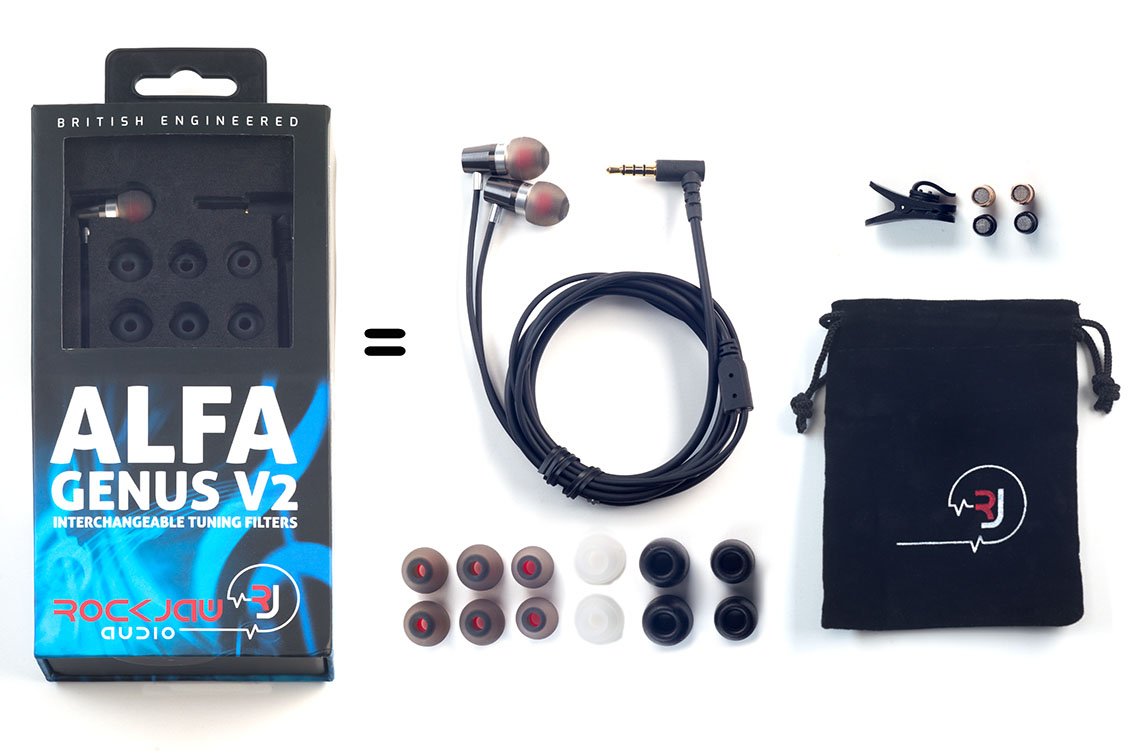 Drivers: 8 mm dynamic
3 x Interchangeable tuning filters
Impedance: 16Ω
Sensitivity: 108+/-3 DB
Frequency response: 20 – 20000 Hz
Cord Length: 1.2 M
Jack type: Gold plated (right angle jack)
MIC with universal pause/play button
Eartips included: (S/M/L) silicone | (M/L) memory foam | (S) double flange.
Design and Comfort:
The Genus V2's follow a fairly conventional design language regarding their look and feel. Black cable with aluminium earbud barrels and silicone tips are the order of the day. They do feel very well made and have no little manufacturing flaws to kick OCD mode in. The designers have opted for an L shaped Jack connection which will be the preferred choice of some and being honest, it is a choice I tend to make myself. The cable used is of a decent grade and thickness which ensures good audio quality and also has the side effect of allowing them to be tangle free.
The button station on the cable has a mic and a single universal play/pause button which is also used for answering and disconnecting from calls. Other phone functions can be used on Android by long pressing and using voice controls, and this is the only way the headphones can be used to change tracks, adjust the volume etc.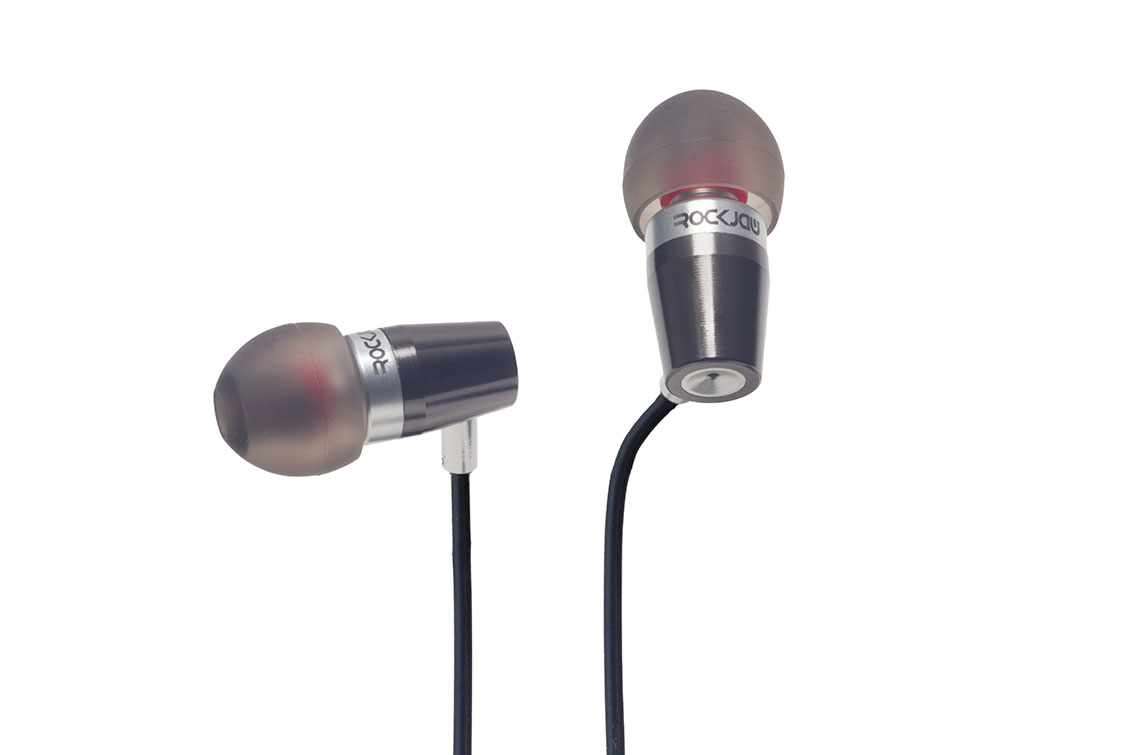 The buds are of a solid construction and while they don't have a truly premium look, they are far from giving the impression of being cheap and nasty. RockJaw has done their best to cater for every ear size with the Genus V2's including seven sets of bud tips of varying materials.
The packaging is pretty nice on first look, but I found it a little problematic. There is a 'doored' bottom section which opens on both sides meaning when you slide the inner section out the bottom 'door' opens and everything falls out. This is fine if you are opening a table or desk, but could mean lost parts if you were opening the box somewhere else. There are a lot of little bits displayed in the main foam insert as well, and while I appreciate they need to be held fairly tightly, they can be a pain to get out without damage. Also in the box is a cable clip for holding onto clothes etc and a small carry pouch which can be used for the headphones when not in use and/or extra bud tips and tuning filters.
Audio Quality
Now to what really matters, how well the Genus V2's have coped with the multitude of old school house tracks, poorly recorded audio books and duff movies I have thrown at them over the last few weeks.
If you read the spec list at the top of the review you will notice the mention of interchangeable tuning filters. The best way to think of these is as in-ear equalizers. The three filters offer a choice of natural, treble and bass and once installed do have a discernible effect on the audio output. Which of the three filters you choose to use will obviously depend on what you are listening to, and how you like it played. I do feel most people will tend to use a single filter for all their audio uses but even then it is nice to have a choice.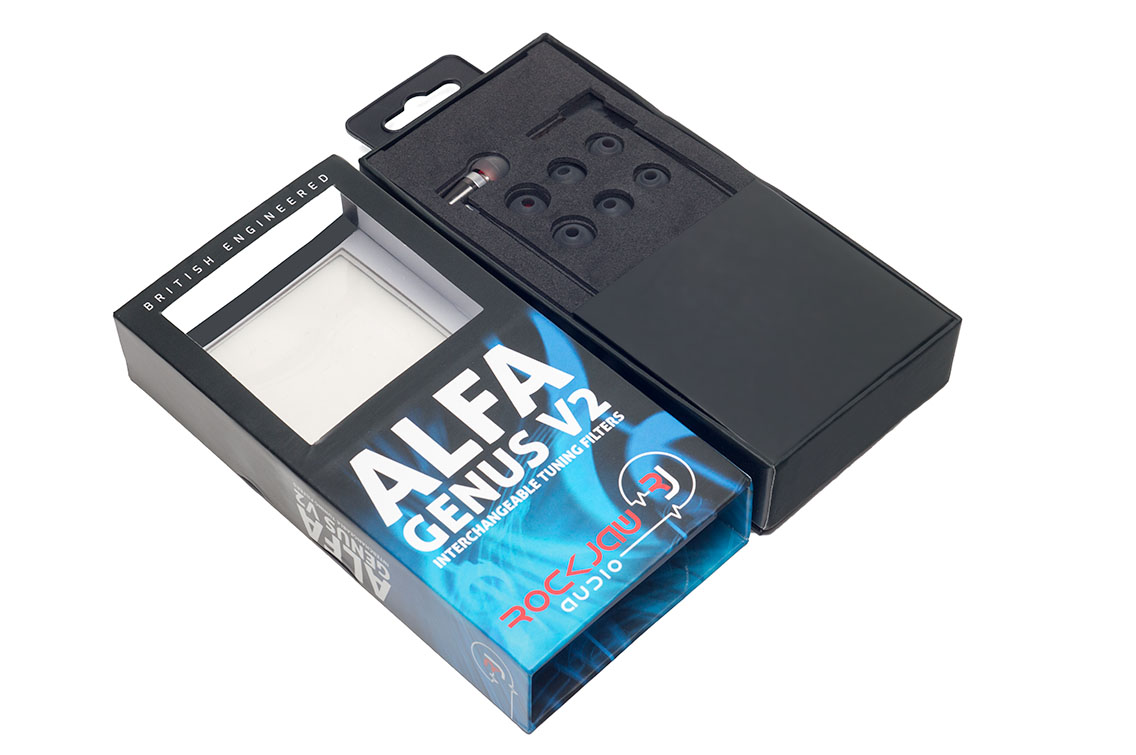 I found the sound output to be of a more than acceptable quality from the RockJaw's with very clear distinct tones and voices covering a pretty good range. Even at full volume at no point did I experience any sound degradation regardless of the audio being played. Voices were crisp, instruments individual and everything was kept in balance. For the money the results really are excellent. And if you can be bothered to select filters depending on use then you should get an audio experience beyond anything else in the price bracket.
Added Extra's
As stated earlier the Genus V2's come with an amazing range of bud tips. The full set includes:-
2 x Memory Foam tips (medium and large)
3 x Silicone tips (small, medium and large)
1 x Double flanged tips
Fitted Silicone tips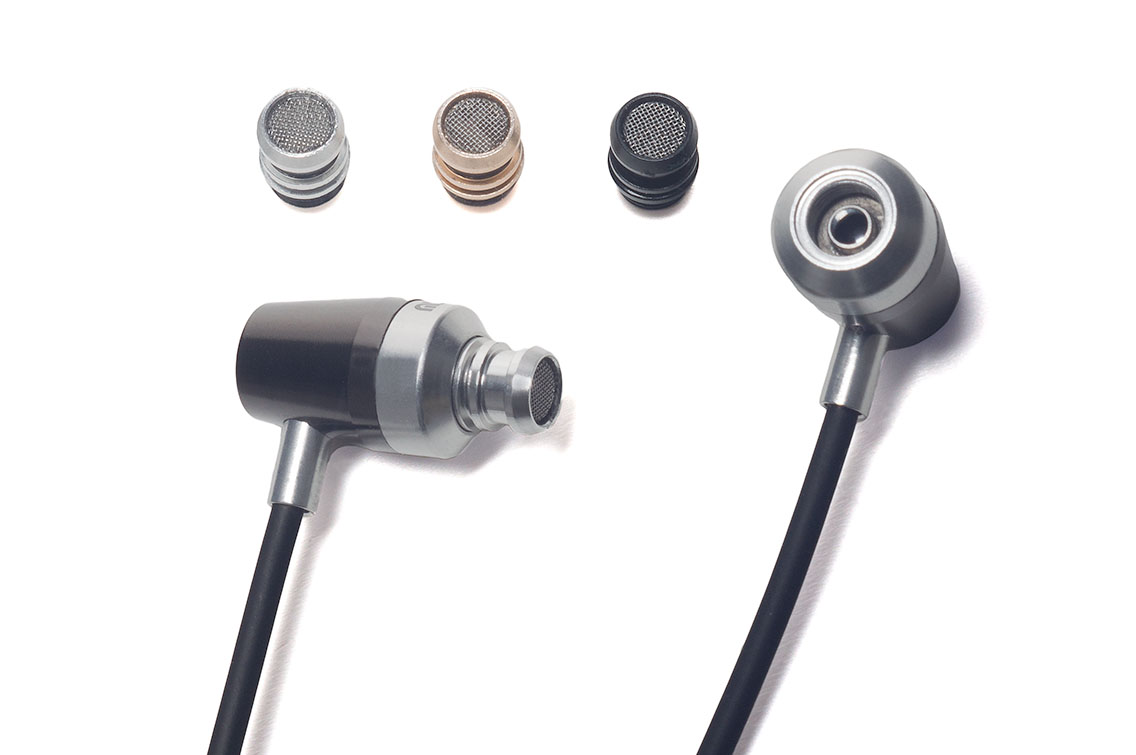 Price and Availability
RockJaw websiteThe ALFA Genus V2 headset can be purchased directly from the RockJaw website for a cost of £44.95:
rockjawaudio.com/collections/earphones/products/brand-new-alfa-genus-v2