Salter Nutri Pro 1000 Nutrient Extractor Blender Review
After the Christmas binge, I (like a lot of people) wanted to try and lose some of that Christmas weight. So I looked into getting a blender for my lunches, based on all the hype and promotions I initially looked at getting a Nutribullet, but the price was (too damn) high for me. After some research I found out about the Salter Nutri Pro 1000, it runs at 1000W of power, compared to the measly 900w of the Nutribullet Pro 900. It also comes in at £49.99, making it £60 cheaper than the Nutribullet Pro 900  which is a massive £109.99. After 4 weeks of use, I am still using the Salter Nutri Pro, saving money on lunches and not sweating as much as I normally do.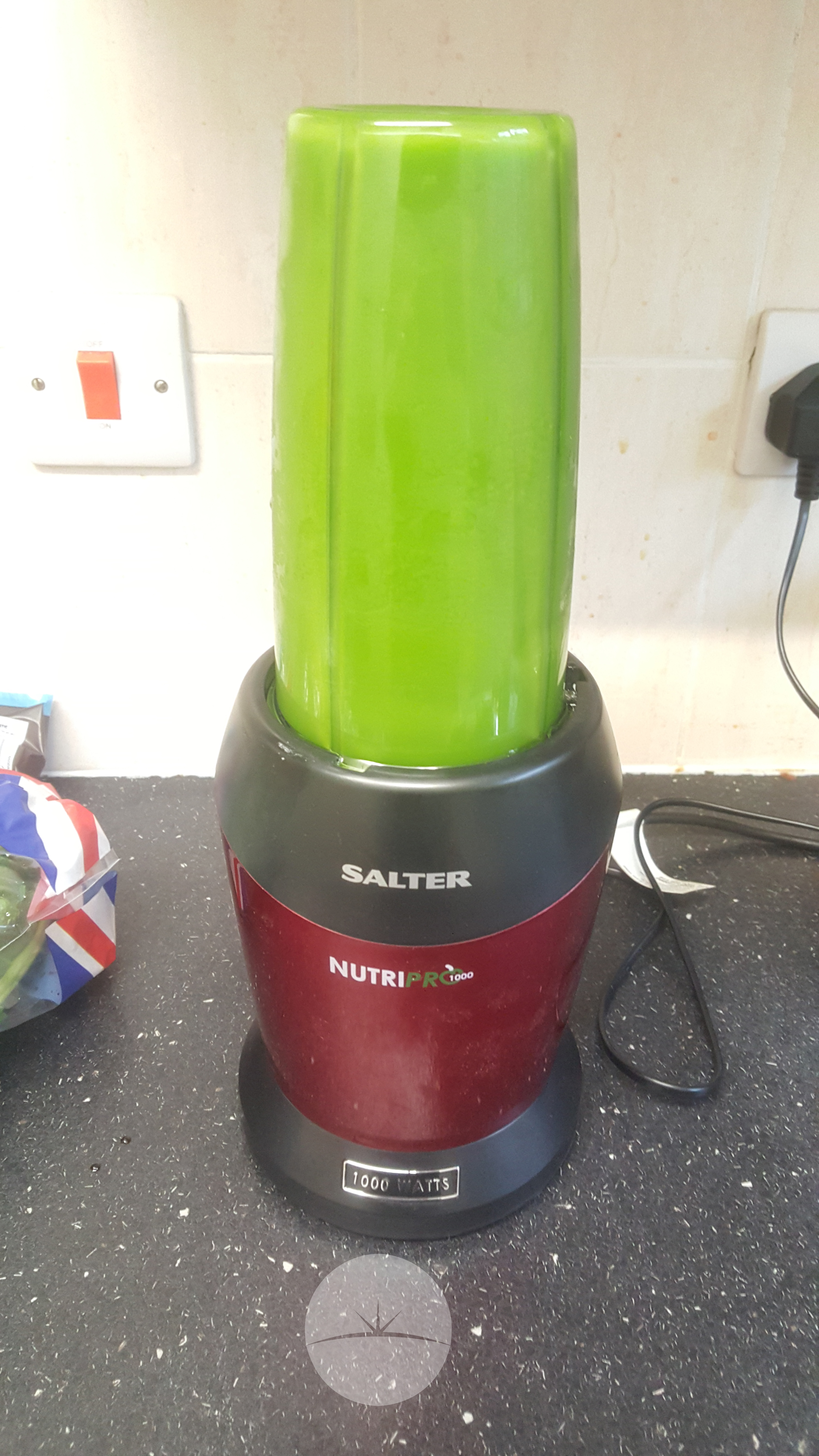 The box contained the Nutri Pro, one large cup and two smaller cups of the same size, each normal and sippy lids. After rinsing all the cups and letting them dry this bad boy was ready to rock. One thing I will say, it is loud, that 1000W motor kicks in and just destroys anything in the cup, whilst still keeping all the nutrients and good stuff. That motor is especially good for ice or frozen fruit. I tested it on frozen spinach and broccoli, and after a blend I couldn't tell it was frozen.
It's really simple to use. Pile the veg and fruit, add some water, screw on the lid, turn over, and push into the base. There are no controls, you just push it into the base and the blades are activated, as the blades are inside the cup its incredibly safe. You can pulse blend by pushing down, or lock it into position for a longer blend. I did have to end up using more water then I thought I would as it pulses everything really well. Clean up is easy as you just have to rinse the blades, and the cups and lids are dishwasher safe.
The large cup is great for using for lunches, as it can hold a lot of blended goodness and covers me for the day. The smaller cups are good for desserts or storage in the fridge. The sip lids are OK, they don't 100% seal, so you have to put the covered lid on for travel, then replace with the drinking lids after. I will admit that I didn't figure out the drink lid cover could go all the way back until later into the review.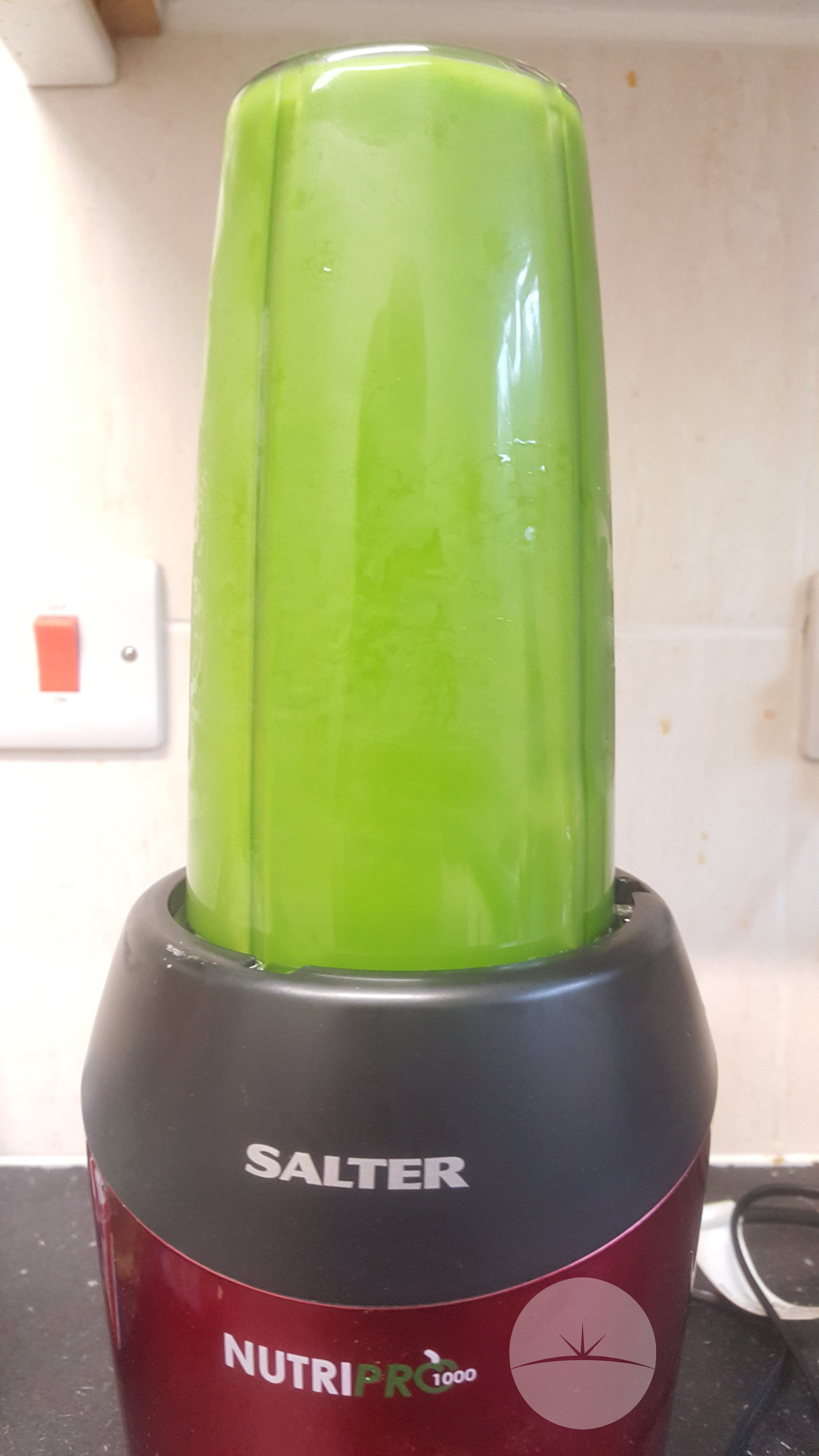 I did find that the max fill line must be followed. Over filling with fruit and water passed the line caused the blend to spill out, though this never happened when keeping below the line. I was able to quite happily fill it with my lunch which was:
2 x Carrots
1 cup x Spinach
1 cup x Kale
2 x Brocelli
1/2 Grapefruit
This was all chopped up to help it fit in, then filled with water to the line. After blending for 30 seconds it's put in the fridge for the next day. I did like the recipe book included with the Nutri Pro, though I did end up making up my own recipes and consulting Google.
You can't blend hot liquids, but I did find I could blend cold ingredients and then transfer them to a hot pan. This was quite helpful for cooking sauces etc. I also had great fun making humus with this as it worked really well blending it all together.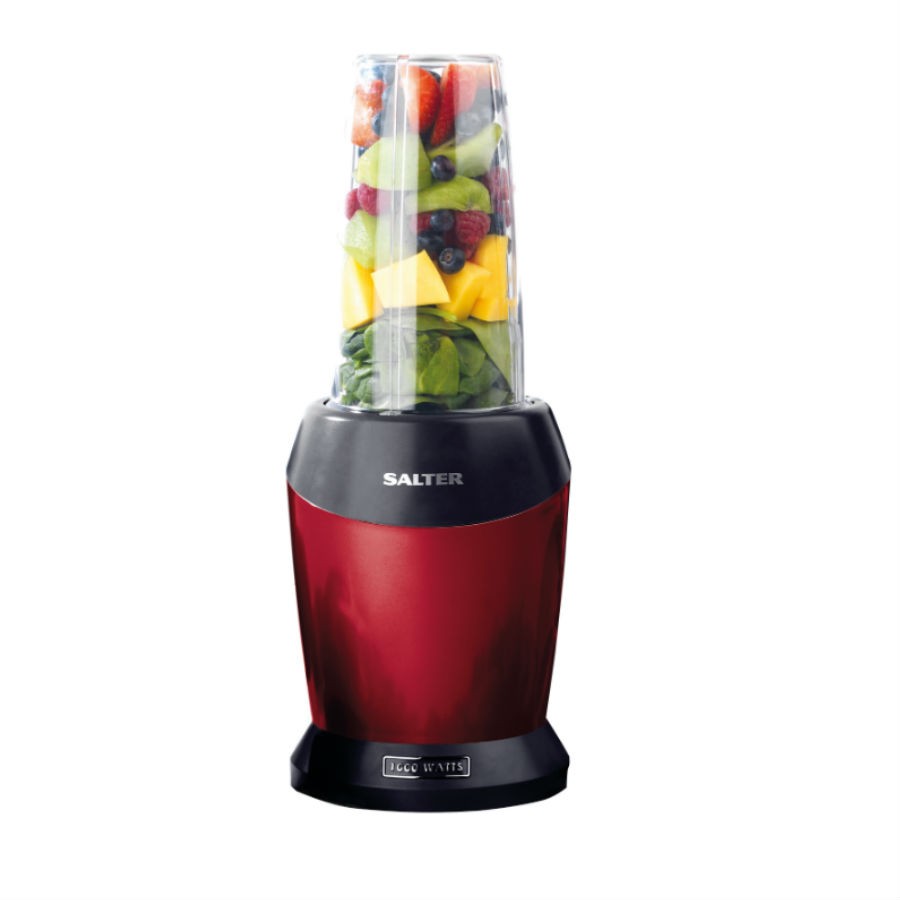 Overall my lifestyle has changed since getting the Salter Nutri Pro 1000, I am now "juicing" 5 days a week, and like I said saving money on lunches. There really isn't a negative point to it, its quick, cheap and easy to wash. Check it out for only £49.99.
amazon.co.uk/Salter-EK2002-Multi-Purpose-Nutrient-Extractor/dp/B010FDLGTU/