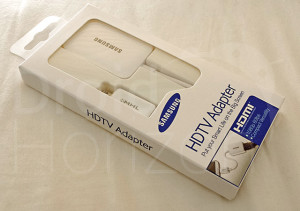 Samsung HDTV Adapter Review
This adapter allows you to mirror the screen of your Samsung device to any HDMI compatible HDTV / Monitor.  Just plug one end of the cable into your Micro-USB socket, and plug the HDMI cable coming from the TV into the other end.  The adapter was tested with a Galaxy S4 which supports MHL 2.0 meaning it can be powered from the HDMI cable.  While the adapter is compatible with the S3, Note 2 and Note 8 you will need to power it by plugging in an additional Micro-USB cable.
The package includes a TDK branded doohickey that attaches around the adapter cable to cut down on interference.  Personally I didn't notice any interference, but I clipped it on anyway before it got lost.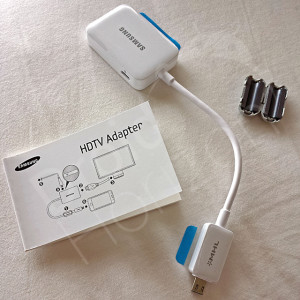 When holding your phone vertically, the screen appears as a strip up the centre of your TV.  This switches to full screen when holding your phone horizontally.  Picture quality was excellent, with the S4's 1080p screen looking sharp even when mirrored on a 46″ display.
Audio performance was also flawless.  When plugged into my speakerless computer monitor, audio continued to play from the smartphone.  When plugged into my TV the audio automatically switched to play through the TV.
As this is a screen mirroring technology, the screen of your device remains on during use.  While this is useful and often necessary for using touchscreen controls, it does drain your battery.  Attaching your power cable to the adapter did supply charge, but at only 300 milliamps this means your S4 battery level will still drop.  This won't be an issue for showing off a few photos, but could be an problem when playing a long movie.  Samsung don't seem to have addressed this, but I did find a 3rd party app called Screen Standby (root) which allowed me to turn the S4 screen off while mirroring it to the TV.  This helped but did not eliminate the battery drain.
In use, the fact that your device needs to stay attached by cable to the TV can be a little restrictive.  If you have a compatible Smart TV your S4 should be able to stream 1080p wirelessly using DLNA out of the box.  Also if you're willing to pay a little more, Samsung do sell a more expensive wireless solution called an AllShare Cast dongle that provides a similar function to this adapter wirelessly.
As it stands the addition of a Bluetooth mouse / keyboard / controller would effectively turn your TV and smartphone into an Android PC.  This official Samsung product is a little pricey and I can't comment on how it compares to the cheaper alternatives available.  However if you're looking for a quality product that produces flawless results then you can't go wrong with this adapter.
Grab this adapter along with a wide range of S4 accessories, chargers and cases from MyTrendyPhone in the UK and throughout Europe.