Sharkoon PC Case and Gaming Peripherals Review
Sharkoon are known primarily for their PC cases, but maybe not so much for their gaming peripherals. So I took the opportunity to have a look at their DG7000 PC case, their K30 gaming keyboard and H30 gaming headset.
The DG7000 PC Case For Demanding Gamers
The DG7000 from Sharkoon is an ATX Midi Tower. Thanks to some clever cable management options, the DG7000 has the option to look incredibly tidy on the inside. This is ideal as the case features a side window made from white acrylic. Three 3.5″ hard drives can be stored along the bottom and a panel hides any power supply. There were two 140mm LED fans already pre-installed behind that wicked looking front, the back also sports a 140mm LED. There are also two USB 2.0, two USB 3.0 and two audio ports are on the front of the case, which is great for easy access.
The DG7000 comes in blue, green and red. All the colours have matching LEDs fans, interior painting and LEDs. I was surprised when I opened it up and saw the inside was painted too, this was a very nice surprise. The motherboard and components installed all take use if the cable management, keeping that clean look for the case. There are numerous gaps around the motherboard for any required cables, as well as a CPU cooler cutout.
I was happy to see that there is room for water cooling, as the DG7000 has the potential for a 280mm radiator. The maximum length for graphics cards is around 38 cm, power supplies would be 23 cm. There are also pre-installed filters, which protects any hardware from dust. As I like to clean my PC, I was happy to see these filters could be removed and put back. There is finally one last dust filter attached to the top panel via magnetic fasteners. To help increase overall airflow, the top offers additional space for up two 120/140mm fans. You can also visit this website that always updates about some of the best PC cases of the year. Now, to give you a full list of specs, here it is:
Audio input: Yes
Audio output: Yes
Backplanes support: Yes
Built-in speaker(s): No
Card reader integrated: No
Colour of product: Black, Red
Depth: 47 cm
Form factor: Midi-Tower
Front fans diameters supported: 140 mm
Front fans installed: 2x 140 mm
Height: 47 cm
Illumination: Yes
Illumination location: Back, Front
Liquid cooling capability: Yes
Material: Acrylic
Maximum CPU cooler height: 17.5 cm
Maximum PSU length: 23 cm
Maximum front fans: 2
Maximum graphics card length: 38 cm
Maximum rear fans: 1
Maximum top fans: 2
Number of 2.5″ bays: 2
Number of 3.5″ bays: 2
Number of 5.25″ bays: 2
Number of expansion slots: 7
Number of internal 3.5″ bays: 2
Power supply included: No
Rear fans diameters supported: 140 mm
Rear fans installed: 1x 140 mm
Side window: Yes
Supported hard disk drive sizes: 2.5,3.5″
Supported motherboard form factors: ATX, Micro-ATX, Mini-ITX
Top fans diameters supported: 120,140 mm
Type: PC
USB 2.0 ports quantity: 2
USB 3.0 (3.1 Gen 1) Type-A ports quantity: 2
Weight: 7.2 kg
Width: 21 cm
This case comes in at around £60, which is a solid price for this case. I love the look and colour of it, and was amazed with the room and opportunities it offered me.
amazon.co.uk/Sharkoon-DG7000-computer-Midi-Tower-Micro-ATX/dp/B01AUY88O0/
SHARK ZONE K30 Gaming Keyboard
The K30 from Sharkoon features a striking yellow trim, which looks pretty awesome. Though not multicoloured, the illumination looks great on this, and even in a bright office it looks awesome. It features an inbuilt armrest which was a nice little touch.
There are 5 programmable macro keys, and some of the F keys function as media control. The arrow keys have little finger dips in them, and unlike other keyboards I have used, these "dimples" work really well and make using the arrows a lot simpler. The K30 has multi-key rollover support as well as a polling rate of 1000 Hz.
The cable is a simple yellow plastic cable, but I did like the addition of a gold plated plug. I will admit that the keyboard doesn't give off a premium feel, but it works like a dream. When gaming on Crysis, or COD I was still able to move around with no problems, and experienced no finger slips. This is aimed at people who aren't interested in the thousands of led combinations, or different profiles for different games.
Best of all, it won't cost you lots and lots of money, this keyboard is just over £21!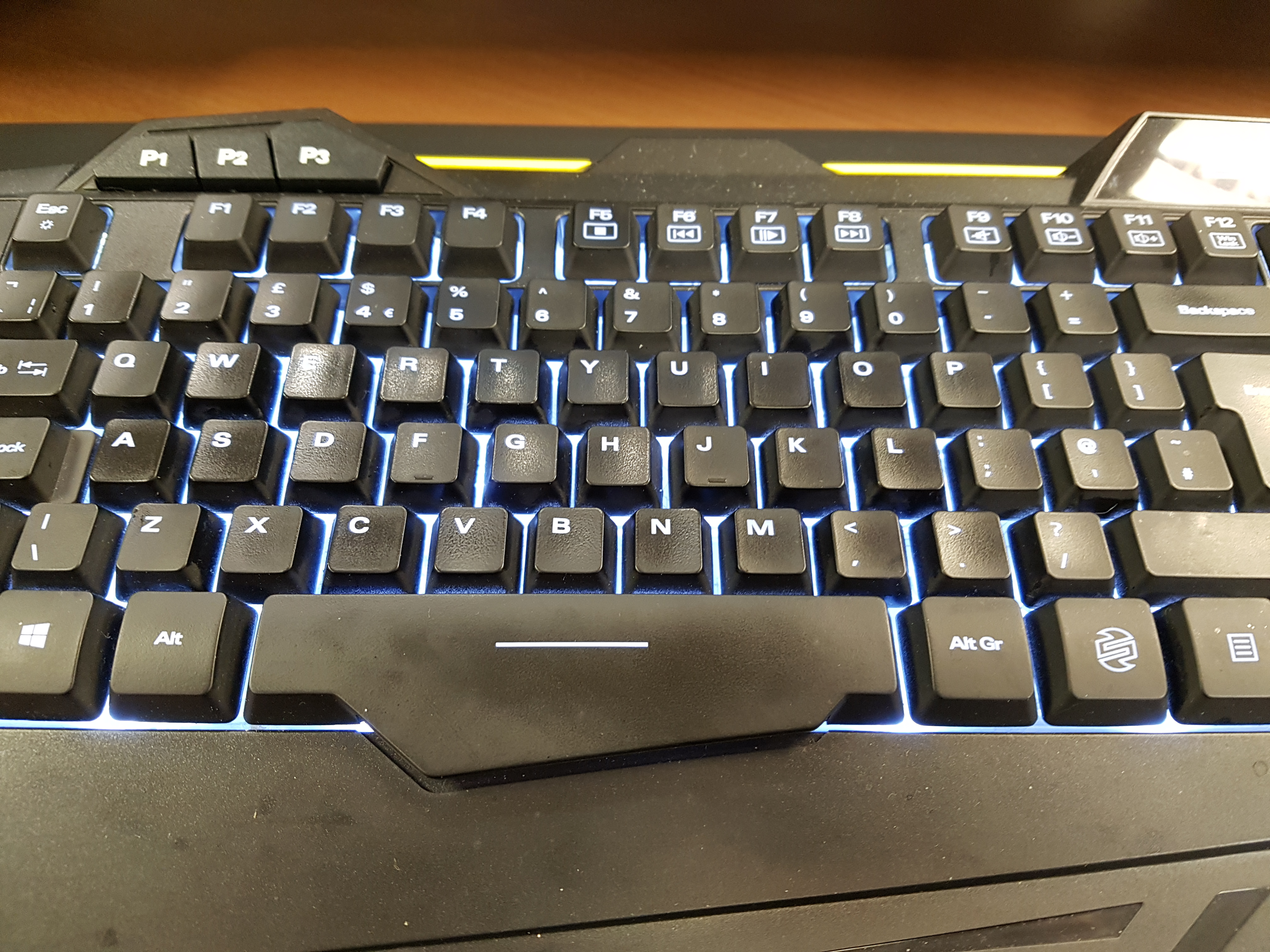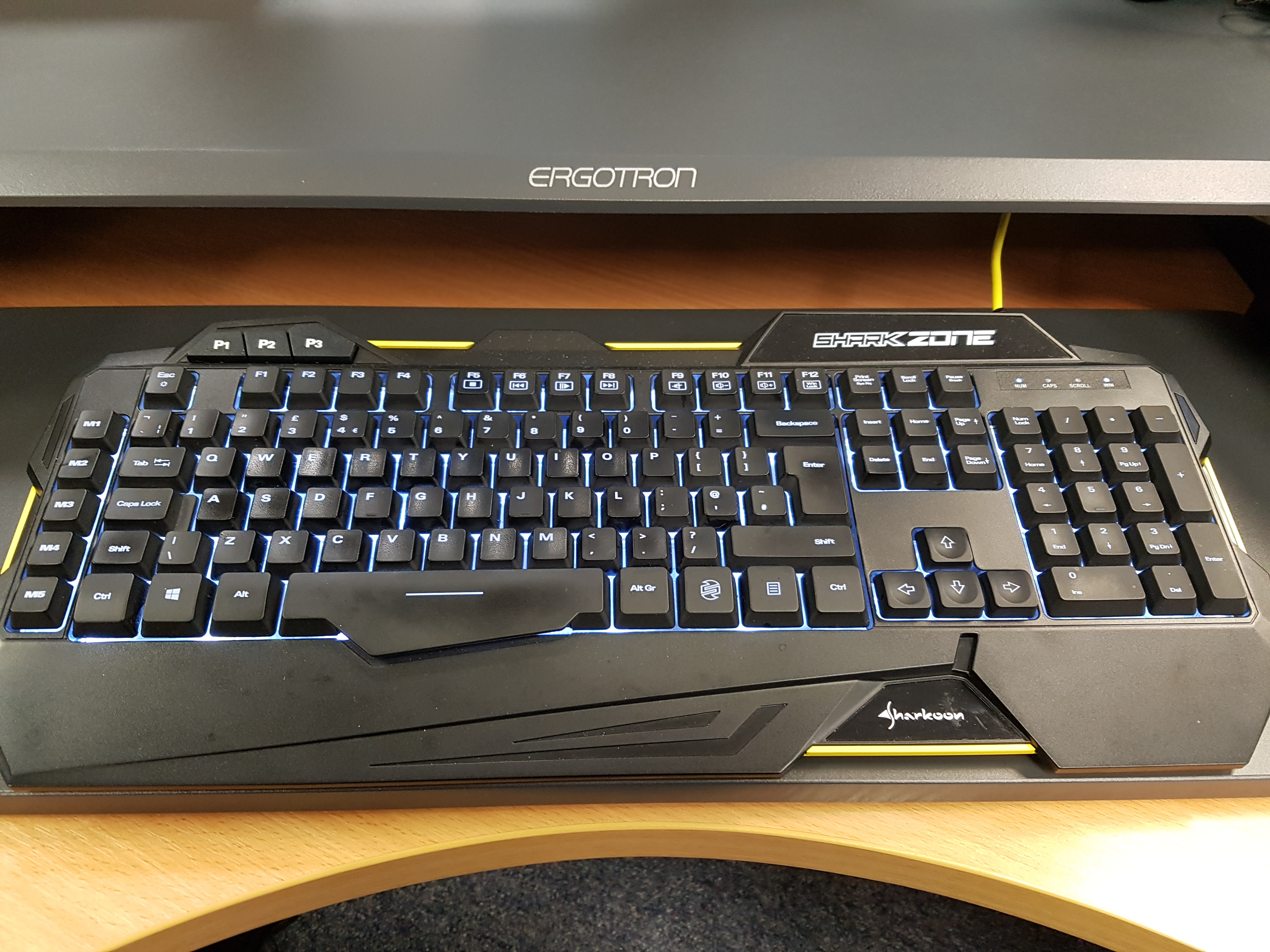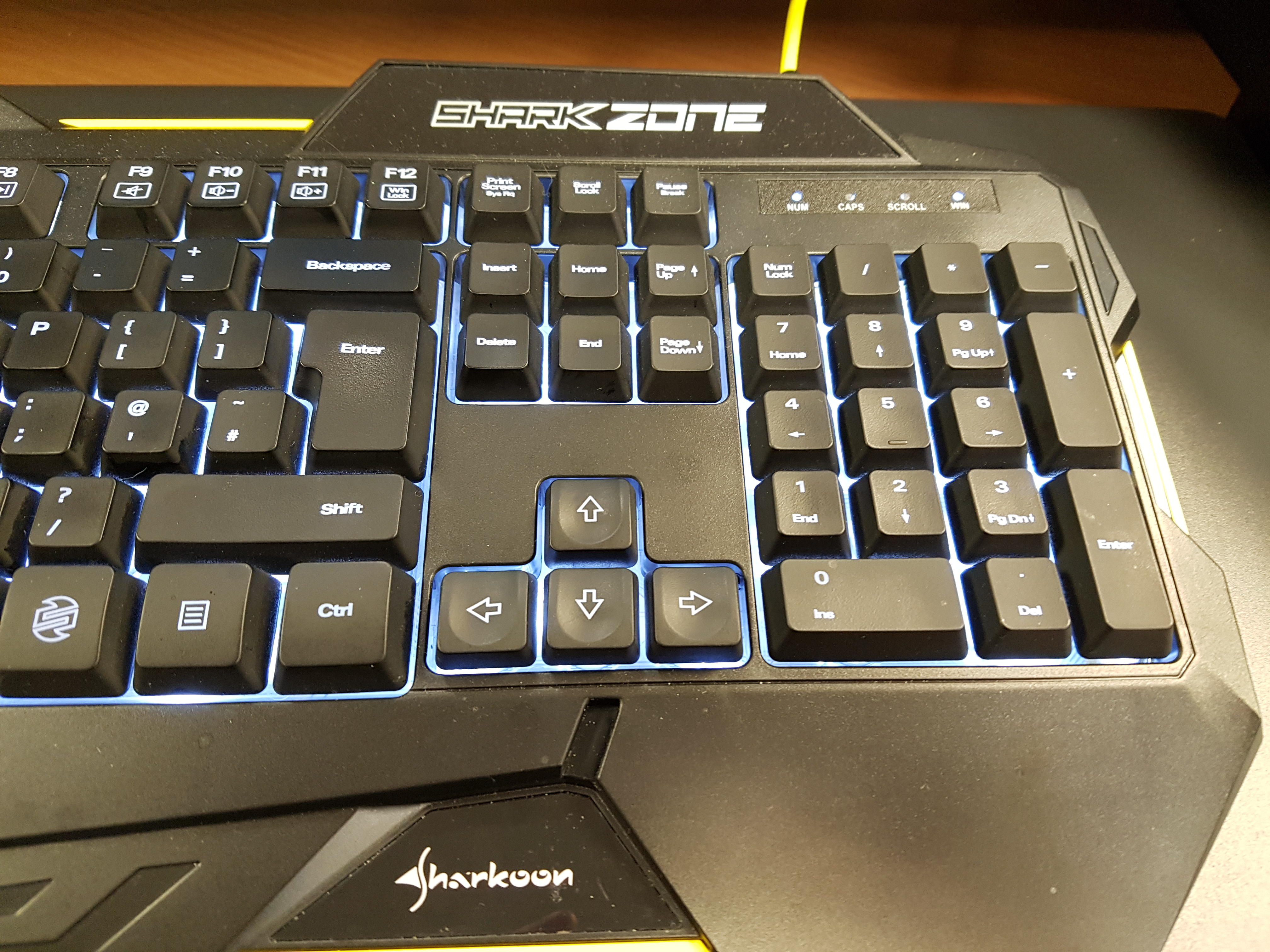 amazon.co.uk/Sharkoon-Shark-Zone-Gaming-Keyboard/dp/B014H3ZMVW
SHARK ZONE H30 Headset for Gamers
When I started using the H30 headset from Sharkoon, I was reminded of those WW2 headsets used by pilots, as it has an old school look. Overall I was impressed by the headsets quality and robust design. They come with a metal support which is stable, and incredibly comfortable ear pads. The mic is also detachable, so if you don't need it, you can just disconnect it.
The whole headset comes in at just over 280g, which is another sign of how good the overall design is. The cable is 1.20m long, not long enough?! There is an additional 1.4m long extension included. The connection is a 3.5mm jack. The speakers are well insulated by that padding, so it dampens out a lot of external. This dampening also works the other way, and I found even of top volume sound bleeding was minimal.
These offer really clear highs with no distortion. Even at high volumes, there was very little static. The padding on the speakers allowed for (to my wife's joy) prolonged gaming sessions. Clocking in over 6 hours of gaming, my ears were fine. The headband is great, comfortable and due to the adjustments, can fit most heads. I will say the synthetic leather does tend to collect sweat, so maybe not good for those intense summer gaming sessions in the desert. When testing the microphone, we encountered absolutely no issues. Over Skype, VOIP or World Of Tanks, everyone heard what we were saying with clarity.
I really like these headphones! The looks and feel of them is awesome, and the overall performance is outstanding. The price is £39.
amazon.co.uk/Sharkoon-SHARK-Zone-H30%C2%A0Gaming-Headset/dp/B016Y5VCEM