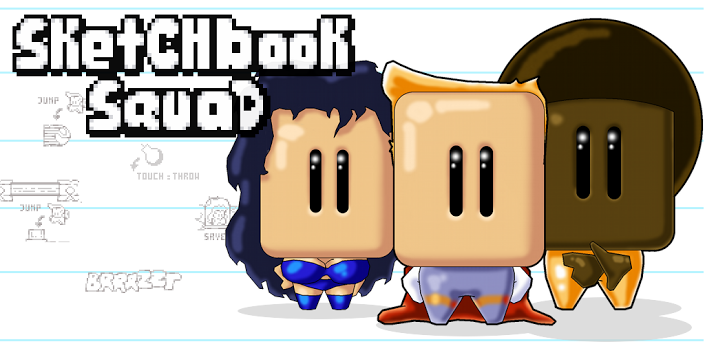 Tilt your phone to move the player, the more you move it to the left or right, the faster your super hero will jump/move in that direction.
Use the platforms, rockets, and super soda cans to climb as high as possible.
Avoid lasers, robots, meteorites, choppers and other hazards.
In true Orangepixel style this game can be a bit more challenging then the other games in this genre!

Looks and presentation
Built in the 8bit style that we've came accustomed to from OrangePixel with an old school 'jotter/sketchbook ' background, this game will hit you with bundles of nostalgia. Games like these appeal to me and run perfect on phones and tablets. (Of course it has the 80's video game soundtrack too.) Hand drawn characters, simple to navigate menus and pleasant feel to the experience make me want to grab a game on the go.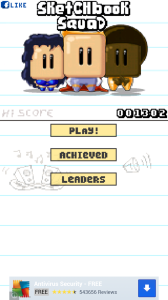 Gameplay
Simply tilting your device moves your hero from left to right as he jumps and you try to go higher and higher to beat your top score. An easy game to grasp but hard to master, I'd say. Miss the landing and drop off the bottom of the screen and it's game over, unless you've already gotten to the next character, then he/she takes over. Soda cans provide points or a massive jump boost but watch out for a spikey landing. Bags of fun with a desire to beat your high score, Sketchbook Squad would be in the grab and go category of titles. A quick 10 minute game in the usual places. (Bus stop or on the loo.)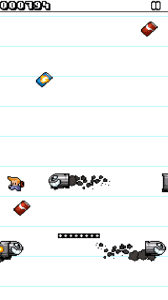 Leaderboards and Achievements with Google Plus Game Services
With Google's great new additions, I'd say the leaderboards and trying to beat others in your Google Plus circles has, really added more to this game. I'm sure I'd be a little bored by now with not knowing who is playing or what score they have set. Adding in achievements also put a bit of replayability in. (It's a made up word but you know what I mean.) You'll not download, play 2 games and delete, like some, I bet you've done before.) Good luck beating that public high score!!

Conclusion
I'd recommend this game to everyone. It's fun, exciting and gets the buzz going when you know you've done better than before. You'll think it's pretty simple but you'd be mistaken. The game runs well, has that 8bit look and soundtrack with sharing and the Google Sign In to beat other players in your circles. Sketchbook Squad is a title for all ages and experience levels. I really hope most people enjoy it too.

 (Free with adverts but no pro version)