Skinomi TechSkin for Moto X Review
Screen protectors are not my thing. I've never used one as I respect my devices, probably as I always pay sim free prices and the wallet pain from that lingers longer than it does for contract phone users. My wife on the other hand has no respect for her phones and just drops them into her bottomless handbag, then proceeds to launch said handbag into the passenger seat footwell of her car. So her phones always need that bit of extra protection. When she got her Moto X she ordered a cheap mirrored screen protector from Amazon, under the assumption that it will simultaneously protect the phone and allow her to look at her self all day long. While the thick plastic screen protector did stop the screen from being damaged when she subjected her phone to a four foot drop – smashing a rather sturdy pint glass along the way – it unfortunately made the phone almost unusable in sunlight. It wasn't much better in normal light as it made the screen look rather wet and distorted.
So after a few months of complaining (standard time for a man to start doing anything I feel) I went on the search for a high quality screen protector, irrespective of cost. After a while browsing around, I found that three that stood out from the rest:
Zagg InvisibleShield High Definition
Even at the high price of £19.99 I was tempted by this as it comes with a lifetime warranty and gets reliably good reviews.
Glass Screen Protectors
I couldn't find one for the Moto X. I've seen people say they offer the best protection but have a large step on the edges and once that gets damaged its game over – time to replace the protector.
 Skinomi TechSkin
Seemed very similar to the Zagg but at almost a third of the price: £6.95 with a lifetime warranty as well.
 After some deliberation I went with the Skinomi and upon arrival I was instantly amazed at the quality of the packaging it comes in. It looks like a box for a small but stylish book, complete with detailed instructions. Even the cleaning cloth had the company logo on it. All in all some really nice touches for such a low price. If the instructions aren't enough, they have also included a link to a YouTube video of how to apply the TechSkin. I'd really recommend watching this as it's not the normal line up, stick on and hope approach. Skinomi utilise a spray formula to make the TechSkin wet so you can position it just right and then squeegee the air bubbles out. Even if you miss some bubbles they disappear after a while anyway. I can only presume this is down to some kind of helpful dark art on their part. Even if you do somehow manage to mess up majorly the TechSkin is removable, washable, and re-applicable during installation. Once you've successfully applied the skin and excess liquid has been removed you have to wait for the TechSkin to dry before use. In my case I left the Moto X to dry over night, but realistically it only needs about 4-5 hours.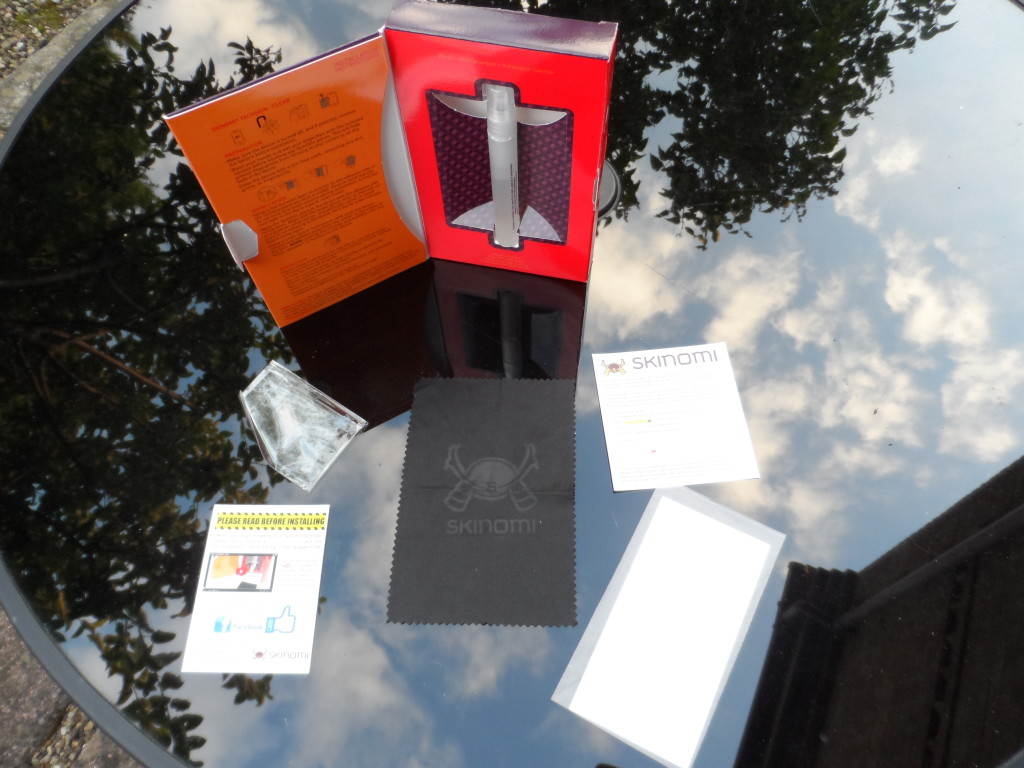 Once dry you're free to use your phone as normal, and it really is crystal clear with no distortion or discolouration at all. There's also no extra shine added to the screen, in fact the only way you really tell the TechSkin is on at all is the soft plastic feel it adds to the screen. My wife said she got used to it pretty quickly so I wouldn't be overly concerned by this. It's also incredibly thin, the side step of the screen protector is minimal and due to the soft material of the TechSkin it doesn't catch/scratch at all. You can see in the pictures its rather hard to tell which Moto X has the screen protector on.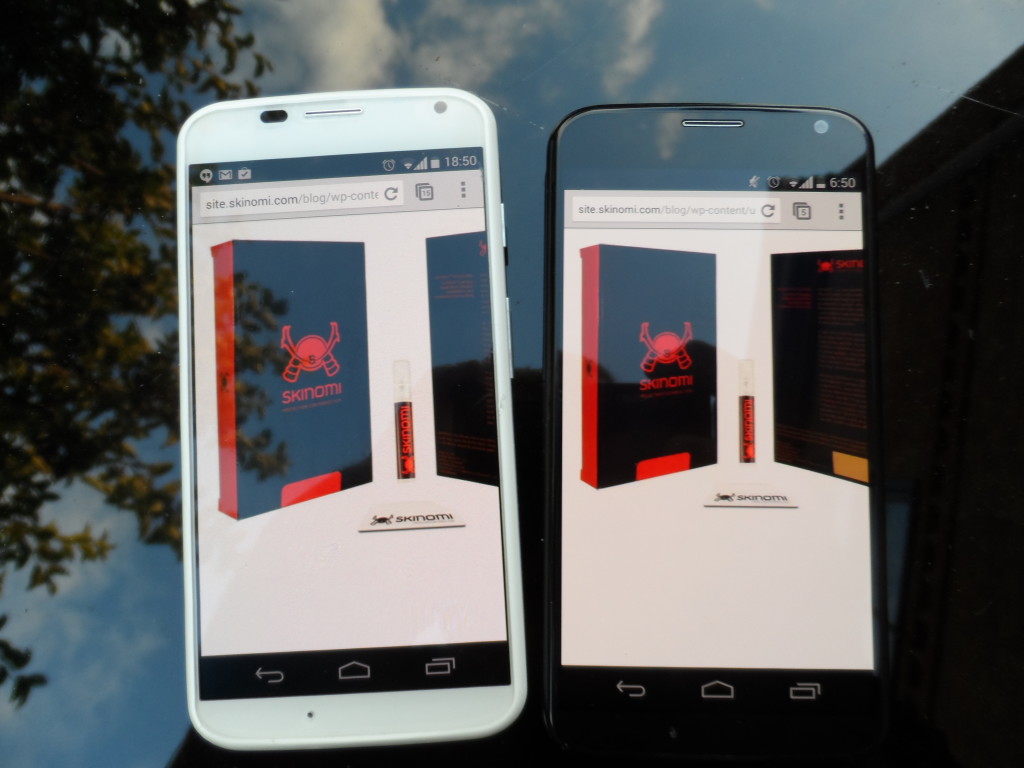 To test its robustness I have put some keys to the TechSkin, and while it does mark and indent the protector it self healed to the point where after a few hours I couldn't tell where I had attempted to damage it. Unlike normal adhesive screen protectors it also doesn't feel like its going to peel at the edges, something I assume is down to the wet application making a much better seal than usual methods allow.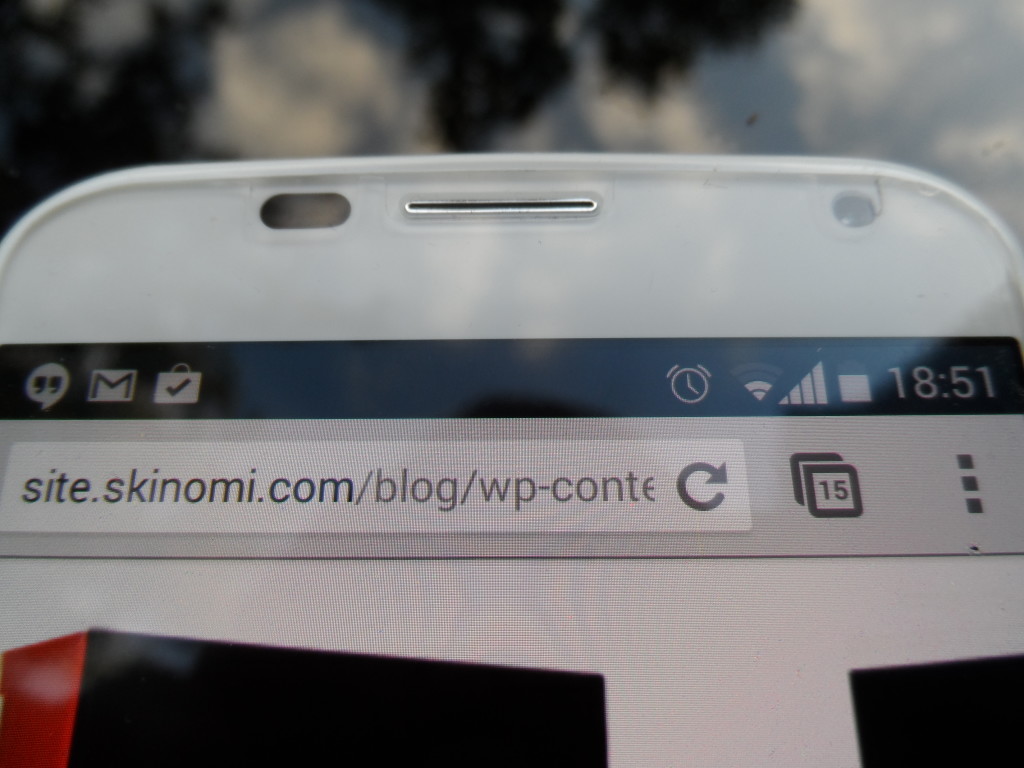 Skinomi offer a full range of TechSkins to cover both the front and back of your device. They even offer patterned TechSkin backs for devices as well, meaning you no longer need a bulky case to make your device stand out. I am so impressed at the quality of the Skinomi TechSkin I have ordered one for my Nvidia Shield Tablet.
This is the best £6.95 I have ever spent I'm sure, complete with a wonderful unboxing experience and a product that really does work. Skinomi are now my go to screen protector and if you have a spare £7 check them out.