Skiva OctoFire Turbocharge – Review
Charging devices has always been an issue for me. You have the one lone micro-usb plugged in, but your Nexus 7 is running low, but your wife's phone is about to die, and yours hasn't got much longer! Skiva has come up with a brilliant solution, the Octofire! This handy device plugs into the mains, taking up only one plug socket and then supplies you with 8 USB ports to use. This allows for a total wattage output of up-to 84 watts, now i don't know what that means, but it sounds a lot.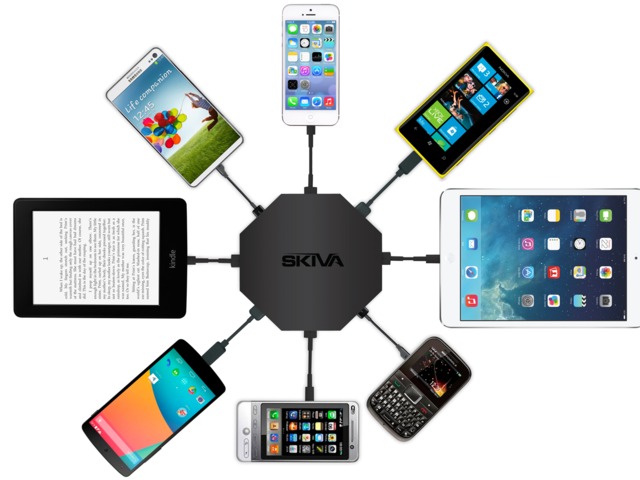 A little bit about the background the Octofire. This eight-port (hence the the name) "intelligent" charger for your gadget goodies, started life on Kickstarter earning US$76,000, more than its $20,000 goal. The Octofire automatically identifies each device as it's plugged in and delivers an optimal charge, automatically shutting off when the device reaches full charge. The OctoFire is UL, CE, FCC and RoHS certified, with overcharge, over-voltage, overheat & short circuit protection.
The box it arrived in is quite large, but this is mostly taken up by the mains plug and adapter. Inside the box we got the charger, the power adapter and some documentation. You will have to supply your own USB cables, but this was always going to be the case, as its wide variety of possible devices, could never be totally catered for.
Testing this bad-boy was difficult at first, as I found it hard to get 8 devices. But I managed it in the end charging two M8s, a N7, a One, a Kindle, a Bluetooth headset, Car GPS and a iPad. All connected with no issues and more importantly all charged with no issues.
The OctoFire never appeared to be hot after a couple of hours, and was quite happy to charge the devices. The octagon shaped charger is about the size of a small saucer and no bigger then my hand span. The oversized top obscures the view of the eight USB ports that line its perimeter. It's made of black poly-carbonate and the simplicity of the design makes it quite an elegant charger.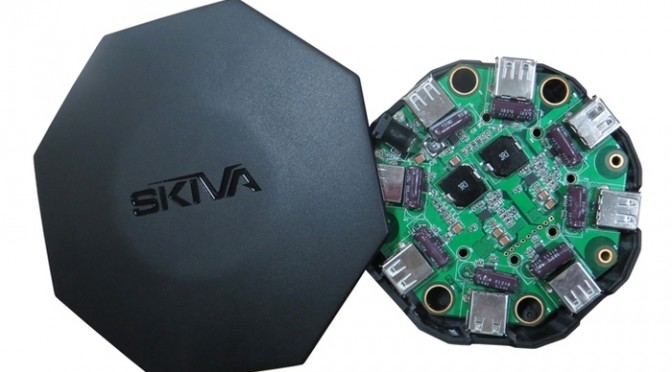 Some specs:
Power Capacity:  charges up 8 USB devices at the same time each at up to 2.1A/5V power.
Smart Device Detection:  intelligently detects the device, and provides the required charging.  This is how the Octofire can deliver enough power to multiple devices at optimal current simultaneously.
Safety:  the AC/DC adapter is UL, CE, FCC, and RoHS Certified so it protects against overcharging, overheating, and over-voltage.
Design:  elegantly designed to fit into any décor on or under your desk.  The sleek octagonal shape is developed from top-quality polycarbonate ABS material for efficiency and durability
Compatibility:  capable of charging any device with a USB port including smartphones, tablets, GPS and more.  The power solution can also be used in any country with its 100-240VAC 47-63Hz power input.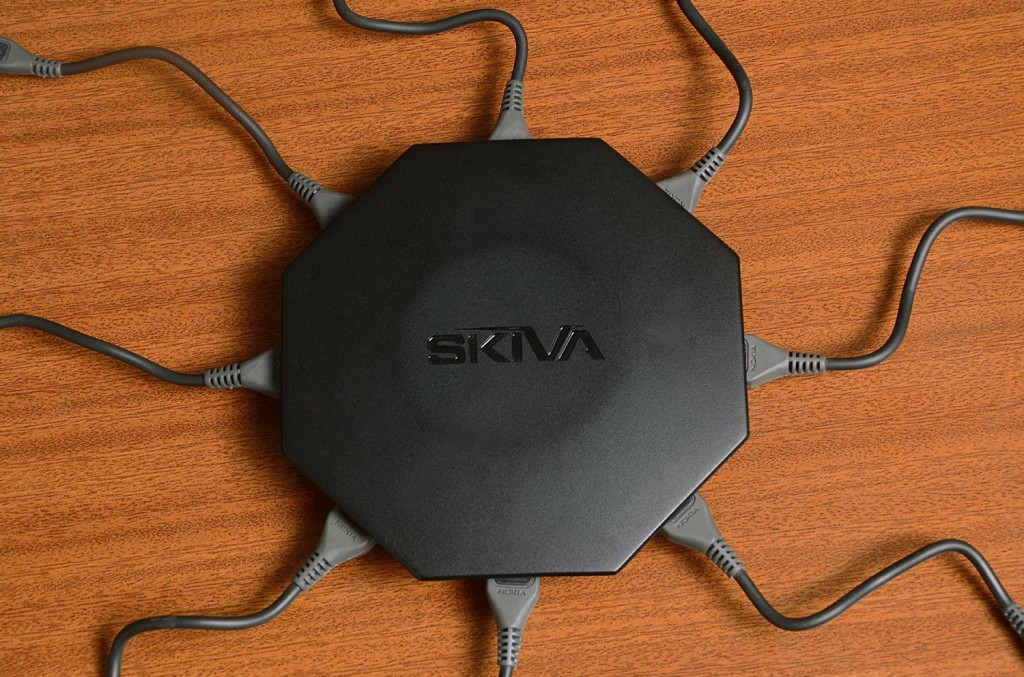 There's not much else to this product. By using only one plug, you can safely and intelligently charge up to 8 different devices at the same time. The small size and light weight of the OctoFire allow it be moved and setup easily and is perfect to have around the home or the office.
This hasn't been out for long, but after using it for a week, I have decided that its one of those devices that you'll buy and will always find yourself using.
Grab the Skiva OctoFire Turbocharge below:
http://www.skivapower.com/#!octofire/mainPage