Huawei have updated their budget "P Smart" line of handsets with a new dewdrop notch design for 2019. With last year's capable Mate 20 Lite now reduced to a very reasonable £279 here in the UK, lets see how much has had to be compromised to bring the P Smart 2019 in for an even more pocket-friendly price of £200 (€249).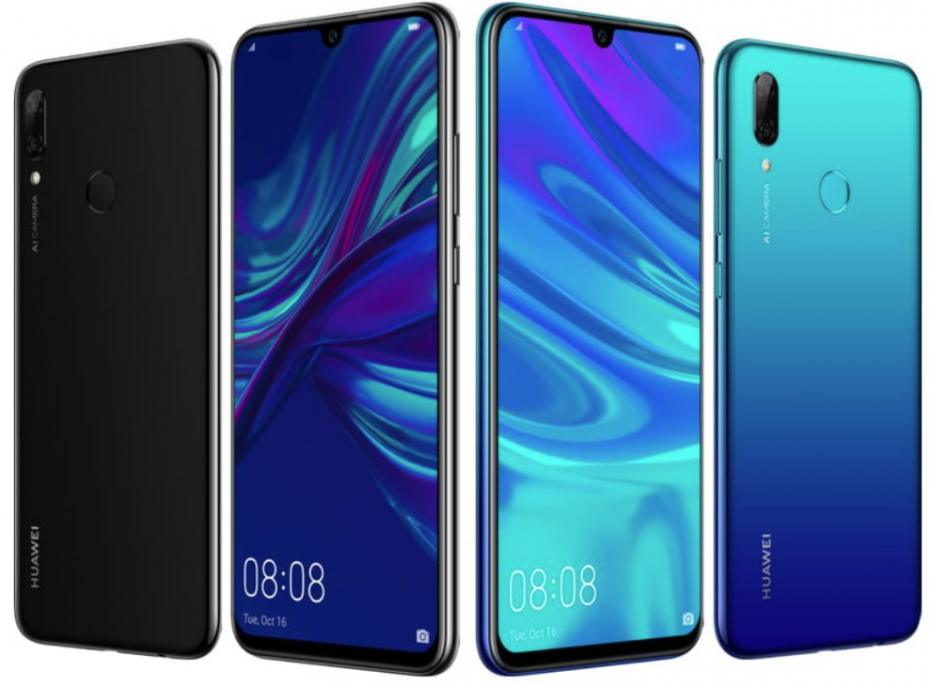 Build and Design
Available in black, "Aurora" blue and "Sapphire" blue versions, this new P Smart looks every bit a modern, stylish, 2019 phone with its minimal bezels and curved back and sides reminiscent of Huawei's Mate 20 (apart from the switch to a vertical, top-left corner camera layout).
Many will complain about the back of the phone being made from smooth, fingerprint attracting plastic that lacks the more premium feel of glass or even aluminium as used with last year's P Smart. Personally I prefer to throw a case on my phones, so I've no problem with the light but robust benefits having a plastic back affords.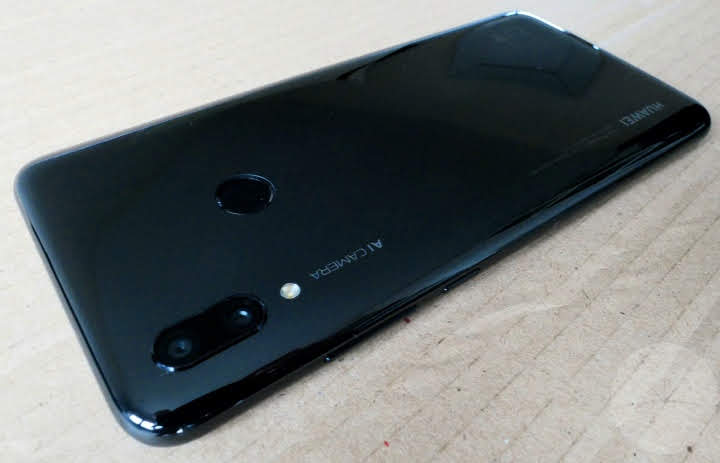 Although almost identical in size to the Mate 20 Pro, the phone feels significantly lighter in the hand with the back fingerprint sensor perfectly located for easy reach with the index finger while holding the phone. The buttons feel solid with the usual power and volume buttons located on the left side while at the bottom you'll find the mono speaker grill, 3.5mm headphone jack (hooray) and Micro USB charging port. While many gadgets still come with Micro USB, most handsets have now moved to USB-C. For most people this won't be a major issue, but it is the one feature that slightly dates the design of this phone.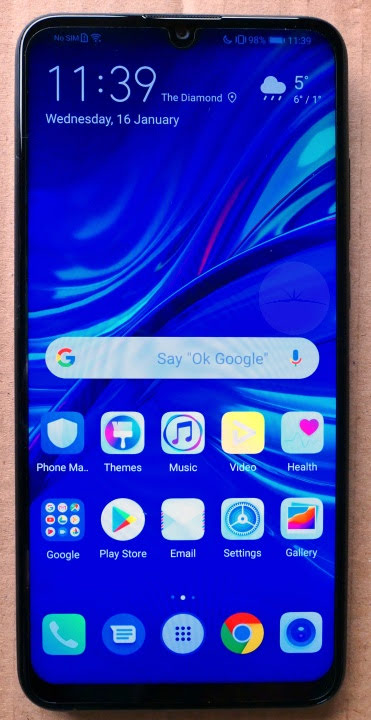 The front is filled by the 6.21″ FullView display apart from the dewdrop notch at the top and a small chin at the bottom. I thought the small cut-out for the selfie camera would mean no notification LED, but happily Huawei have been thoughtful enough to move this down to the chin area along with the auto-brightness sensor.
In terms of accessories, a film screen protector comes fitted while inside the box you also get a 5V 2A USB charger, Micro USB cable and a decent pair of 3.5mm wired earbuds. However unlike many Chinese budget phone manufacturers, there's no sign of any free case.
Specs and Performance
Screen resolution is 2340 x 1080 (19.5:9) giving a respectable 415 ppi. While this IPS LCD panel isn't quite as pretty as the OLEDs used with Huawei's high-end devices, it's plenty sharp with accurate colour reproduction and decent saturation levels. Viewing angles aren't perfect and I'd have preferred a little more contrast, but overall I'd have no issues looking at this screen every day (especially considering the price point).
Internals are similar to what we saw with the Mate 20 Lite. This device uses the same 12nm HiSilicon Octa-core Kirin 710 processor with Mali G51 MP4 GPU, and also includes 64GB of storage that's expandable via Micro SD card up to 512MB. You even get NFC and an FM radio – the only compromise is the drop in RAM from 4GB down to 3.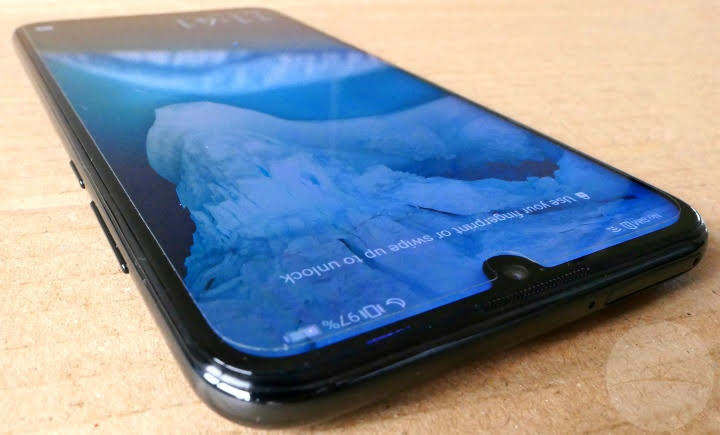 3 gigs is looking a little low these days and I'd expect overall performance to take a hit. However apart from memory intensive apps needing to reload more often, this doesn't seems to be the case – there was no noticeable difference in performance compared to the Mate 20 Lite. Just like it's bigger brother, everything is fast and fluid with this device even having no trouble handling high-end games.
The fingerprint scanner is also fast and accurate, backed up by face unlock (via the selfie cam) which also worked well, successfully unlocking the phone for me most of the time. The bottom-facing mono loudspeaker gets the job done but won't really be winning any prizes for audio fidelity (especially at louder volumes). Call quality, GPS, Bluetooth and WiFi comms were all excellent and the P Smart 2019 even has support for 5 GHz WiFi.
Battery life was good and I found a full charge of it's 3400mAh capacity (increased from last year's 3000mAh) difficult to deplete inside a day. Charging rate is the standard 5V/2A which usually fully recharged the phone inside a couple of hours. Wireless charging is not supported.
Software
P Smart 2019 runs EMUI 9.0 on top of the latest version of Android (9). I was already familiar with Huawei's latest version of its O/S from my review of their flagship Mate 20 Pro, and the software experience is remarkably similar despite the large price and spec difference between these two handsets. In my book this is a good thing as EMUI 9.0 is clean, smooth and stable while adding a variety of useful features on top of Google's stock Android.
For instance battery life is automatically extended with an extra level of app management that prevents processes from launching and continually running in the background. Again out of the box this can be quite aggressive so I needed to dive into the settings to white-list music apps and those that I need to receive notifications from.
Another flagship feature is the ability to gain extra screen real estate by switching to either swipe gestures or a navigation dock instead of the standard Android navigation buttons. There's no going back once you get used to swiping in from the various edges of the screen to go home, back or recent tasks.
As with Huawei's other phones, the launcher comes with all apps on multiple home screens with no app drawer. However there's a setting that switches it to the normal Android way of doing things – plus you can always switch to your favourite alternative launcher app from the Play Store.
The phone comes with a few bloat apps pre-installed but most of these can be uninstalled. If you've something to hide then the Private space feature even lets you use a different fingerprint to unlock the phone to a completely separate phone setup.
Camera
Unlike Huawei's flagship devices, at this price you're not going to get triple back Leica lenses for those handy optical zoom and wide angle shots. However along with a 8MP selfie cam, you do get a 13MP main camera with f/1.8 lens that's backed up by a 2MP depth sensor lens for those bokeh (blurred background) photos.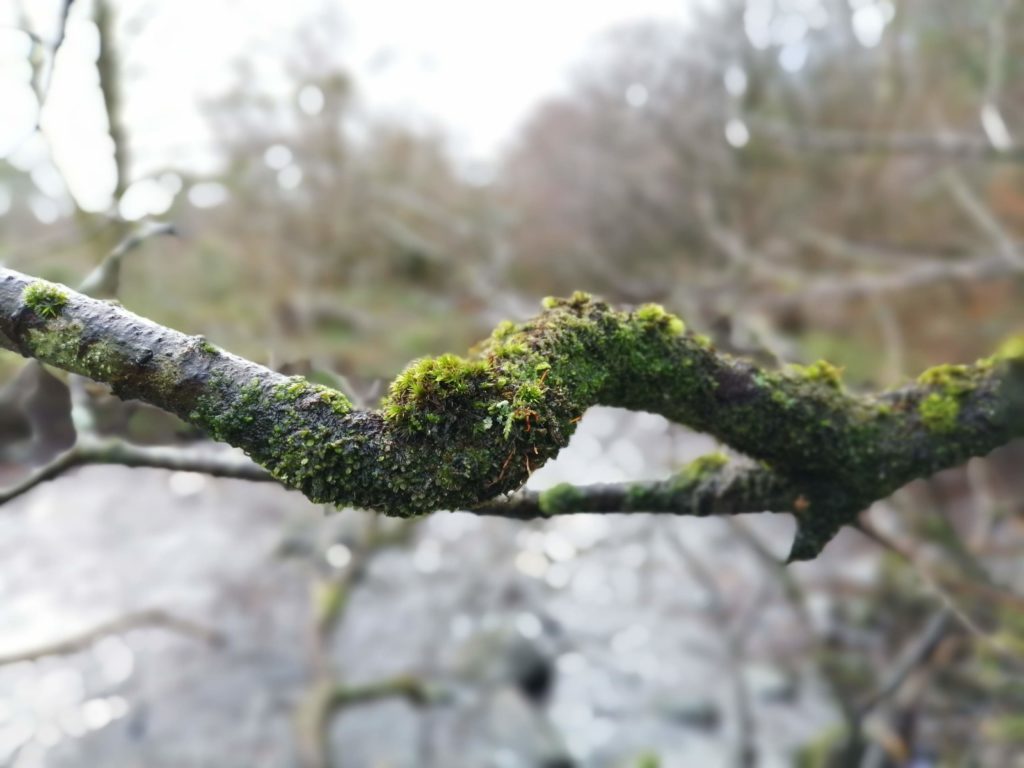 Decent camera hardware doesn't come cheap and this area has tended to be the budget phone's greatest weakness. Lately however, the big name phone manufacturers (including Huawei) have been investing heavily in A.I. research that allows them to compensate for some of what the hardware lacks.

Despite the lack of OIS, motion blur was rarely an issue. Photos taken in daylight were sharp and detailed with accurate colours and decent dynamic range. With less light things tend to look softer and I could even see some noise with low light shots. However this is redeemed by the inclusion of Huawei's excellent Night mode that allows hand-held long exposure shots. I loved this feature on the Mate 20 Pro and while you couldn't expect the results to be as good using budget hardware, it does allow you to get decent night shots that would otherwise be unusable.
The 8MP selfie cam gave good results – even in lower light thanks to the screen automatically switching to a white UI cranked to full brightness. The 1080p video also looks pretty good but it does need bright conditions, and the results can be shaky as there's no stabilisation. I also preferred the 30fps recordings as I noticed some focusing issues at 60fps.
The camera A.I. automatically detects over 500 different scenes, automatically switching to portrait and HDR modes or providing real-time optimisation tweaks to colour and saturation. Compared to the Mate 20 Lite there's no slow-mo mode and the AR features have been toned down, but for me the P Smart 2019 provides a better overall camera experience.
Conclusion
There are certainly some good alternatives available around the £200 price point of the P Smart 2019. Motorola and Honor offer some solid choices (particularly the very similar Honor 10 Lite), but this new P Smart should easily turn out to be one of the best budget smartphones of 2019.
The high-end Huawei handset design and features such as the edge-to-edge display, extended battery life, night mode, swipe gestures and facial recognition have all trickled down to offer a very compelling budget handset.
As an Android nerd I haven't been able to say this about a low-end phone before, but Huawei's P Smart 2019 ticks all the boxes and the camera is finally good enough for me to consider it worthy of being used as a daily driver. It's definitely a great phone for the money and I can recommend it to anyone looking for something in this price range.
In the UK you can pick up a P Smart 2019 sim-free from Amazon or Argos, with contract options from Vodaphone, O2 and Three. For more details check out the link below to the Huawei website…