Snapdragon Glance (Beta) – Review
Snapdragon™ Glance is an intelligent lock screen application, which makes it easy for you to quickly access the information you need. 
At a glance you can quickly see what is new since you last looked at your device: view important notifications, see when your next appointment is, check the weather, launch relevant apps and contact people more quickly.
Still in active development and tagged as a beta application, Snapdragon Glance really does offer a completely new experience to your lock screen with everything you'd need, right there at a Glance. You'll need Snapdragon BatteryGuru installed first, which you can grab here, to learn your behaviour and allow it to suggest relevant apps and contacts. (Obviously you'll need a device that has a Qualcomm Snapdragon soc.) A fantastic walk-through is provided once installed to get to grips with what the application has to offer and how to customise Glance to your particular liking….
View your next calendar appointment
Missed calls
Missed SMS
Other app notifications (Messaging apps, Hangouts, Email, GMail)
Glance will also offer your most frequent contacts right there on the lock screen for quick access. You can also add or change your favourites to whom you may want. This section allows you to add your most used apps for having a quick way to launch, without going to your home screen. All very handy and extremely convenient..
Snapdragon Glance also provides you with a fairly basic clock and weather widgets, but, with very limited options. (Remember it's still in beta, one would hope to see more ways to tweak to your desire.) The battery icon is also changed along with the signal icons. Honestly I don't like what they did here, but that's just my personal opinion.
I'd be more than happy to recommend Snapdragon Glance for our readers to have a look at. It works extremely well and provides everything you'll need right there. Some options are available for you to change things around. Maybe not enough for me yet, but I'm keeping a close eye where this goes and what other things will be added down the line.
I grabbed a screen shot, in action, of what sort of content you'll see once up and running.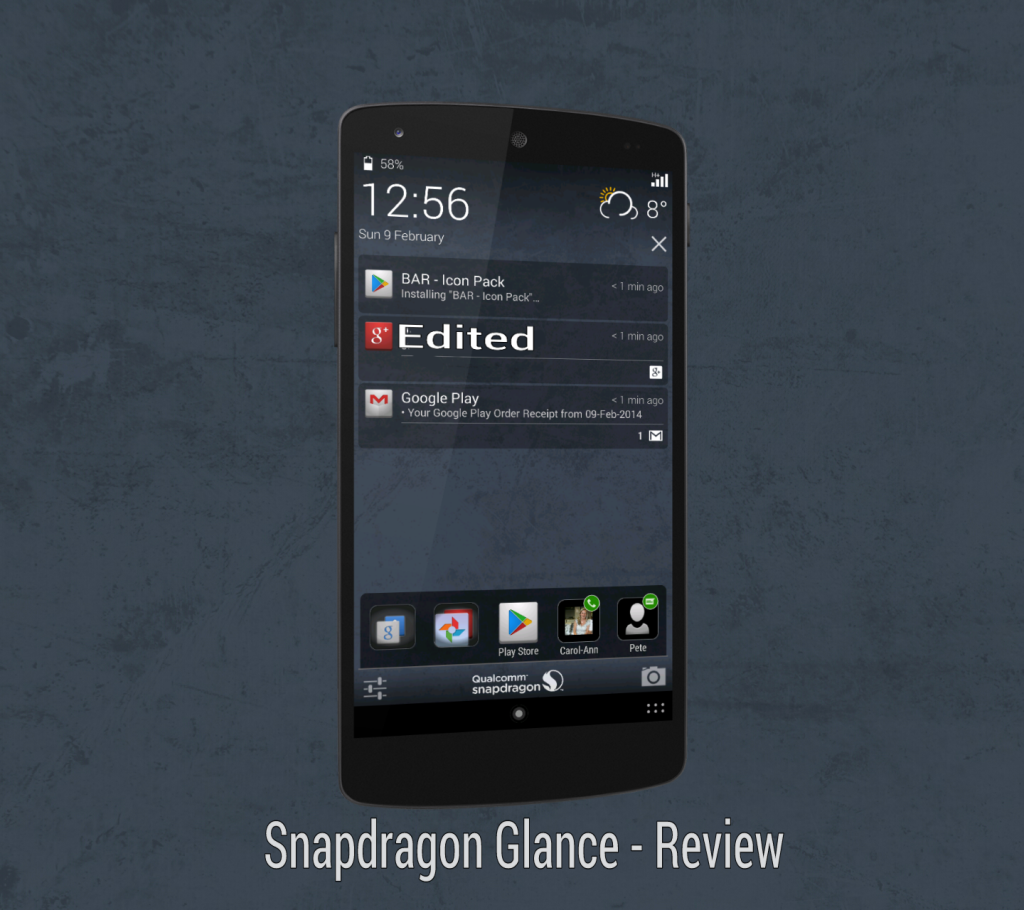 Download Snapdragon Glance Below;