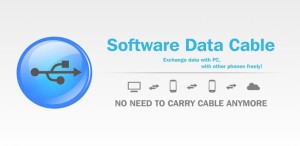 Software Data Cable – Review
In this world of wireless internet, bluetooth audio and the increasing popularity of wireless charging, having to connect your phone to your PC by a USB cable just to copy a few files can't be right. You'll need to have a cable at hand, and if your PC happens to run Linux then you're in for a huge headache.
Sure there are cloud solutions such as Dropbox available where we can upload the files on one device and download on the other, and this works great for smaller file sizes. However if you want to transfer larger files (such as audio or video) then this can take ages, not to mention eating into your cloud storage space. There are now quite a few apps that let you transfer data over your Wi-Fi network, but Software Data Cable seems to be one of the most popular so I decided to see why.
On starting Software Data Cable you are presented with 3 tabs – SYNC PC, SYNC PHONE and SYNC AUTO.
SYNC PC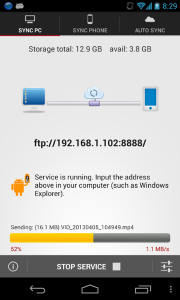 On this tab you are prompted right away with the message "Tap the START SERVICE button to get start" (excuse the English – this Chinese developer's English is much better than my Mandarin). On tapping the "START SERVICE" button you get a notification that the SYNC PC service is running, and you are given an FTP URL – eg. ftp://192.168.1.102:8888/. Not only was this address accessable from a browser, I found it worked even better with Windows Explorer or the Linux File Manager on my laptop. If you use a FTP client you can also plug in this address.
From then on the contents of your phone or tablet is fully accessable, and the usual file manager operations worked flawlessly. I've tried a few similar apps that provide a web interface rather than FTP, and this app had the highest transfer speeds.
SYNC PHONE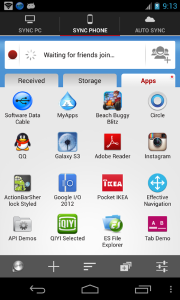 This section sets up a direct push network between devices running the app, and allows the transfer of both files and apps.  This didn't work straight away for me, but with a little more time spent on configuration I may have gotten it to work.
SYNC AUTO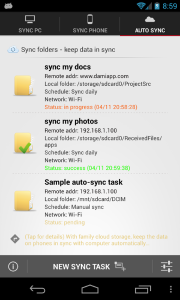 Sync Auto allows you to schedule automatic syncing of a folder to the cloud solution of your choice. Microsoft SkyDrive was the only option I recognized.
Overall I really liked the simplicity of Software Data Cable combined with the great transfer speeds. This is a free app and contains no ads whatsoever so why not give to a whirl…