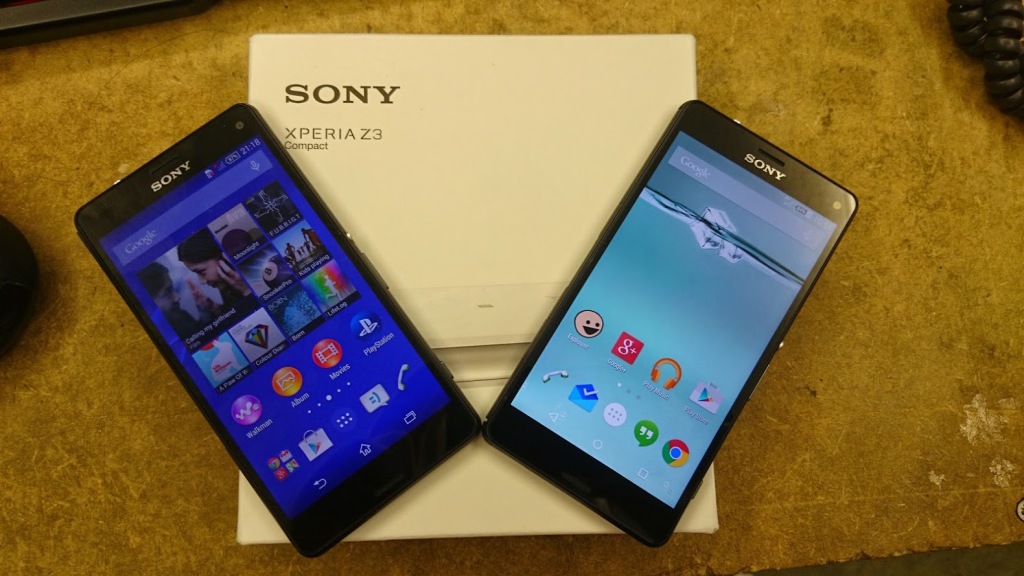 Sony Xperia Z3 Compact Review
I have been using the Sony Z3C as my daily driver for 2 weeks now, coming from the Motorola Moto X (2013). I have owned 10 Android phones and the Moto X being the 10th was a nice touch but this is my first foray into the Sony manufactured Android world. While they have released many interesting phones none have made me want to open my wallet. That was until I got a review Sony Z3C from the nice people at Clove.
I was so impressed by this phone that I went out and bought a Z3C and successfully talked three other people to pick one up even before I finalised this review. In short, Sony have done something rather special with this phone, both in terms of the hardware and the software. For ease of reading and my own (questionable) sanity, this review will be split up into five sections: the box, the hardware, the software, conversion and AOSP.
The Box – Magic Moments
Sony have gone for a white and squarish box, nothing too exciting. Once opened you are greeted with the phone, everything else is hidden under cardboard putting full focus on the phone itself. As well as the phone you get a screen protector (I've never received one with a phone before), a 1.5A USB charger which should charge a bit faster then most, a set of headphones and a very important item: a USB OTG cable. Sony want converts from Apple it would seem as with this you can transfer all your data from your iPhone using Sony's transfer app. Making the moving process easier is always a nice thing.
Hardware – Phenomenal Cosmic Power! Itty Bitty Living Space!
I'll confess now, I have a deep love for compact phones. The biggest phone I've ever owned was the Nexus 5 and I found it hard to use while walking. Some people love big phones, some don't. Those of us that sit in the latter group are seeing a smaller and smaller market for the devices we love – yes you can pick up minis or low end devices but we want speed, good cameras, nice screens just like the larger phone lovers, we just prefer it all in a more friendly size. Sony understand this and are the best in the market currently for smaller phones with the Z1C and Z3C. So what hardware does the Z3C have?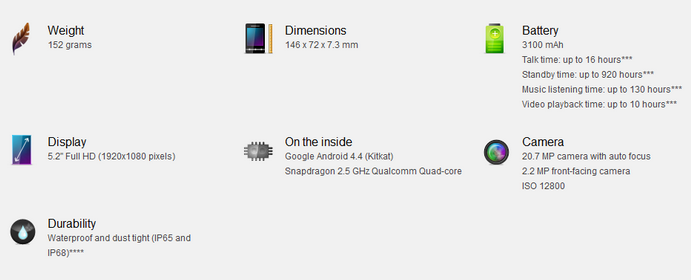 Sony really is showing the other OEMs how mini/compact phones should be. Both Samsung and HTC release mini phones with mini specs, while the only spec Sony slimmed down with the Z3Cwas 3GB ram down to 2GB RAM, something I can live with quite happily.
The phone feels great, well built, no light bleed from the screen. The camera is a truly amazing 20.7MP* on a compact phone and it doesn't even stick out. It takes great photos with vibrant colours, the only oddity about it is that most photos are by default taken in 8MP, you have to go into manual mode and set the phone to 20.7MP with 4:3 aspect ratio if you want it to fulfill its promise. Another niggle would be that the glass breaks easily with small drops, but at the end of the day it is glass and to help with the compact size the sides aren't smooth like on its big brother. I can understand why that SnapDragon 801 is in almost all flagship phones currently, it's so quick and smooth nothing I've thrown at it phases it. Even streaming games from your PS4 produces no noticeable lag, so playing high end Android games won't be a problem at all.
Software – Bloat but no need for Rennie
Custom UI's are a touchy subject in the Android world. Some hate them, some just use them, some may even love them (not that I've met anyone that fits this yet). They are needed however and Sony prove this time and time again. Sony push more commits to AOSP than any other OEM, so they even influence Android. Yes Nexus users this is true, feel free to read up on it if you don't believe me. Sony got the 3 button configuration that is now standard in Android even down to the back button being on the left. You can even see it in Lollipop menus looking almost the same as KitKat Xperia UI. Sony have done some great things with the software such as double tap to wake the screen. Editing the quick settings without going into different menus just drop tiles where you want them and remove ones that you don't use. This makes the quick settings so much better to use. They have added "Throw" to make it easier to play movies on your XBox or Playstation. Display calibration so you can set the white balance how you like it. Glove mode so you can stay warm during those cold winter months. One thing that stands out to me though are the "Themes" that you can download and install. These can change icons, softkeys, status bar icons, menus – in short almost everything. Sony have even released Lego and Spiderman themes. This really makes it your phone. The second thing to stand out is "Stamina Mode". I have seen some very impressive results from using this over 6 hours of screen time and almost 3 days on a single charge. You can make the device last even longer with low battery mode that turns off data, dims the screen every possible way to make those last few % go as far as possible. Making this phone suited to high end users or people tired of being wall huggers.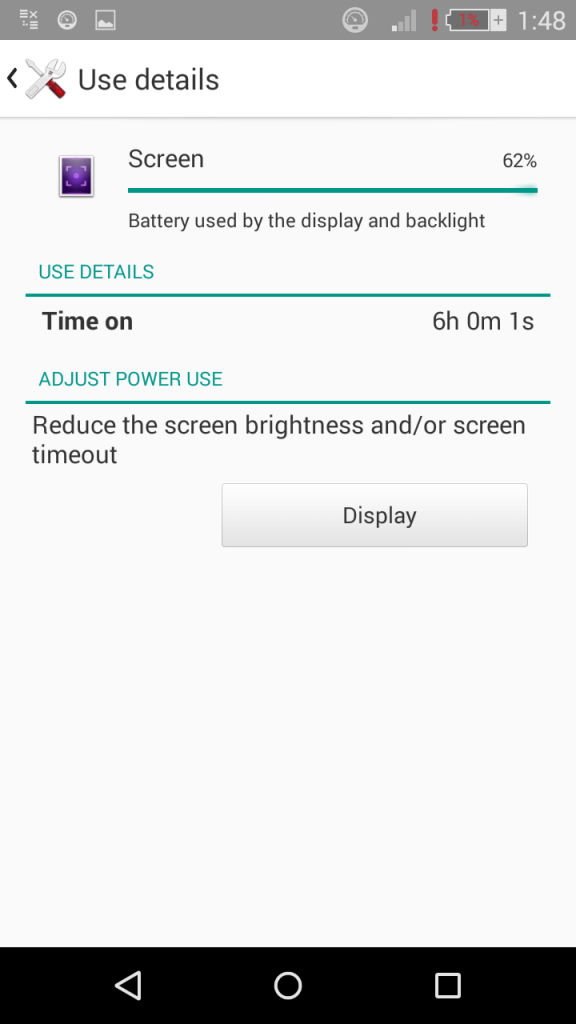 Camera – A picture is worth a 1000 words. 
This phone has the same camera as the Z3 but it doesn't seem to do as well in low light. Even with that it still produces some amazing photos. I will let the photos do the talking.
Conversion – Think Different
I lent my Z3 Compact to a colleague at work while I was using the one from Clove. The only smart phones he has used before now are iPhones, so I thought it would be a great test for the Z3C. Getting the data off his iPhone was nice and easy so within 10 minutes the Z3C was ready to use. The first thing he did was download Zedge to get some ringtones and message tones. It would seem this is still a pain on iOS. The camera blew him away, even the AR effects having a T-REX join in a rugby game amused him some what. The only bad thing he said about the camera is it took a while to open compared to on his iPhone 5. Simple things also impressed him like having the SD card for his music (signal isn't an option when hes snowboarding) and how easy it was to put music on the phone. Just plug it in drag and drop the files and you're good to go. On plugging it in he couldn't understand why iPhones don't use Micro USB ports being almost everything else uses it so cables are everywhere. He loved the idea of streaming PS4 games but only has a PS3. It tempted him to get a PS4 though, that's how powerful the feature is. After a week of use the only bad point was how long the camera took to open, so he will be upgrading to the Z3C as soon as his contract is over. A true convert, he didn't miss his iPhone at all.
AOSP – Me first! Me first!
Nexus lovers love AOSP and stick to Nexus phones for AOSP. Well I'm of the opinion that Sony is an option as well. Sony have public AOSP code for 12 devices and they even have detailed instructions on how to build it for your phone. With a Bootloader unlock tool (that marks on their servers that you have no warranty) it's also exceptionally easy to do. Find me another OEM who has that kind of commitment to the Android community. I will be building and flashing AOSP Lollipop on my Z3 Compact very soon.
Overall Feelings
The Z3 and Z3 Compact are in my view the best devices on the market at the moment. If you are thinking of moving to Android or looking for a new device have a play with the Z3 line. Great hardware, great Camera, 128GB micro sd card support, Sony will be fairly quick with Lollipop as well – they have already shown it running via YouTube. So if you're interested then I recommend you do check it out at that bargain price by following the link to Clove's website below…