About a year and a half ago (it feels like longer) we reviewed the original Xperia Z and I wasn't overly excited by the device. While it was a capable handset with a strong camera for the time, I didn't like some it's waterproofing compromises. Particularly the washed out screen with poor viewing angles was a deal-breaker for me, and my interest in Sony devices waned.
Since that time we've already had a Z1, Z2 and now the Xperia Z3. Indeed Sony have gotten some criticism for launching a new flagship with relatively minor updates every 6 months, which is always frustrating for those that must have the latest and greatest. However they have been keeping pace with the competition and the cumulative effect of all those iterations is that their flagship has shown a marked improvement in a relatively short length of time.
Specs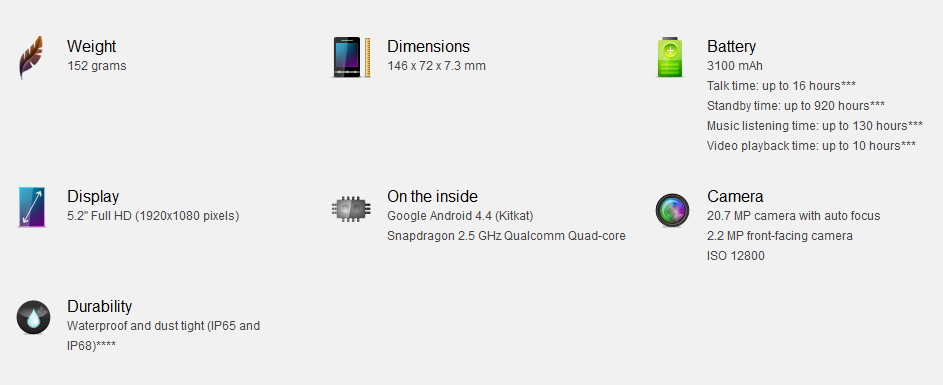 For memory we have 3gb of RAM, 16gb of internal storage and support for microSD cards up to 128gb.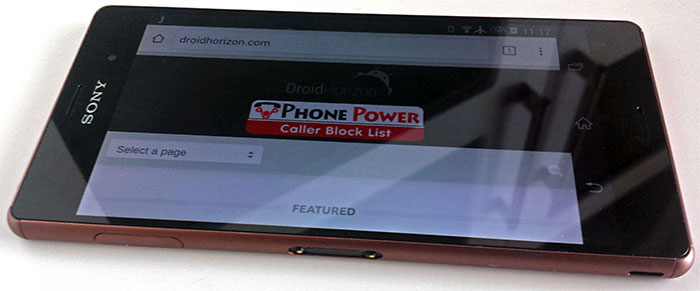 Build Quality & Design
The Z3 is available in black, white, silver-green and this copper colour. Sony have retained the glass at the front and back surrounded with a metal frame, but have rounded the corners making the Z3 a more comfortable hold.
It's power button is on the right side, with the volume rocket just below it. Towards the bottom is a dedicated camera button which is really handy – I'd like to see this in more handsets.
Above the buttons on the right side is micro SD and SIM ports, while the micro USB port is on the opposite side – all with waterproof port covers which are rounded and fit flush with the metal frame. They appear sturdy and should stand up to normal day-to-day abuse.
The mic is at the bottom of the left side, with the centre dominated by a connector for a magnetic charging cable or dock. I didn't get either for review, but on the phone it's basically a black bar with two prongs positioned right in the centre. These are no doubt useful accessories, but I felt the port detracts from the look and especially the feel of the phone. While holding it vertically your thumb naturally rests on these metal prongs and it doesn't feel very nice.
Apart from a headphone socket at the top there are no ports or buttons on the top or bottom of the phone.
Performance
Happily the display is a vast improvement on the original Xperia Z and compares well to it's rivals despite the waterproofing. It's bright and sharp with good colour reproduction, and viewing angles are no longer an issue. Some competitors are already going Quad HD with their flagships, but for this size of screen HD is plenty.
Sony have also included a pair of front-facing stereo speakers which again performed well despite the waterproofing. Not quite up to HTC's efforts, but definitely decent sound for phone speakers.
Although some competing flagships are sporting a Snapdragon 805 processor, the Z3 with it's 801 is no slouch and is helped along with the 3gb of RAM. Everything is fluid and fast, no doubt benefiting from Sony's minimalistic Xperia UI which is fairly close to stock Android.
As you'd expect from a Sony camera, the 20.7mp sensor performs well capturing clear photos with good colour accuracy and no shutter lag.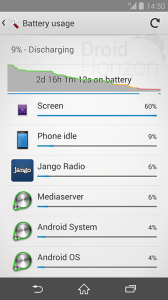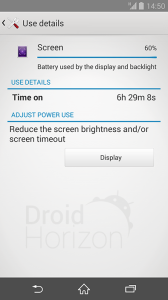 Probably the highlight of the Z3 for me was battery life. Sony squeezed a 3100mah battery into the relatively small form factor of the Z3, and not just content at leaving it at that have obviously gave battery performance a lot of attention. Their screen technology only refreshes the parts of the screen which actually change which apparently saves a lot of power.
They have also included STAMINA, Ultra STAMINA and Low-battery modes which apply different levels of power saving. An option is included to queue background data at set intervals instead of different apps continually waking your phone. Apps that drain battery in the background also get reported on. Of course these features are all available from 3rd party apps, but Sony have done a good job of baking them into the operating system.
The upshot of all this is that the Z3 sips battery. Sony advertise a 2 day battery life which is easily achieved for light usage, but was a little optimistic for mine. However I could easily get a day and a half, with 6.5+ hours of screen-on time and even when playing loads of Asphalt 8 I was still able to get 5 hours.
In Use
Sony's Xperia UI will seem familiar to a lot of Android users as they haven't messed with stock android very much or bogged it down with loads of unnecessary features. The launcher gets the job done but many of our readers will still want to install their favourite 3rd party launcher.
While generally okay in the hand, the glass back gives very little friction when the phone is left down. Unfortunately this led to me having an accident with the review unit where it slid off the bed onto the floor. I wouldn't have expected the 2 foot drop onto a wooden floor to have been much of a problem for a modern smartphone, but the front glass did show some minor cracking along one corner. If you purchase the Z3 I'd highly recommend adding a case (like Clove include for free) or at least a skin to give it some grip.
Having 16gb available for the OS and apps may be a little tight for some people, but you do have the option of moving your media to an SD card. There were quite a few Sony and 3rd party apps preinstalled on the device including AVG Antivirus and a Garmin navigation app – only some of which can be uninstalled to reclaim some space.
In particular I didn't like how some of the camera modes had their own icon cluttering up the app tray. Sony have included quite a few "camera apps" for features like background defocus, panoramas and augmented reality with more available for download. I'm not a fan of the more gimmicky camera features and would have preferred just the most useful features to be integrated more tightly into the main camera app.
The camera app itself defaults to "Superior auto" mode which analyzes the sensor image and automatically switches to what it thinks would be the best mode. This works pretty well but restricts quite a few of the settings – including allowing the photo resolution to be increased from 8mp to the full 20.7mp. I found switching to "Manual" mode much more useful, but unfortunately I had to do this every time I started the camera app. Apparently if you unlock the bootloader, Sony removes this "Superior auto" mode to protect their algorithms from being stolen.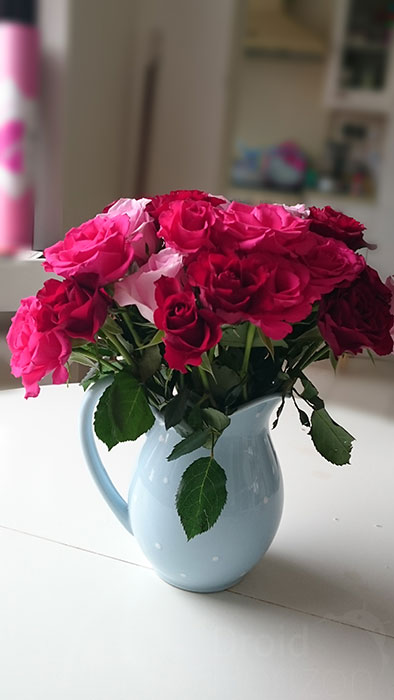 Price
In line with other flagships, the Z3 is currently priced at £549 on the Sony website but Clove Technology have it starting at as little as £460 including £40 of free accessories – a great price for a phone with this performance.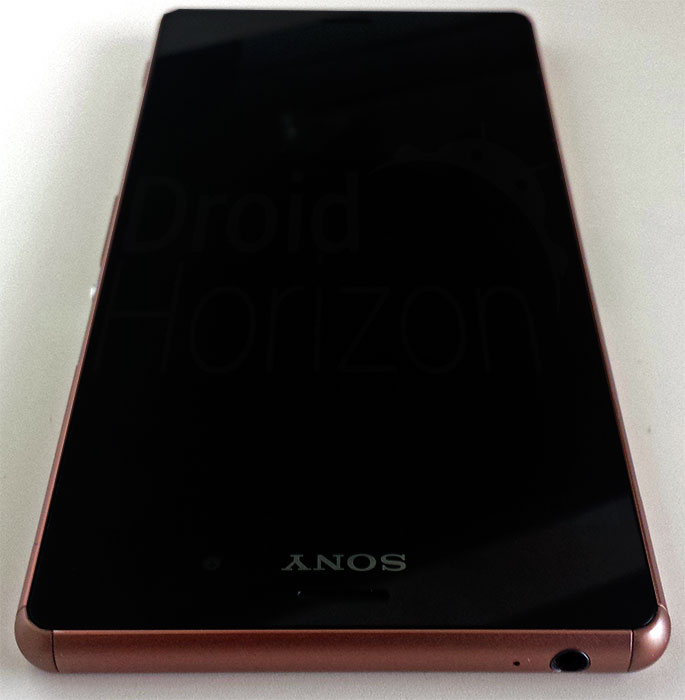 Overall
Sony have just announced a billion dollar loss due to how it's smartphone business is struggling. Having spent some time with the Z3 I feel this is really a shame as they are producing some fantastic products. The Z3 offers great performance, premium build and a better out-of-the-box experience than many of it's competitors. PS4 owners will also get the benefit of being able to use the Z3 for remote play.
Unfortunately for them they face strong competition, with many capable alternatives coming in at a lower price point. Their camera's once dominated the Android scene, but now many manufacturers are using their image sensors and they face much stiffer competition from the likes of LG and Samsung.
Whether the look and feel of the device appeals is a matter of taste, and based on my unintentional drop test you'll understand why the flat slippery glass back wouldn't be my first choice. However the battery life is fantastic and I'd be nitpicking to find much to complain about with the Z3. I'd be quite happy to use it as my daily driver for a year or two, so if you're interested then I recommend you do check it out at that bargain price by following the link to Clove's website below…