Stormfly brings you live weather information in the form of beautifully designed HD wallpaper graphics. Based on your set location, Stormfly will look up your current weather condition, download the matching weather graphic and display the image as your device's wallpaper. 
Set Stormfly in the usual way you would with any Live Wallpaper and enjoy the weather in your location right on your home screen in true high definition wallpapers. Customisations are present in settings to add a few more options or to adjust how often the wallpaper syncs. App description mentions the wallpapers are cached so no need to download over again if you happen to worry about your data limits and upon testing I haven't noticed any negative performance in battery life.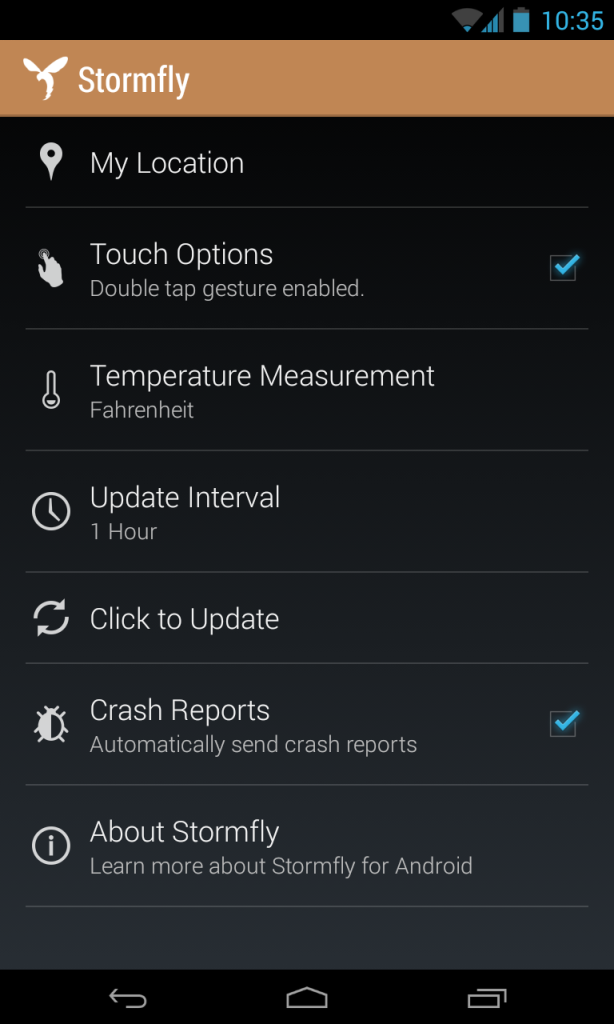 Adding Stormfly to the vastly popular Dashclock Widget app offers a little extra too. Well actually it looks nearly identical except for slightly different weather icons, but a nice addition all the same. If you enjoy a clean look on your device, I'd certainly recommend you purchase Stormfly and wow your friends or people in your social streams with a fresh design with a minimal set-up with some very pleasant HD weather wallpapers. I'll show some examples below..
Features:
– Day, night and sunrise/sunset graphics to ensure the wallpaper matches your current weather condition.
– Optional setting to display temperature in either Fahrenheit and Celsius.
– Double tap your screen to view current weather info.
– Coming soon, celestial events!
100% of proceeds will go directly to a cancer patient in need!! 
I'm not sure who or what the back story is with the proceeds, but hey, I just bought the app and helped in a small way. Maybe you'd like to as well?
As always we have provided a link below for you to download. Priced at £1.24.