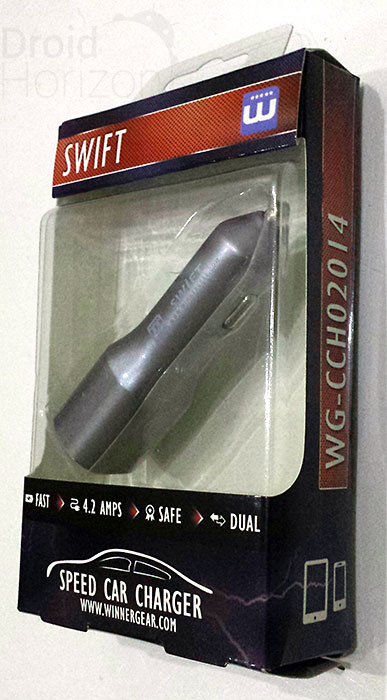 TMGS is a serious condition in modern society and it's estimated that as much as 20% of the population is now affected. Admittedly I did make that up, but "Too Many Gadgets Syndrome" is an increasing problem especially as people need to keep all their kit charged up.
This is especially a problem when you're travelling and don't have ready access to an electrical socket, so a car charger can be very useful for keeping your gadgets topped up. However a single USB port isn't enough if you need to charge both your phone and your tablet (or if you happen to not be the only gadget freak in the car). With the Swift Car Charger from WinnerGear you get two USB ports, both of which deliver a high amperage to quickly charge today's high capacity devices.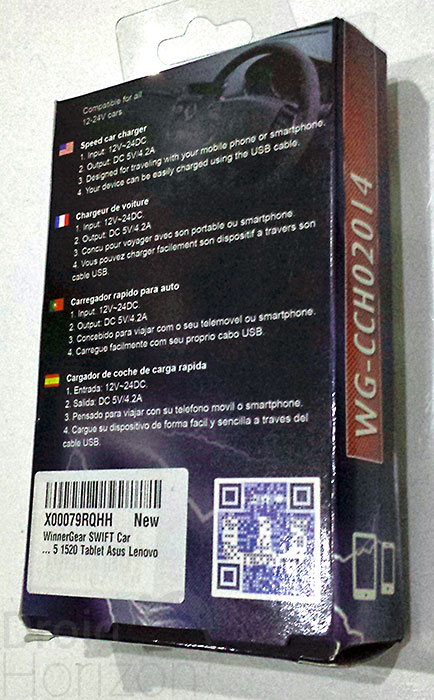 Build Quality & Design
The outer shell of the Swift is a single piece of quality glossy grey plastic, with dual USB ports and a blue charging LED on the end. Being 3.5″ / 9cm long it does stick out from the socket quite a bit, which may or may not be a problem depending on location. Inside high quality components were also used which allow it to deliver it's fast charge safely.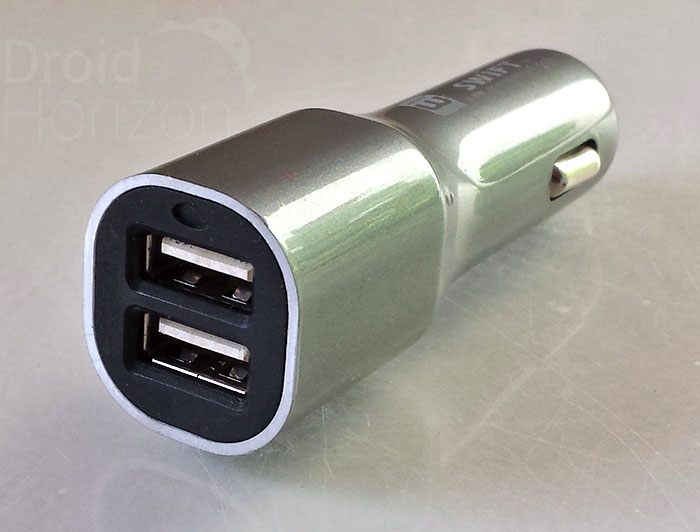 Performance
The Swift is a 4.2A charger, delivering 2.1A to each port. This means that it will charge your phone or tablet (or both at the same time) in the fastest time possible – as long as the USB charging cable you're using is up to it. As an example, this matches the amperage of the wall charger supplied with the S4 and so can fully charge my 2600mAh phone battery in a couple of hours – making it worthwhile to plug in your phone even on shorter journeys.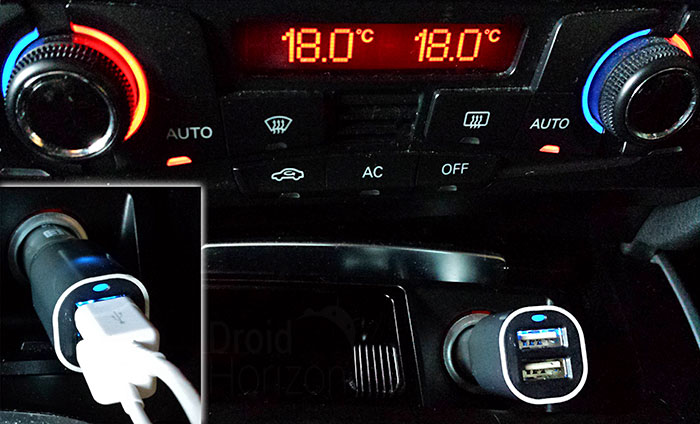 Price
The Swift is currently on sale for $9.99 from the WinnerGear website including worldwide shipping, or can be found on Amazon in the UK for £9.99. Either price is unlikely to break the bank, and while there are plenty of cheaper alternatives available the performance, build quality and safety of the Swift makes it a great option.
Overall
With the Swift, WinnerGear (much like with their MONTAR car mount) have created a high quality, high performance product at a reasonable price in an over-saturated market. You can find car chargers in your local pound shop / dollar store, but they'll have only one port which will take ages to charge and it'll fall apart with heavy use (one I had blew the socket fuse when this happened to me). You'll have no such concerns with the Swift as it should cope with your power thirsty gadgets for years to come, so follow the link below to give both your car and your gadgets a treat…