The March of the Droids 2016 has been and gone, we've been home a few days now and we thought we'd reach out to say thank you to all who were involved this year in Edinburgh.
For those that may be unaware, the event travels around various parts of the UK (always outside London) to bring together open source fans, developers, companies and users. This year we were joined by a range of different talkers, Steve Kondik from Cyanogen, IDEAA, Mario Viviani, Skyscanner, Honor UK, Matthew Bloomer-Brack of XDA Developers and James Pearce.  Lots of different subjects too, ranging from Android upgrades, developing for Fire TV, app testing, handset introductions, NFC implants and special announcements regarding community custom ROMs.
Matteo Doni was the event's MC this year as James has immigrated to the US, the event ran smoothly and ample time was given between talks for breaks and refreshments. Guests mingled freely and got hands-on time with a range of Honor products, Irn Bru, tea and coffee was neverending.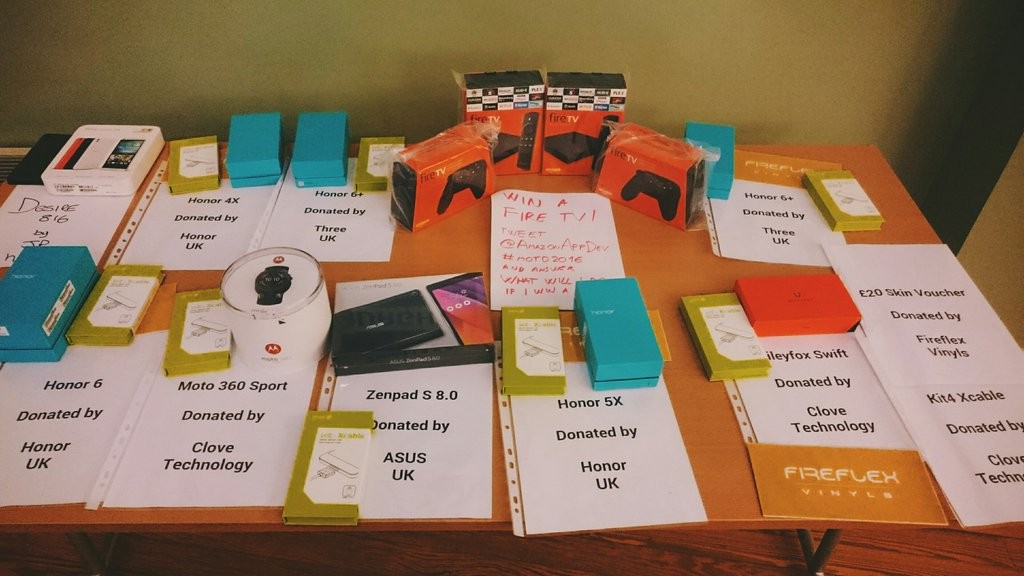 A great range of prizes too! Every guest got a unique numbered ticket and at the end winners were pulled out of a hat. Three UK, Clove Technology, ASUS, Honor and Fireflex vinyls all sponsored the prizes table very generously. We'd be certain nobody went home empty handed, there were pins from various brands, T'shirts, stickers etc etc. (Some lucky bugger won a Moto 360 Sport smartwatch.) DroidHorizon and myself would like to say thank you to everyone that attended and made us feel at home, Edinburgh is a lovely city to visit and made even more awesome with guys we've meet before and followers we hadn't spoke to before as well. Cyanogen provided an inclusive after party where everyone socialised and had a few drinks together at the bar. I seem to remember trays of vodka shots courtesy of Honor UK. You can see all the pictures from the #MotD2016 hashtag which was trending at the time.
Planning is already happening for next years event if you want to see where the community is voting for. 
An event made by the community for the community, your input is vital!!