Turtle Shell 2.0 – Review
With more and more bluetooth speakers being released, we are starting to notice an increase in favouritism towards a less fragile design. This makes a lot of sense, as who wants to take a speaker on holiday, or to the beach, and risk dropping it, drenching it or breaking it? Nobody!
The most recent feature being added to speakers is a water/splash proof coating. I saw this first with the UE BOOM, then the Braven 855s. Im sure a lot of others have it, but the one im speaking about is Outdoor Tech's entry to the market, the Turtle Shell 2.0 (£99). This rugged device is actually IPX-6, which makes it dust-proof and water resistant, which means it can go to the beach, be knocked about and still keep playing. You can even take it in the shower, but not in the bath as it can't be submerged.
The Turtle Shell 2.0 is the successor to Outdoor Tech's original Turtle Shell speaker, which actually came from a Kickstarter campaign. I was not aware of this previous model, so this review wont be doing any comparisons. Outdoor Tech's press release states:
v2 offers "louder sound, longer battery life, and Bluetooth 4.0," along with a few other, non-specific upgrades.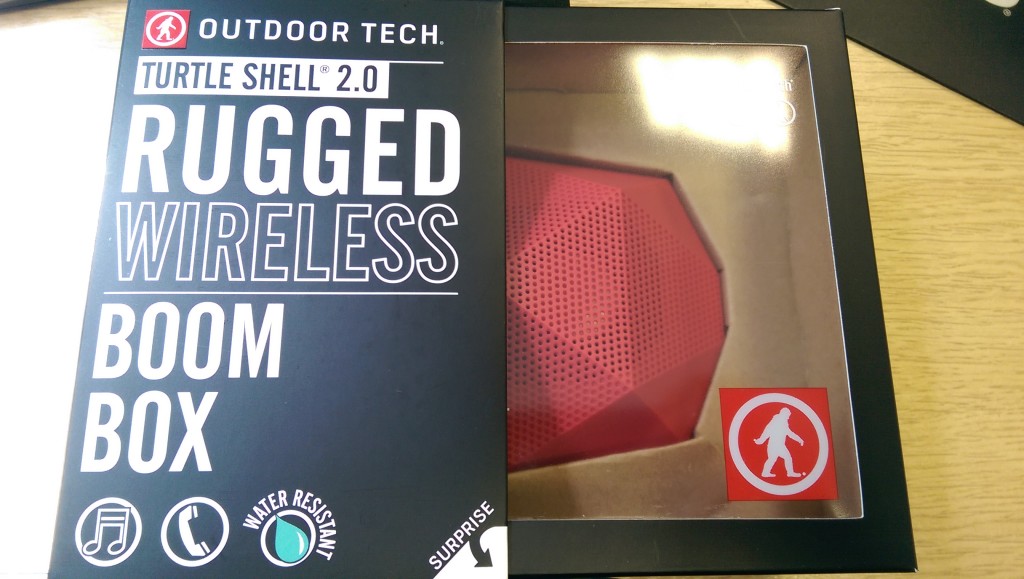 Look, Feel and Functions
The Turtle Shell 2.0 has this brilliant shell-like exterior, that just looks cool. Some people may not like this look, but I tend to ignore those kind of people. But lets be honest, it looks wicked! The design also means that the sound is just pushed out of one end of the speaker, its projected across the room, which gives out a much more clear sound.
Another feature is the buttons. Its been reduced down to just three, and these three offer a lot of functionality. These multi-functional keys serve every feature needed on a speaker like this:
Short press: volume down
Long press: previous track
Short press: play/pause and answer/hang up for speakerphone
Long press: enter pairing mode
Short press: volume up
Long press: next track
This is a fantastic design feature, as it eliminates the need for lots of buttons, and makes it easier to navigate through tracks or answer calls. One minus point was that the buttons aren't as obvious, they are "merged" into the case, which can make it difficult to tell which button you are pressing.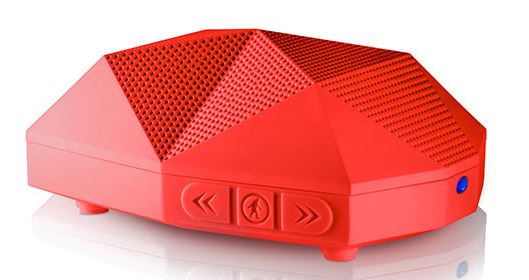 Now for the rest of the buttons, on one side there's an on/off toggle-switch, and on the other side there is the AUX-in and microUSB charging ports, which are hidden/protected beneath a small rubber "door". This is a means to an end, as it protects the ports from any moisture. The bottom of the speaker holds the bass reflex port, along with a carabineer clip attachment and tripod mount. the tripod mount also works with another Outdoor Tech product the Turtle Claw, a bicycle handlebar mounting bracket. The Turtle Shell 2.0 also has a set of little suction cup feet that do a great job attaching to different surfaces. Even listening to some heavy bass tracks, the Turtle Shell didn't budge.
Of course the main selling point of the Turtle Shell 2.0 is its durability. With its unique shape which helps increase its overall durability, and it's also that IPX-6 making it dustproof and water-resistant. It can take a good beating and keep on chugging along. According to Outdoor Tech, it's "shower, rain, and generally other liquid proof." The best way to test that was to take it into the shower. The first problem I found was that since the "grill"  on top is basically just a series of holes, the speaker can quickly get "clogged" with water, making the sound muffled. Shaking the water out, brings the sound back, and does prove that even being pelted by water, it'll keep playing.
Another good point to raise is the weight,knowing how durable this is, you'd think it would weigh a lot, but turns out to be one of the lightest speakers I have used. It weighs around 300 grams, meaning that when you throw it in your bag for the beach, you'd hardly notice it was there. Next is the battery life. Outdoor Tech says "You can get around 16 hours of play time". I've been listening to it for around 10 hours, using it mainly in the mornings and its not stopped yet. So I would agree 16 sounds about right. To be honest I'm impressed with it going for 10 hours.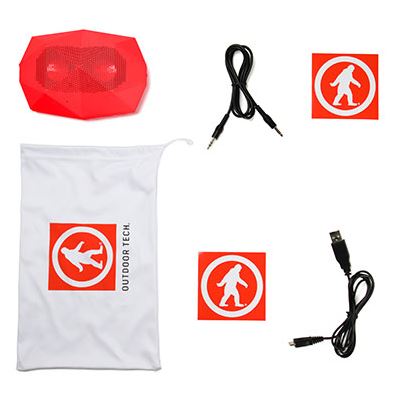 Sound Quality
The Turtle Shell 2.0 ticks all the boxes for look, feel and functionality, and from my point of view ticks all the boxes for sound quality. Mids and treble come out clearly and don't overbear you, and the bass feels very balanced, its not heavy on the bass, but can definitely be heard on tracks.
One thing I had read about and noticed first hand was that the bass drops dramatically when the AUX-in/microUSB cover is open. That seal seems to make all the difference to the sound quality, though I couldn't figure out why. That sno issue for me, as its a bluetooth speaker, but may be an issue for people wanting a wired experience.
Volume wise, the Turtle Shell 2.0 doesn't overpower you and matches up with speakers of a similar size. Outdoor Tech claims that "it clocks in at about 96 dB, which it likens to a bear's roar". Now I cannot say I have heard a bears roar, so its difficult to compare, but the volume is fine for me and goes as loud as I would want it.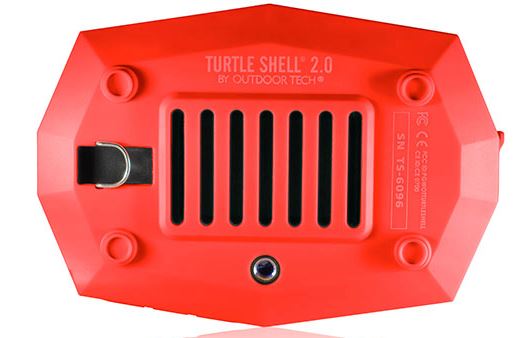 Comparing it to speakers in its price range, this comes out on top for me. At £99, I can't think of another speaker that offers everything found in this red turtle shaped package, it's dust-proof and water-resistant, intuitive controls, and has good, "omnidirectional" sound. Mix that with that light weight and durable design and this speaker offers a lot.