The BlackAir Beat is a compact stereo Bluetooth speaker marketed as having the best Hi-Fi quality sound in it's class with extreme bass. The Bluetooth speaker market is a crowded one, so let's see if it really offers enough to stand out.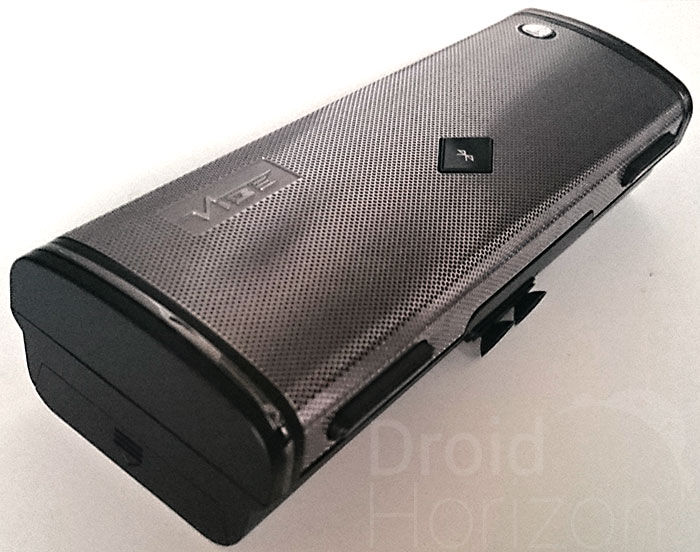 Build Quality & Design
The first thing that strikes you about the BlackAir Beat is the size. For a stereo speaker with a dedicated bass speaker at the rear, this thing is small and light. The back and sides are made from sturdy black plastic with a metal speaker grill along the top and front. I managed to drop the speaker (unintentionally) which did put a small dent in the grill, but otherwise it held together fine.
At the front is a black diamond shape with a blue Bluetooth icon which I initially mistook for a button. This is actually just an indicator light which flashes occasionally during playback.
To the top-right is a silver button with a skull on it which is used to start hands-free calls or you can hold it down to begin the pairing process.
On the left-hand side you'll find a standard 3.5mm audio socket and a mini-USB socket for charging. Although this is better than a proprietary socket, I'd have preferred to see the newer micro-USB socket as used in most Android phones (meaning you only need to carry one charger).
To the right is a compartment for fitting the removable battery. The back is dominated by the rear speaker, with four buttons and a switch to the left-hand side. The switch turns the speaker on and off while the buttons allow mute and play/pause along with skip forward and back buttons that double as volume buttons when held down.
At the bottom along with two rubber feet, we find a couple of suction cups. Again I hadn't seen these on other speakers and they do keep the speaker from sliding around on flat surfaces.
Overall I have no concerns about build quality and I'd say the design is sleek, portable, functional and good looking.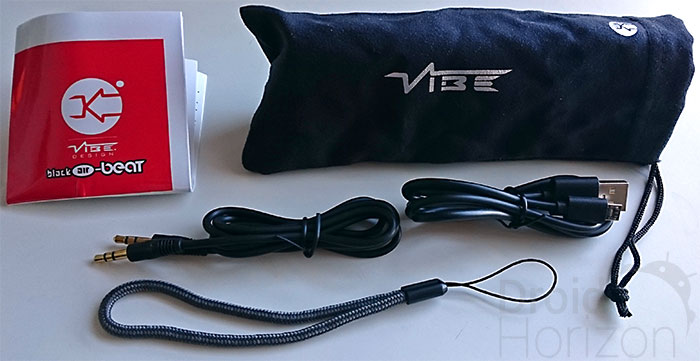 Features
Inside the box along with the speaker, we find a small instructions leaflet, a mini-USB charging cable, a 3.5mm gold-plated audio cable, a travel bag, a carrying strap and a battery.
I haven't seen a speaker with a removable battery before and the first time I saw it I didn't quite see the point. However it turns out the BlackAir Beat uses a standard Nokia BL-5C 1000mAh phone battery which is widely available for around £5. Just like with a phone, you'll be able to carry a spare battery to double the battery life. More importantly for me, years from now when the internal batteries of other speakers have failed you'll be able to replace this one and be back in business.
The hands-free speakerphone worked well allowing me to initiate and answer calls without touching my phone. Audio quality was very clear on both sides of the line.
The speaker has no waterproofing and is not ruggedized.

Performance
Audio performance was good for such a small speaker. There is a strong emphasis for bass which can cover up mids, but overall it sounded clear and crisp. Due to the size, excessive volume causes the bass speaker to vibrate the whole unit which introduces some distortion.
Bluetooth range is good for up to about 10m, but any obstructions will reduce this range. I did experience cut-outs when walking around the house with the phone in my pocket, but as long as line-of-sight was maintained I had no issues.
For me battery life was excellent, easily exceeding the quoted 12 hours. Unlike a lot of speakers the BlackAir Beat accepts a 1A charge meaning it can be fully charged within 3 hours. The 1000 mAh battery gives double the typical battery life of many similar Bluetooth speakers.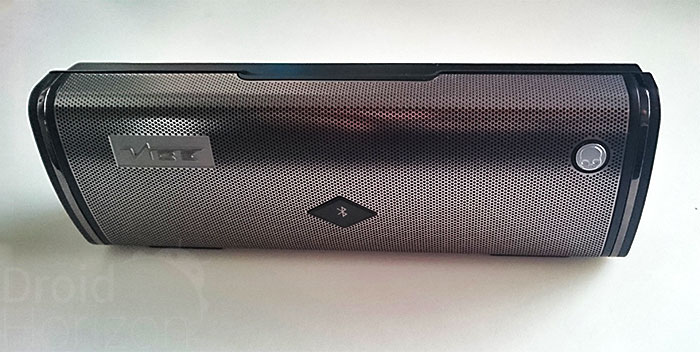 In Use
Although the speaker does not have NFC, pairing was straightforward and extremely easy.
The inclusion of a mute button is unusual and handy when you just want the speaker to be quiet for a minute. When another audio source is connected to the line-in socket, this button will switch input sources. During line-in playback the Bluetooth functionality does not switch off to conserve battery life.
Your volume level is not saved once the unit is switched off. If you like to keep the speaker at a certain level then you'll have to adjust it every time you turn it on.
Price
The BlackAir Beat is available direct from the Vibe Audio website for £99.99, which in such a competitive market I'd consider a little pricey. However if you shop around you can get it a lot cheaper – for instance you can currently find the speaker on Amazon UK for £39.78 which is a great price.
Overall
If you like to hear plenty of bass in your audio then you'll have a hard time finding a speaker this portable that can match the BlackAir Beat's audio performance. The Bluetooth range issues were a little disappointing, but otherwise this is a well designed and solid little speaker which is definitely worth picking up at the right price.
You can check out the BlackAir Beat along with a wide range of other audio products at the Vibe Audio website below…