Several schoolchildren became instant millionaires thanks to their success at the Fortnite World Cup in New York on Sunday night. Kyle "Bugha" Giersdorf, a 16-year-old from Pennsylvania, took home a cool $3 million after surging to victory ahead of 99 rivals in the solo tournament.
It catapulted him up to 10th in the list of the highest earning esports stars of all time and turned him into an overnight superstar. Runner-up Psalm won $1.8 million, third-placed Epikwhale earned $1.2 million and fourth-placed Kreo was given $1.05 million on an action-packed evening at the Arthur Ashe Stadium.
Fortnite developer Epic Games stumped up a total of $30 million in prize money, making it the most lucrative event in the history of esports. There was also a duos event, a creative event and a celebrity pro-am tournament. Every competitor that qualified received a minimum of $50,000.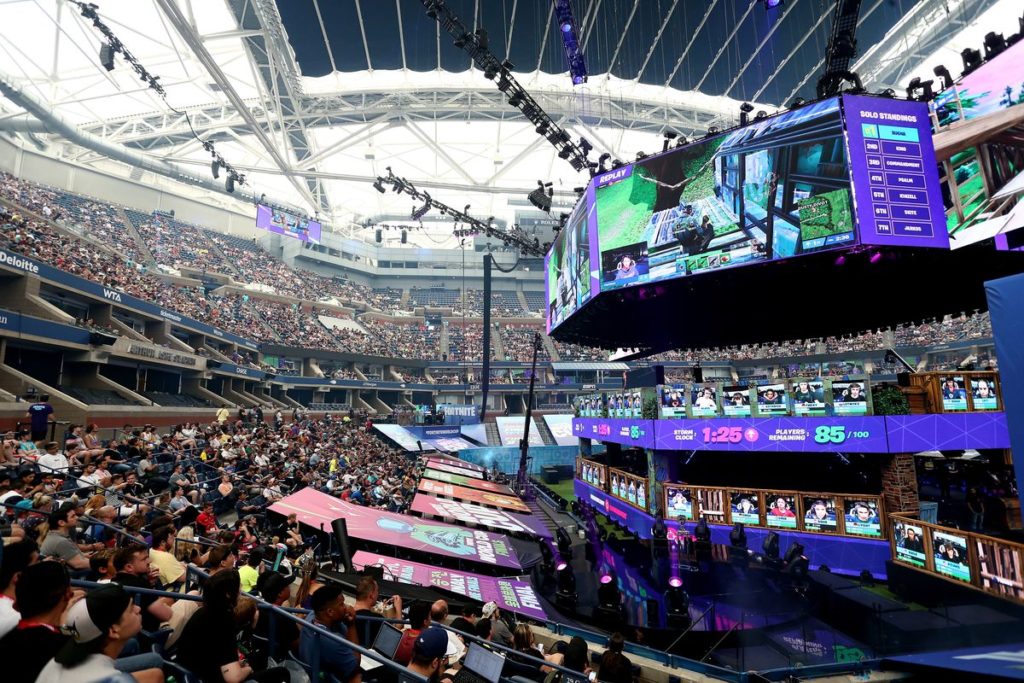 Life-changing windfalls
Stories are emerging of youngsters earning life-changing piles of cash as a reward for playing their favourite video game. Jaden "Wolfiez" Ashman, a 15-year-old from Essex in the UK, annoyed his mother by playing Fortnite for eight hours per day. She tried to stop him from spending so much time on his console, but he will now split a $2.25 million prize purse with Dutch gaming partner David "Rojo" Jong after they finished second in the duos event.
Epic Games has channelled $100 million into its ambitious bid to turn Fortnite into a major esport this year. The aim was to pull gamers away from rivals like Apex Legends and PUBG, while securing the long-term health of Fortnite by developing a vibrant competitive scene.
It has enjoyed plenty of success. At least 40 million people entered qualifying and Epic gave away $1 million each week as players battled for a ticket for the big tournament in New York. This created a steady stream of news, keeping Fortnite in the spotlight until the World Cup unfolded at the weekend.
Inspiring legions of players
Teenagers and young adults across the world will look at the success that the likes of Bugha and Wolfiez have enjoyed and feel that they too could become millionaires by playing Fortnite. It should help maintain the game's popularity, but what does it mean for the wider esports community?
First off, it is worth noting that many competitive gaming fans do not view Fortnite as a proper esport. There is skill involved, but the need for random number generators adds a huge amount of chance into the mix. This can destroy the competitive balance traditionally needed for big esports like League of Legends, CS:GO, Dota 2 and Overwatch to flourish.
Obstacles for Epic to overcome
It puts Epic in a bit of a bind, as it cannot remove too much of the RNG, as that randomness is what makes battle royale games like Fortnite so fun, but it needs to try to convince the world that it is a serious esport at the same time.
Epic was able to invest $100 million into tournaments this year because Fortnite has been such a soaring success over the past 18 months. Yet gamers are a notoriously fickle and promiscuous bunch, and whether it retains a loyal following in the years ahead remains to be seen.
Esports that have enjoyed longevity have done so by carefully nurturing a passionate community of gamers and building up a pro scene over a number of years. Millions of fans stream big CS:GO, LoL, Dota 2, Overwatch, Rainbow 6 Siege, Rocket League and Hearthstone events, diehards pack into stadiums to watch their heroes in action and Unikrn's Esports Betting section is full of markets on these titles.
Fortnite has exploded onto the market in a blaze of noise, but anything that rises quickly is always in danger of crashing and burning just as rapidly. It needs to latch onto the esports world to secure longevity, but the battle royale format is difficult for viewers to follow due to the large number of players. There is no guarantee that it will succeed within competitive gaming.
A knock-on effect
Regardless of what happens to Fortnite in the long-term, its 2019 World Cup is sure to have an impact upon the wider esports scene. Some people feel that the likes of CS:GO and LoL should be fearful of Fortnite, but it could actually prove to be very positive for them.
Firstly, it lures more people into the wonderful world of competitive gaming and raises its overall profile. Major news outlets across the globe are reporting on the Fortnite World Cup, ensuring that esports maintains its momentum within the mainstream media.
There are already 450 million esports fans across the globe and that figure is spiralling. Esports contains a number of different communities, but many fans like to watch a few different titles. There is an opportunity for more traditional esports to attract Fortnite fans and show them that there are exciting alternatives just waiting to be discovered.
Spiralling prize pools
The sums of money that Epic has been throwing around should also have a positive knock-on effect. It has set a high bar and that challenges rivals to leap over it.
For years, Dota 2's International has reigned supreme as the world's richest esports tournament. Before the Fortnite World Cup came along, the International 2018 was the most lucrative esports event in history, with $25.5 million dished out, while The International 2017, 2016, 2015 and 2014 held the next four spots in the all-time chart.
The Fortnite World Cup has now shot to the top of the list, but it will not stay there for long. Dota 2 developer Valve is able to offer such high prize pools thanks to its compendium model, whereby players buy an in-game battle pass that unlocks cosmetics and new game modes. Part of this cash goes towards the prize purse at The International.
It seems that Dota 2 players were desperate for The International to hold onto its status as the world's richest esports tournament this year, and in-game purchases have already driven the prize pool for The International 2019 past the £30 million mark. It will therefore leave the Fortnite World Cup in its shade.
More money for pro gamers
All this extra money floating about will allow more professional players to emerge, and they will be better compensated for their exploits. This should help the overall scene become slicker, better organised and more professional.
Healthy competition between rival esports should be encouraged, as it pushes developers and tournament organisers to innovate. They can also learn from one another and spread the collective gospel of competitive gaming to the wider world.
People invested in the professional CS:GO, Dota 2 and LoL scenes are unlikely to be fearful of the Fortnite World Cup. They know that their titles are better suited to esports, and anything that raises the profile of the overall movement simply makes them more attractive to sponsors and gives them more esports fans to target. The competitive gaming industry is a juggernaut and it seems as though the only way is up from here.