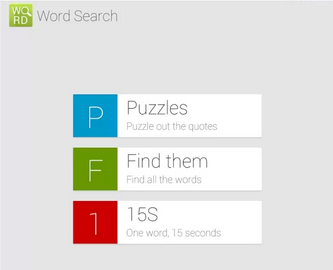 Search for words and uncover quotes by famous people.
Packed with more than 100 crossword puzzles with quotes by writers (Mark Twain, F. Scott Fitzgerald, Ernest Hemingway), ancient philosophers (Aristotle, Plato, Socrates, Cicero, Julius Caesar) or movie lines (The Godfather, Casablanca).
  Three great word search games rolled into one..  
Puzzle..

Find all the words offered to unlock the missing section of famous quotes, films & philosophers. Find'em all and the answer will be shown in bold. Other 'packs' can be purchased for 66 pence or the entire set for £1.33. Any purchase removes all adverts. (Once you crack the missing words, you'll find a link to more information about the quote)

Find them

The basic word search game that I'm sure everyone's familiar with. 10×10 grid with words going vertical, horizontal, diagonal & back to front. You"ll have no issues getting to grips with this game type.

15S…  

You have 15 seconds to find the word then move on to the next.. Sounds easy? It isn't! This game will make your hand shake and start to panic when you can't find the word you're looking for. Fantastic fun! So simple but so frustrating.
Great looking menus with Google Play Services included. (Achievments & Leaderboards), makes this title different from the rest of the Word Search games in Google Play.. We'd be more than happy to recommend you give it a go, because you might just enjoy it too. We have provided a link for download and also a video of Word Search Lite gameplay in action, below.