The Dutch startup JackSavior succeeded in convincing headphone brands to implement their 10 times stronger and smaller audio jack into their headphones. However, ordering millions of JackSavior plugs at factories seemed problematic. Audio jacks are made under strict supply agreements, when the order quantity is high. This obliges factories to calculate the exact duration of a production batch, to make sure they deliver on time. They take some margin of course, however less projects can be realized when they calculate with more margin. The planning for the production of the JackSavior plug becomes impossible, as they have never made the JackSavior plug in enough quantities….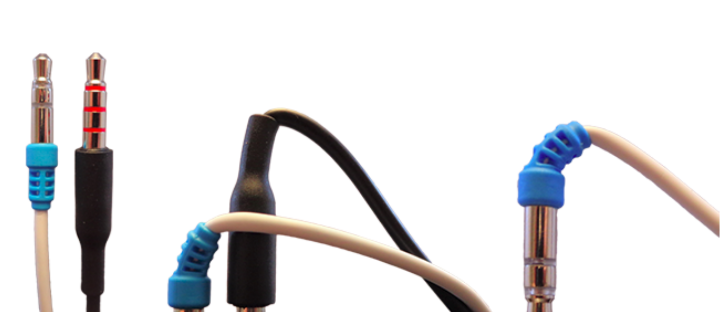 The factory made a 1000 JackSavior plugs after the last Kickstarter campaign. They are now planning to produce at least 3000 pieces to gather data for the calculation of a follow-up order for a potential customer. The startup is planning to collect the production costs through another Kickstarter campaign (link: Kickstarter.JackSavior.com). This will enable them to take little steps towards mass manufacturing high quantities and defeat the current jack plug standard.
The JackSavior plug is a backward compatible 3.5 mm (1/8") audio jack.
The wires are connected inside the plug, making the outside smaller, flexible and 10 times stronger.
The current standard has the wires connected on the outside of the plug, this connection is protected with plastic overmoulding, which creates the hard part of the plug that sticks outside the device.
Is wireless technology not taking over the world?
Consumer electronics will move towards wireless in the long run. However, the wired models will remain a cost effective alternative next to the wireless models for the near future. Moreover, wireless headphone models are shipped with a dual plug cable for connectivity when your battery is down.
About JackSavior
JackSavior is a startup company based in the Netherlands. They connect the headphones wiring inside the plug, resulting in a smaller, more flexible and 10 times stronger audio jack. The goal of the company is to solve audio jack failure by providing a more durable audio jack. To achieve this, they aim to convince all big audio manufacturers to adopt their technology. The first steps have already been taken: They already partnered with one of the leading premium quality headphones factories in the world and are scaling up for JackSavior audio jack mass production.
About founder, Bouwy van Sambeek
Bouwy studied mechanical engineering at the Delft University of Technology in the Netherlands. When he noticed that many people were having problems because of their headphone jacks, he started prototyping solutions at home. He spent two years travelling back and forth to the factory to oversee and finish development.