X-Mini KAI 2 – Review
The motto for X-Mini is "sound beyond size", this is due to their  small speakers that are big on sound. This is the first X-Mini speaker I've had a chance to review. I was absolutely blown away by the sound that came out. This is the ultimate Bluetooth speaker. It's built for travel and sound quality but also allows you to take a conference call at the push of a button.
Despite its small size, the KAI 2 comes fully loaded with features and improvements. One such improvement was getting a ceramic driver in the speaker to make a great sounding speaker sound even better. Though I never used the original version, I have heard this is something you can easily pick up on when compared to the previous version.
The Kai 2 has lots of advantages over its bigger competition, its small, light, portable, and sounds great, It also offers a built-in, noise-cancelling microphone for crystal clear phone conferencing. While the specs themselves are more or less standard for this type of device, one thing that I found amazing was that the Bluetooth Playback Time was up to 10 hours. After a full charge, I was able to get about 9 and a half hours of playtime on full volume. If you want this just for calls it offers 12 hours of talk time.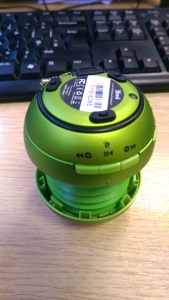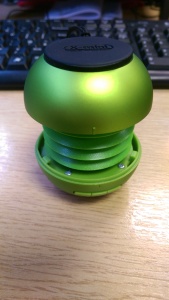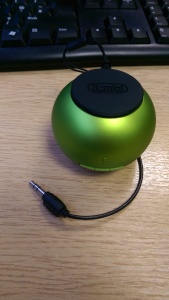 As mentioned before, the size of this device is incredible for all that it offers. When opened its about the size of an android mini collectible.It may look plastic, when you get it in your hand it feels heavier than you would think and feels like a premium speaker.
After many nights of use to listen to music and movies as well as using it for hands-free calls, I have to admit the speaker was amazing. I was able to hear people easily and they were able to hear me. They was no echo, and didn't sound like a speaker phone. I will say the volume doesn't go as high as I would of wanted, but you wont be using this to open your own mobile disco.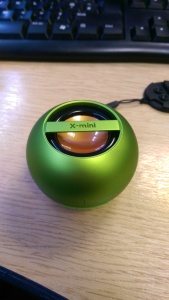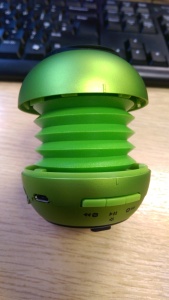 At the moment this is on at £20 on Amazon and I suggest grabbing it now. It is unique in that it gives users the added feature of a excellent quality bluetooth speakerphone to a device that was created to play tunes. The design and functionality of this speaker is superb and I am more than impressed with it after using it for a full week. I highly recommend taking a look at this device.