Yotaphone 2 – Review
With the "spec wars" finishing a few years ago now, you'll not find a bad flagship device from any of the big hitters, be it Samsung, Motorola, HTC, Sony, LG etc etc. Even mid-range devices are more than good enough for everyday use. Packed with power and good cameras, customers are now looking towards killer features or design to make their phone stand out from the crowd.  The Yotaphone 2 probably offers something so unique, that it'll make the device so desirable or so unwanted. This device isn't the first to offer dual screens. (Front and back.) Yota had a device out prior that didn't really impress and flip phones from various manufactures in the Far East were available although not globally. (It's so hard to call this the Yotaphone 2 and not Yoda. The Yodaphone2, a pretty poor phone is. Impress or make potential buyers go meh, the rear screen will.)
As is the usual practise when we review hardware, we'll break things down into useful sections that anyone reading can grasp at a glance. We aren't going to share a wall of text, we'll keep things bite sized and simple. We'll pick the key parts of the Yotaphone 2 and offer our honest opinion of the good, bad and anything in-between.
Some specs:
Battery type..  Li-ion (2500 mAh capacity)
Camera.. 8 megapixels
Front camera.. 2 megapixels
Internal memory.. 32 GB (Non expandable) 25GB available
Regions offered.. Asia, Europe, Middle East, North America (US)
Comm standard.. LTE
Screen size.. 5 inches
Screen resolution.. 1920 x 1080 AMOLED
Second screen size.. 4.7 inches
Second screen resolution.. 960 x 540 E-ink (0.12 sec refresh rate. 16 grayscale levels) Nerd talk
Corning Gorilla Glass 3 (Front and rear)
Audio / headset jack.. 3.5mm
CPU 2.3 GHz Quad-core, RAM 2GB
Snapdragon 800
NFC
Bluetooth 4.0
Wireless charging
Dimensions.. 5.67 inches (h) 2.74 inches (w) 0.35 inches (d)
Weight.. 4.9 ounces
Taking a look around the device you'll find the 3.5mm headphone jack at the top. Volume rocker and power button are down the right side. The volume keys are actually above the power, I prefer it the other way round but you get used to that. The volume rocker it's self pops out for you to insert the Micro SIM. This leads to my first major issue. The feel and feedback from pressing the keys is absolutely terrible. If you give the YotaPhone 2 a firm shake, you can hear the volume keys rattle. (I'd assume from the design stages they had to do this to suit the twin screens, maybe they ran out of space, who knows? I don't think it was a great idea, to say the volume keys were far from being "clicky" or even "tactile" in some vague description would be far from the truth, sadly.  Across the bottom you'll find two speakers with the micro USB charging port in the middle. Nothing going back up the left side. Around the back end is where the fun starts. (Oh dear.) Usually you'll find manufacturer's markings or even carrier branding in the States. Here's where the E-ink display is but we'll get to that further down. You'll find the 8mp camera and flash in the usual space. If anyone is wondering the lens doesn't protrude and sits flush with the rest of the body.
In the hand the YotaPhone 2 feels pretty good. It's a comfortable size and a little broad so fits well. There's no metal finish around the edges for a bit of grip because it's a glass and plastic, the YotaPhone 2 is prone to slipping from your hand. This isn't a phone you can throw a case on, unless, Yota themselves designed a bumper so both screens can be used. Be warned, it's a slippy little phone. The front screen likes to keep smudges of your greasy paws but round the back is curved which looks and feels great. If you set the phone down on either screen, it won't wobble around. Sometimes I set my phone on a table and type with one finger to reply to a Hangout or whatever. Another plus for me..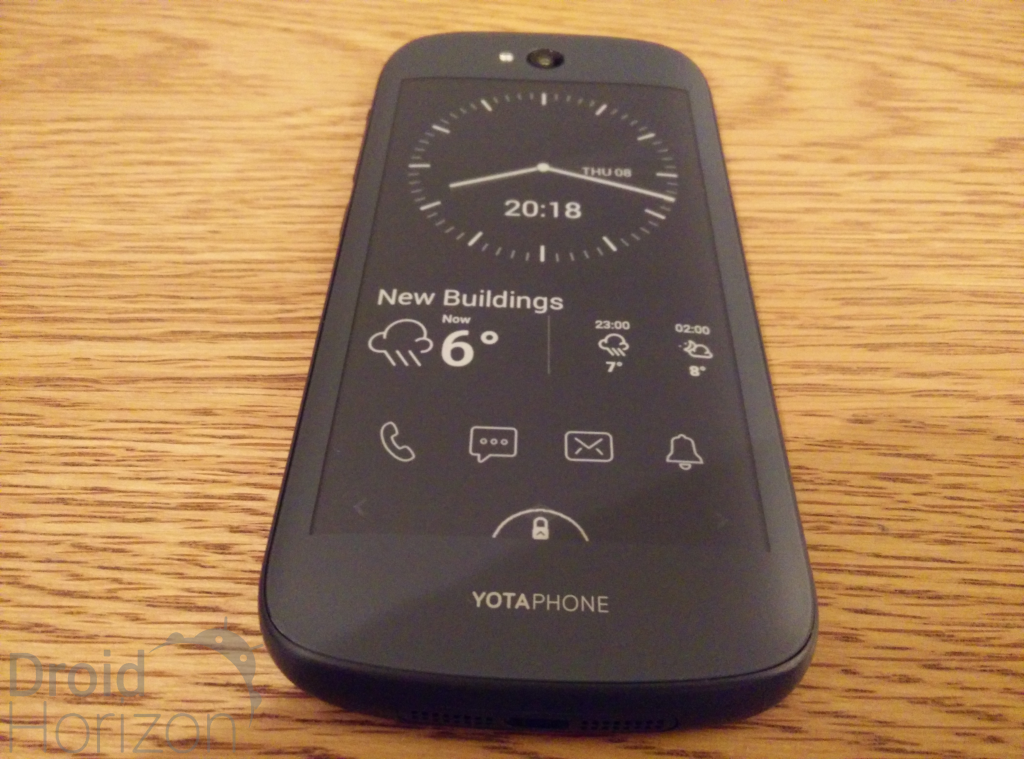 Setting up the rear screen is very simple, Yota have included their own app YotaHub for users to get up and running quickly. Basically you'll have the option to choose from 2 different versions of the E-ink display, (which you can see from the screen shots below.) YotaCover is a clean and non-personal screen that doesn't show any of your private information, remember, the back screen is always on, you might not want certain notifications showing all the time. The second option is YotaPanel. Here, you can arrange panels with pre-made widgets ranging from frequent contacts, weather, various clocks, calendar, Yota's included E-pub reader, Google Play Books, battery and YotaEnergy mode. Drag and drop your widgets and design the rear screen to make it personal to your self. I wish there were more widgets and options for placing on the rear, APIs are available for developers to include this function in their applications. I'd assume that would depend on how popular this phone is when launched everywhere. We'll wait and see about what's added in the near future.
Often when a notification does come in, you can't actually read what the message, Hangout or SMS is, the device tells you to flip over. That's a bit lame. I suppose you can can confirm at a glance what the beeping was but not being able to do anything about it, kind of annoys me a little. Ghosting is also more than what I'd expect from a device that costs so much. (You can see what was on the screen for a good 5 to 10 seconds after the next screen has rendered.)
Likely the best feature is the swipe up from the home key. Here, you'll get 3 options on the colour display. Centre is Google Now, Left is throw what's on the front screen to the rear, Right is screen shot the front and display as an always on display at the rear. I can think of a few great user scenarios of why these features would be incredibly convenient.
The best usage scenarios of using the rear screen before unlocking the YotaPhone 2 in the "normal" way are:
The Kindle app / Google Play Books. If you have an hour train journey every morning to work and home again, and you carry a Kindle E-ink anyway, this will be perfect for you. You'll arrive at work with nearly full battery and have enough spare juice to read on the way home again.
Screen shot your boarding pass to the rear screen for quick and easy access. We all know what it's like at the airport, multiple stops on the way to the departures lounge. I'm sure security and the airport staff will think you're pretty slick.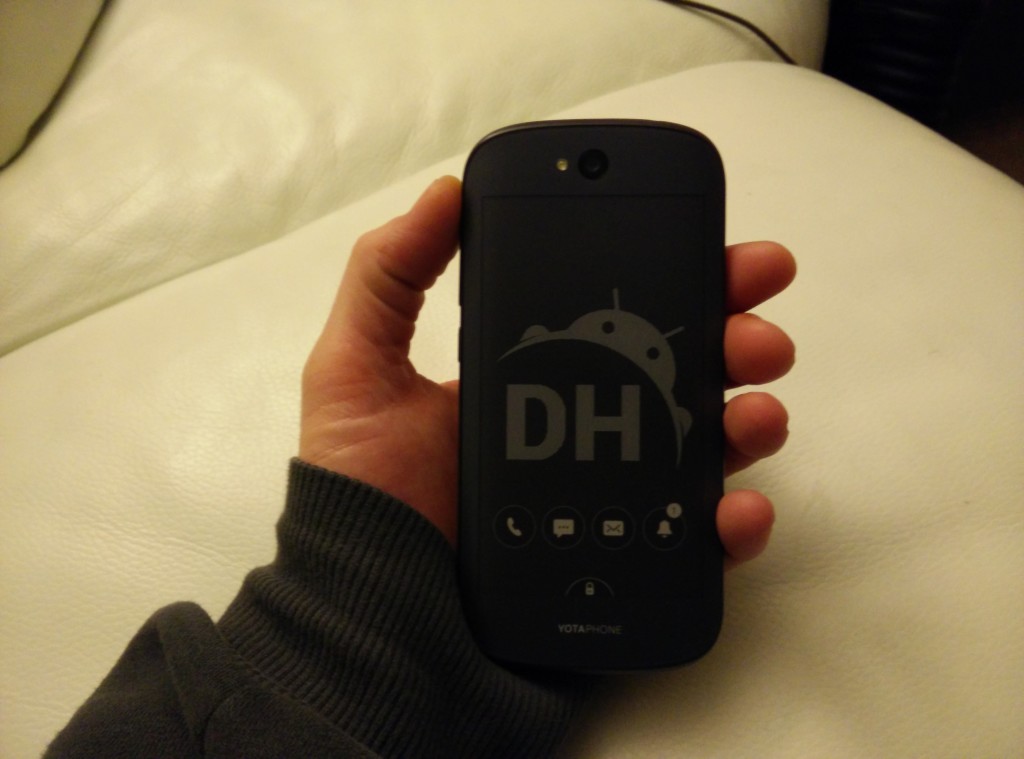 Although the YotaPhone 2 offers great innovation for including the E- ink, by now it's became obvious that the company have cut corners with a lot of things that make a good all round phone, no more so than with the build quality and camera.  We've provided a few sample images that you can see below. With good light and a steady hand you'll get some ok-ish shots. Nothing spectacular by any means. When reviewing in normal circumstances the installed camera app which is actually Google Camera stopped working and only glitched bars and distortion were shown when trying to use. A few reboots and clearing app cache and data have failed to get the camera working again. If this was a device I had bought, it would be sent straight back to the place I got it. Possibly a hard reset would fix the issue but this isn't something I'm willing to do with a device that just got out of the box two weeks ago. We have to review what's sitting in-front of us at the time, I'm sorry to report. This could be a one-off issue that happens to only a select few, maybe we've just been unfortunate.
The Yotaphone 2 offers a near stock Android experience, very reminiscent to what Motorola offers. You'll find the full suite of Google apps and a few that Yota have added mainly for using the back screen. There's a few games and services along with the official Twitter app but go ahead and disable those in app settings. As you'd expect from the stock user interface, everything runs smooth, apps launch quickly, home takes you home in a snap and gallery populates your photo albums quickly. The Snapdragon 800 runs things well for not really being the latest and greatest from Qualcomm.
The battery only has 2500 mAh capacity. Don't expect the YotaPhone 2 to last a few days using the front screen only, being a power user I was reaching for the charger around 20:00 but "YotaEnergy" service kicks in at 10% which puts you in airplane mode and dims the screen to pull through the last few hours if you need it. If you used the E-ink display on the back only, you might get 3 days of power being conservative. (No scientific testing, just a guesstimate.) The question remains which way individual users will access or operate the device on a day to day basis so battery life is dependant on that and other factors obviously.
The dual speakers at the bottom aren't really loud and not very clear either. At least both grills have audio coming out, sometimes you get a speaker for show like the Nexus 5 has. Yota put zero effort into sound quality which leaves me very little to comment. The company actually included some of their own notification tones which are nice and subtle, they didn't want bold double cannons on the front which go boom. Distortion at the top and mucky at the bottom, mids are non-existent either. Sound quality wasn't clearly something Yota even paid a little attention to.
In conclusion.. You'd have noticed that with each paragraph my thoughts and opinions on the YotaPhone 2 were getting worse and worse except for that rear screen. If you happen to be someone that uses E Readers everyday and have invested hundreds of pounds or dollars in Amazon Kindle books, this device could be for you. Even if you have to own the latest craze or be at the bleeding edge more than cutting, YotaPhone 2 could be for you too. Maybe we're only seeing the baby steps of something that will be used in the near future but with this device it's obvious a lot of work still needs to be done. In using the rear screen only for long enough, it got frustrating, I just wanted to flip over all the time for a familiar experience. I could glance but not manipulate, I could impress my friends but they would always ask "what's the point in that?" I'd have to explain a few things that I mentioned above but basically I just answered because they could and why not?
You can buy the YotaPhone 2 from our friends over at Clove Technology priced £542.99 VAT included. Hit the image below: