One of the best things android has is it's limits, which as most android users know is your imagination, customization is a huge factor with every single android device from very cheap entry levels to high end break your bank phones.
But customization is a vague word in the android community, this can be just simply changing your wallpaper, however it does go a lot deeper, to the core in fact but i think that is a story for another day, today i want to talk about widgets.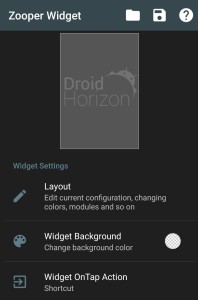 Widgets are a great way to display the information of its chosen app for example twitter included in its app has the functionality of widgets to display tweets on your home screen without having to open the app, what many people are unaware of is an app to make your own widgets, and it's called zooper widget and zooper widget pro (paid)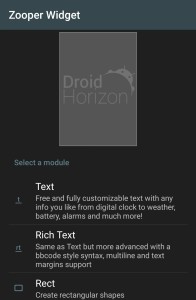 Zooper doesn't require any coding knowledge as many of the options are point and click meaning a drop down list appears and you press the one one you want and using the rectangle shape you can create (with a bit of fiddling) any shape you desire , but what about circles you can't make them from squares and rectangles, well you'd be right but don't fear there is an option to round the corners of a rectangle right round to a circle truly giving you the option to do anything your imagination can muster.
But for those of you who are not as imaginative when it comes creation, do not fear you too can use this app due to one of my favorite features.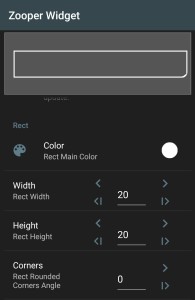 It is possible to share user created widgets which range from the extremely useful to the downright absurd some people have even made complete sets which can be found on the playstore or relevant g+ communities and even home screens can be downloaded however your app icons cannot be over layed as it does use up screen space to use.
You can choose the size of the widget ranging from 1×1 square to full screen , you can change the colour of the background of the widget and every aspect of your design.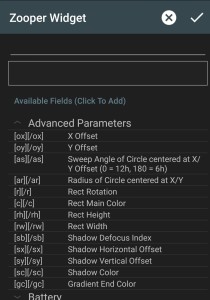 Zooper also allows you to download and use your own fonts and icon packs for things like weather as well as rotate enlarge or shrink text or bitmap images, the widget tap action in order to use a particular function or open a particular app.
Within the design phase you can move where your design appears within the widget screen along the x and y axis, change it's opacity and many functions.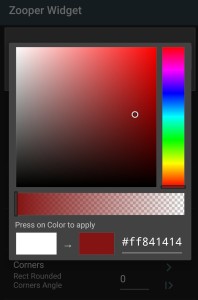 Like i mentioned many widgets do many things from toggles to quick tabs and in fact at the bottom i have included links to not only zooper but also a link to download a widget to use in conjunction with zooper so that you can stay up to date with your favorite android site.
With zooper you can truly make your phone all about you and stylize your device to your needs in many ways and you can get really deep with it also, with other apps like tasker you can create masterpieces with functionality
my overall opinion of zooper is simply this, if you're into customization then it's a must avoid the free version and purchase the full, if however you're not really that fussed then just have a look at the free version to see what all the fuss is about you will not be disappointed.
Free
Pro
And as promised here is my droid horizon widget and a direct link to download it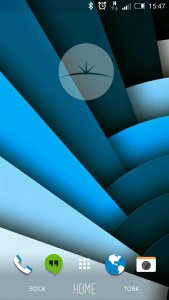 It comes in the form of a zip file and will need to be extracted into the autosave file within the zopper file, everything needed within the zip file.
there are 2 issues that I have come across while placing the widget onto my home screen.
1. The image isn't showing
fix: go into the widget settings and set the bitmap image as the image provided
2. The widget isn't doing anything
fix: go into the widget settings and press module on tap and navigate to the right and find bookmarks and link the droidhorizon.com website to the widget
Presto you are now one click away from your favourite website.
Enjoy
As always please get involved and leave us your comments below, what is your favourite feature about Zooper ?