Zwipe ID© is the first commercial credential offering full fingerprint identification in an ISO 7810 ID-1 and CR 80 compatible card body.
With the same format as a standard card, Zwipe ID© is targeted towards mainstream Access Control security systems. The Zwipe ID© card will be launched at the ISC West tradeshow April 6-8 at the Sands Expo in Las Vegas.
Designed to work within regular MIFARE DESFire and MIFARE Classic Access Control systems provided by integrators around the world, the fully self-contained fingerprint system is used to identify the legitimate card owner.
"We are very excited to be releasing Zwipe ID© as it is a highly sought after addition to our award winning biometric credential platform. "Zwipe ID©reflects the ultimate convergence of technologies providing convenient and securetwo factor authentication on one personal device."
said Kim Kristian Humborstad, CEO of Zwipe.
Zwipe ID© includes an integrated biometric sensor and utilizes Zwipe's patent pending biometric authentication technology to allow capture of the users fingerprint and to securely maintain the cardholder's data on the device. The ability to harvest energy from already installed Access Control readers not only eliminates the need for a battery, but also avoids costly reader replacement.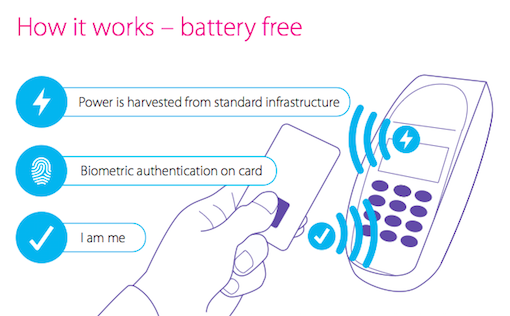 Zwipe ID© cards can be issued in any situation where verification of the card holders identity is essential, from pharmacies to data centers and front doors to vending machines. Zwipe ID© offers superior balance between convenience and security and can be integrated without replacing a single Access Control reader. Simple on-card enrollment allows for immediate implementation of two-factor authentication for Mifare and DESFire based access systems, both physical and logical.
"The demand for convenient and secure on-card biometric credentials has grown exponentially and I am delighted to bring this product to the market. Between our two access control product lines, Access and ID©, we expand our ability to support a much wider market reaching even deeper into corporate environments, educational markets and governmental identification applications."
said Bob Fee, N.A Director of Sales.
They are the industry leader in biometrics credentials for the Access Control industry with it's Zwipe Access product installed at several high security facilities in North and South America and Europe. The Zwipe ID© will be available through Zwipe's network of resellers starting April 6th 2016.
ID© resellers can found here
To learn more, please visit here