So you want to get into gaming away from a PlayStation or Xbox console, but you don't have a whole lot of extra duckets floating around to go all out on the most advanced machines.
Don't worry, there are plenty of assembled machines and budget build-outs that will get you up and running with powerful hardware. Not only will you be able to get online and check top sportsbooks likes Bovada for the upcoming DOTA and CS: GO tournaments, but compete in them too.
Main Components for a $500 Budget Tower
Oh, the Google search yields a wealth of info … parts and components. Plus, you can always hop in any of the hundreds of PC builder forums and simply ask around … I have had guys respond with full build-out lists with details on each component as well as two or three alternatives for each. Some of the people in PC forums can be extremely helpful and offer comprehensive information.
For now lets look at a cheap tower that will be powerful and reliable.
Thermaltake Versa H18 Micro-ATX $49.99
You're going to need a case to build in, and this bad boy can be found on Amazon for just 49.99. It's as cool as it is functional with a mesh front panel that has a built-in blue LED strip. The full-length PSU cover is Micro-ATX form factor design and has 1 USB 3.0 port, 2 USB 2.0, 2 2.5" drive bays and 2 3.5" drive bays.
Power Supply $48.99
Next, we are going to fit in the power supply. The EVGA 450 BR is perfect for our needs and budget. This particular unit is 'Bronze Certified" at 85% efficiency. Fully sleeved cables and non-modular design help to make this a high-end piece at a budget price. It will fit almost any case and is protected by a silent, long-sleeve bearing fan and comes with a full suite of circuit protection (OVP, UVP, OCP, OPP, SCP, OTP).
ASRock H310M-HDV $68.63
What about the motherboard? We could have gone with the GIGABYTE H310, but the connections are so much better on the ASRock that it makes building a lot easier. No one wants to be frustrated because of junky hardware. The H310 S2P supports 8th Gen Intel processors and here is the basic specs sheet:
1x PCI-Express 3.0 x16 Slot, 1x PCI-Express 2.0 x1 Slot

4x SATA3 Ports, Support NCQ, AHCI, and Hot Plug

Realtek ALC887 7.1-Channel High Definition Audio CODEC

Realtek RTL8111H PCI-Express x1 Gigabit Ethernet Controller

1x 24pin ATX Power Connector, 1x 8pin 12V Power Connector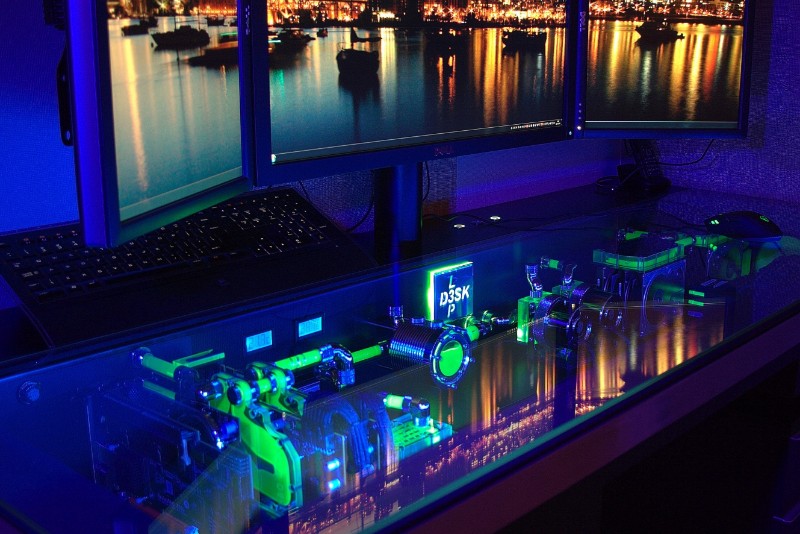 Ok, so what processor are we plugging into this?
Intel Core i3-8100 (4 Cores 3.6 GHz) $118.99
At this price range, there is really only one option when it comes to bang for your buck. An 8th Generation Turbo Unlocked LGA 1151 300 Series i3 processor is the way to go. You get 4 Intel Cores at 3.6 GHz with a 6MB cache. If you want to add Optane memory later, it will support it without any issues. And it has pretty solid graphics dynamics and overall, outperforms the Ryzen 3 2200G.
Ballistix Sport LT 8G Single DDR4 $46.99
Why take up two spaces when you can get your eight gigs in one stick. This way, later on, you can drop in another in a pop up to 16 GB of RAM to help you PC multi-task.
Now let's add some storage …
Refurbished 7200 RPM 1TB Seagate  3.5-inch Drive $33.95
Even the refurb SATA/6GB interface from Seagate comes with a two-year warranty and saves you a few bucks. At 7200 RPMs, it's the gold standard for basic computing and is exactly what we need to get up and running under a budget.
Zotac GeForce GTX 1050 TI Mini Graphics Card $187.99
OK, so since you are going to be gaming, you need a decent GPU. Coupled with the rest of your processing power, this little unit will provide a smooth gaming experience at medium to high settings on games like:
Fortnite

PUBG

League of Legends

Overwatch

Dota 2

Grand Theft Auto V

Rainbow Six: Siege
Of course, you are going to need a few other things to flesh this all out, like a monitor, USB Wi-Fi adapter ($22) and a gaming keyboard and mouse, but for just $555.53, you have a PC tower capable of getting in there and gaming with the best of them.