Cutting-edge gaming technology company, Black Shark announces today the arrival to the Chinese market of its new gaming device for gamers, the Black Shark 2. Based on hardware, software and services, Black Shark is committed to building a strong gaming eco-system. Boasting unrivaled innovations, the latest addition to the Black Shark family aims to provide an unmatched gaming experience.
According to Peter Wu, Founder & CEO at Black Shark: "Black Shark is a gaming company, composed of passionate gamers. Be sure that developing the best gaming experience will always lead our path".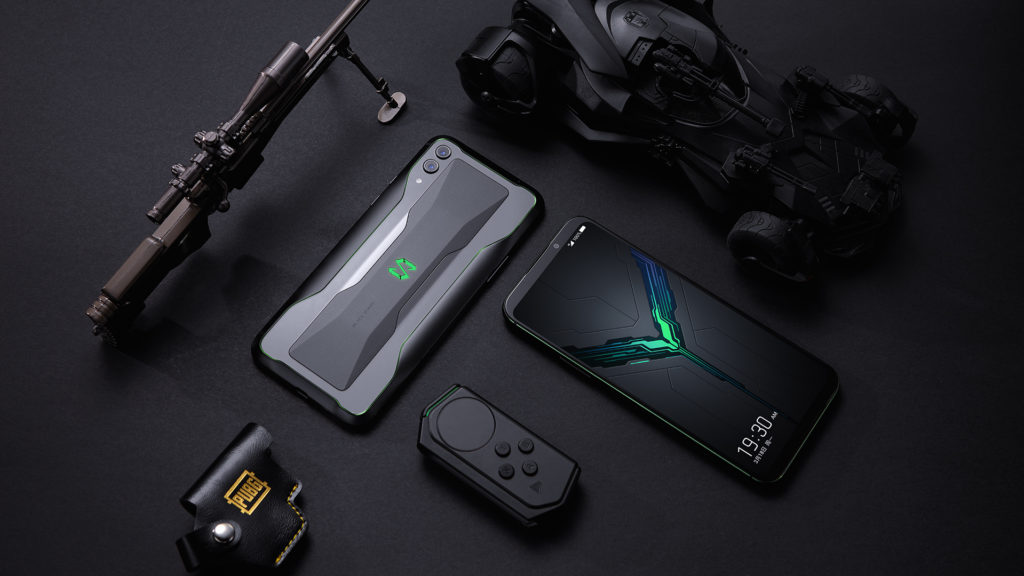 BLACK SHARK 2, THE UNMATCHED AND UNIQUE GAMING EXPERIENCE #bestDPSever
Gaming Performance, Gaming Control, Vision, Hearing and Vibration are 5 leading aspects Black Shark 2 as the best mobile gaming device.
UNRIVALED GAMING PERFORMANCE POWERED BY THE BEST DPS
Equipped with the newest Qualcomm Snapdragon 855, up to 12+256GB.
Direct touch liquid cooling system 3.0: Black Shark 2 features the 1st and only direct touch multiplayer liquid cooling system in the world.
This direct touch liquid cooling system allows heat board dissipation, and covers all heat areas, 14 degrees lower on the CPU's temperature which represents the best result in the industry.
Ludicrous Mode: This mode is similar to turning your car into "Sport mode". When Ludicrous mode is on, Black Shark 2 will release all the CPU power for supporting gaming performance without dropping frames and Black Shark 2 with Ludicrous mode is the only device in the world which can achieve this (test for 2 hours with Ludicrous Mode on, Green line is Black Shark 2's frames).
Fast charge even when gaming: 27w fast charge, 5 minutes charging for 30 minutes playing and 10 minutes charging for 1 hour playing. And Black Shark 2 can allow gamers to play and charge at the same time, playing PUBG for 30 minutes, charging for 15%.
Battery Endurance: With 4000mAh, the battery can withstand intense gaming sessions of up to 5 hours, and the battery life is 60% longer than others.
X+2 Antenna: always online: Fitted with an X-type Smart Antenna and two side Antennas, the Black Shark 2 benefits from a 360 degree strong connection, regardless of phone orientation.
Shark Space-Immersive Gaming mode: World's 1st one-key access to the immersive gaming world. When this mode is on, it clears up all the memories on the back, so gamers can focus solely on gaming
Gamers just need to pull down the Game Dock to customize their settings without leaving the game. When turning on the Performance Dashboard, they can monitor their gaming framerate and system temperatures in real time. Finally, gamers can also set up their performance in Gamer Studio.
PREEMPTIVE CONTROL MAKES THE BEST DPS
World Lowest latency screen touch: This new device features the world's lowest latency screen touch . Gaming has never been more fluid, with the fastest response speed of only 43.5ms helping gamers to improve their gaming competitive edge (reference: iPhone 45ms, S10 the 2nd fastest among Android Phone is 60 ms).
The world most advanced Master Touch: With the "Master Touch" innovation, gamers will be able to press firmly on both left and right customized touch zones to trigger multiple on-screen actions with just two thumbs. This Master touch could also allow you to save at least 80ms for shooting during a FPS game.
CLEAREST VISION, HAWK-EYE, TO BE THE BEST HUNTER
6.39" AMOLED Screen with

DC Light-dimmer

, no more damage to the eyes.

TrueClarity MEMC Technology

(motion estimation, motion compensation) processing to eliminate unintended judder and blur.

World 1st DSP used on smartphone

is one of Black Shark core technologies, it offers the best possible graphics performance even on demanding games.

TrueView: TrueView Multi-adaptive Display

for optimal viewing across lighting conditions and ambient color tone, including Day Light View (DLV), Night View and Reading Mode for eye comfort.

HDR Gaming View:

I

ndustry-leading HDR Tone Mapping

and

Always HDR

with real-time SDR-to-HDR conversion of games and videos
AUDIO CREATION ONLY FOR GAMING
Black Shark 2's

sound system

is adapted for gamers, allowing them to feel deeply immersed in the games, with a

dual front-facing speaker

which is 25% larger than standard smartphone and the powerful

stereo sound

.

3 customized gaming microphones. Two of them are noise cancelling microphones at the front that can help to ensure crystal clear in-game voice chat.

1st smartphone to

avoid squeaking

, which means when forming a squad with your friends face to face, there will be no noise when speaking.
Vibration, your weapon is in your hands: Black Shark 2 can recognize different environments/weapons/movements/hits, and fit different vibrations to each of these, to attain a 4D gaming experience.
For Harrison Luo, co-Founder of Black Shark: "with its revolutionary features, the launch of the Black Shark 2 is breaking news for the mobile gaming community. Gamers around the world can enjoy playing their favourite games, anywhere and anytime".
BLACK SHARK 2, MORE THAN A MOVING GAMING MACHINE
Host mode:

Black Shark 2 can transform into a gaming Host by simply connecting an HDMI Cable to any big screen, with the world's lowest delay from any smartphone gameplay to any big screen. With GamePad 3.0 which can transform into a console pad with the Black Shark stand.

World most powerful Cooling case

– Can cool 10 degrees in as little as 10 seconds.

Shark Time:

Share your best gaming moments via social media with your friends. Black Shark 2 could recognize your best moment in-game automatically, and gamers could check after every game.

Light you up:

Black Shark's Logo and 2 sides lights could offer a unique experience when you play games, listen to music and during daily life usage. RGB colors for different gaming effects, music Intelligent recognition to fit different music, and customization on light effect according to different friends.
PRICE AND AVAILABILITY
Black Shark 2 is available from today in the Chinese market. UK and Euro regions soon….
6G + 128GB : RRP 420 Euros / £360
8G + 128 GB : RRP 459 euros / £395
8G + 256 GB :  499 euros / £430
12G + 256 GB : 551 euros / £475
BLACK SHARK: BORN TO COMPETE
Supported by a committed team of engineers, developers, designers, e-sports enthusiasts and gamers, Black Shark allies both the strong technical experience and the flexibility of a newcomer. Black Shark uniqueness comes from its more than 300 engineers who are themselves passionate gamers, and never stop working on increasing users' experience.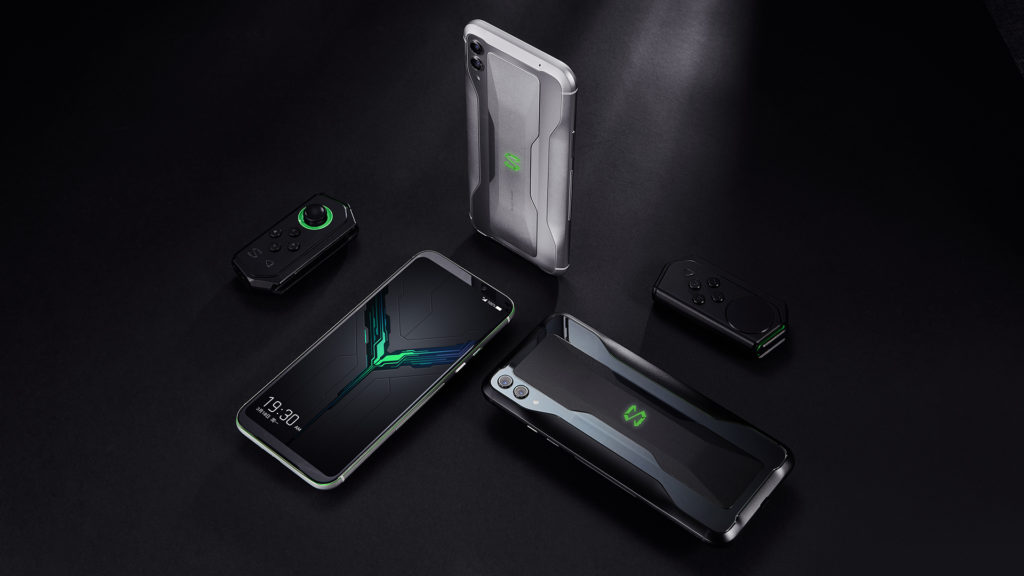 Black Shark innovations include:
– The world's 1st Direct Touch liquid-cooling system, allowing gamers to play for long periods without the phone heating up.
– The world's 1st DSP use on the smartphone screen, for the best graphics performance even on demanding games
– The world's 1st X-antenna, providing a strong connection, perfectly suited for mobile gaming