Unlike the hoops that need jumping through to torrent on an iDevice, torrenting on an Android phone, tablet, or even TV is very easy. The process, indeed, is almost identical to torrenting on a desktop computer!
How to torrent on an Android device
Install a BitTorrent app. There are plenty of these available in the Google Play Store or, for the privacy conscious, in F-Droid. 
For this guide we'll use BiglyBT, a lightweight, free and open source BitTorrent app from some original developers behind that old granddaddy of desktop torrent clients: Vuze. It's available from both the Play Store and F-Droid. 
But at the end of the day, a BitTorrent app is a BitTorrent app, and they all work in a very similar way.
Turn on a VPN. This step is optional but highly recommended for the reasons discussed later in this article. Read reviews to pick the best VPN

In your favorite Android browser visit a torrent site and search for the content you want. If you don't know any torrent sites, then Google is your friend. Once you've found what you are looking for, click on its Magnet link to open the torrent in your BitTorrent app.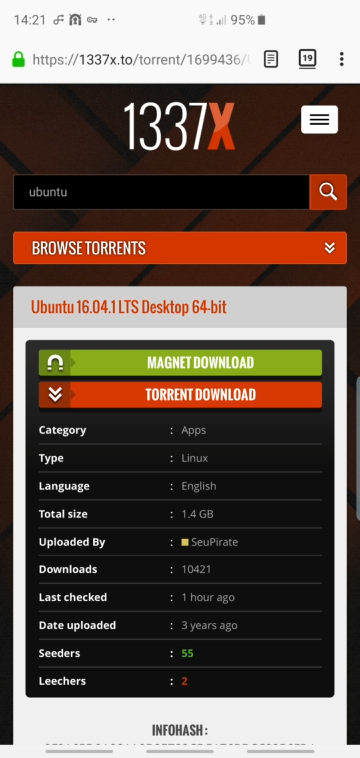 If you have more than one torrent app on your phone, then you will be promoted to select which one to use.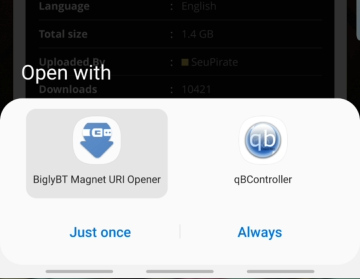 If no Magnet link is available, then you can also download and open its torrent file using your browser. As with clicking on a magnet link, this will open the torrent in your BitTorrent app.
Your BitTorrent app will then find the torrent information it needs to download the file(s). Details vary by app, but you will usually be offered the chance to check that you are happy the settings. If you're not, then you can change them.
One thing to make a note of (or change if preferred) is the default download folder for files, as this will help you find them later.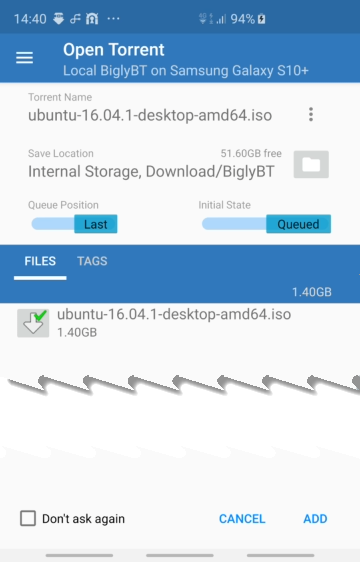 5. When you're ready, just hit "Add." Your file(s) will now download.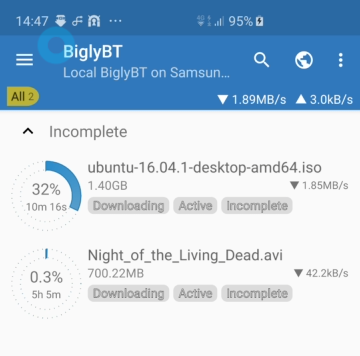 6. And that's it! Use any Android file manager app to locate and open a file once it has finished downloading.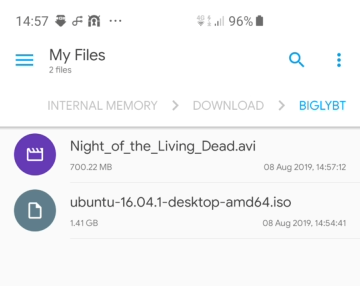 If you already have an app installed that can handle the downloaded file type then the file will open in that app (or you be given a choice of which one to use if you have more than one compatible app). 
If you don't have an app that can open a particular file type then search the Play Store for one. It's sure to exist! To open our example .iso file, for example, we found the very hand ISO Extractor app after a quick search!
For playing downloaded video files, open-source VLC for Android is hard to beat. Not only can it play just about every video format known to humankind, but it can cast TV shows and movies from your Android device to a big screen using Chromecast.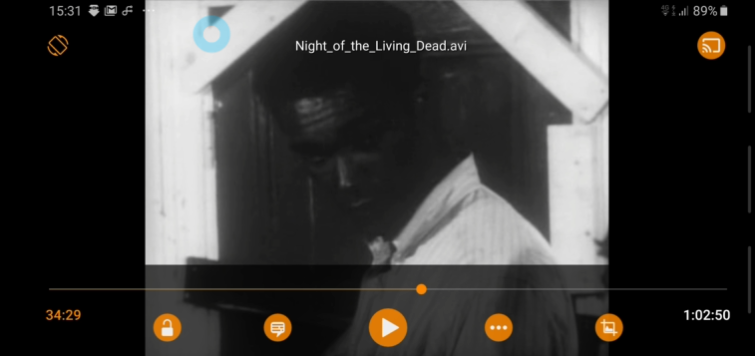 How to torrent on an Android device… securely
So now we know that torrenting in Android is easy. But is it safe? The short answer is no, unless you use a VPN.
Torrenting is also known as filesharing for a reason. Rather than downloading files from a centralized (and easily closed down) server, you share little pieces of them with everyone downloading or seeding that torrent – your peers.
And for peers to be able to share files with you (and you with them, of course,) they must know your unique internet (IP) address. The problem is that its not just other torrent enthusiasts who can see this.
Copyright holders routinely monitor the IP addresses of those who download their intellectual property without permission and then take action against them. In such cases you may just get an unpleasant letter from your internet provider (ISP), or you may find yourself being sued through the courts for thousands of dollars in damages!
The solution is to use a good (which usually means not free) VPN app that permits torrenting. This hides your real IP address from peers when downloading (including any copyright holders who may be watching) and encrypts your data so that your ISP can't see what you are downloading. 
It also prevents your ISP from knowing which websites you visit, which very handy since this also prevents it from stopping you visiting torrent sites that it otherwise blocks. For a list of recommended VPNs for Android please see here.