The A-USBKey ST is an USB Flash drive for Smartphones and Tablets, with 2 connectors (USB and micro USB), allowing you to easily add memory or transfer files without cables or a data connection.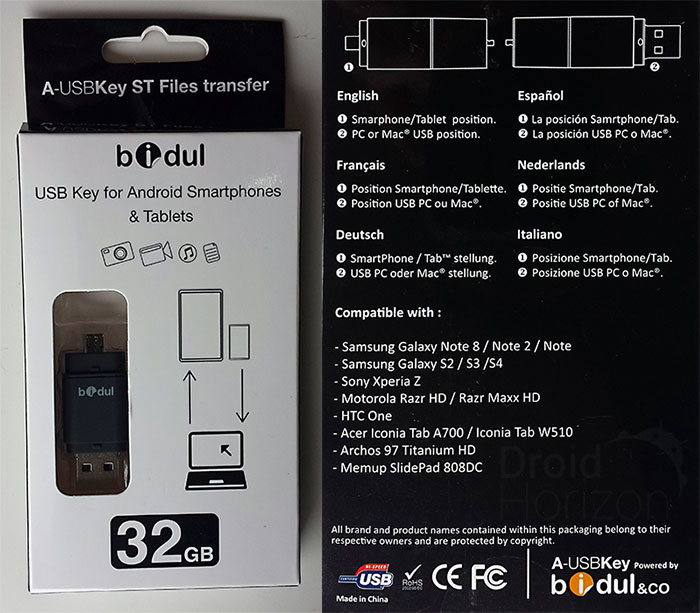 The internal specs of our Android devices keep improving, but one area that hasn't seen a vast increase is the internal storage – with many flagship phones still coming with 16GB as standard. Although some handsets do offer expandable storage via SD card, the main reason for this storage spec. lag must be primarily due to the advancement of cloud storage. 16GB is enough for a lot of people, but what about those with data connection limitations or those who just prefer to carry their media with them?
Even if you choose a device with expandable storage and add a huge SD card, you still have the problem of transferring the files to and from your PC. Cloud storage or transferring over WiFi is great for small files, but slow for large video files. You can remove the SD card and use a card reader but this often means dismantling your device. You can connect using a USB cable, but this can also be a hassle (especially if you need to turn your PC on just to copy a few files).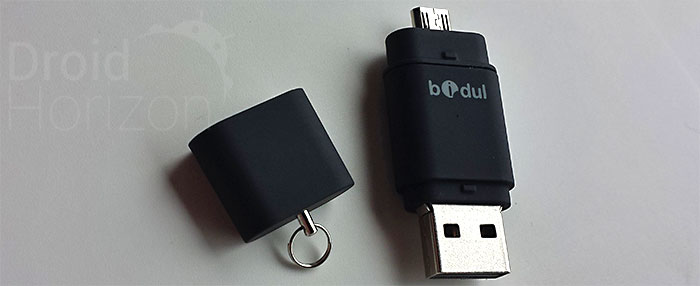 If your device supports it, one option is to use a USB OTG (On-The-Go) cable which allows you to connect a standard USB device such as a flash drive to your Android phone or tablet. If you are happy to have a cable hanging out of your device and connect everything up then you can stop reading this review. If you might prefer a more compact all-in-one solution then you'll want to take a look at the catchily titled A-USBKey ST.
In concept it is similar to the Meenova card reader we previously reviewed, but rather than needing you to insert a SD card this comes with it's own storage. It has a standard USB connector on one end and a micro USB on the other. On a PC this operates just the same as any other flash drive but the big advantage is that you can also plug it directly into most Android devices.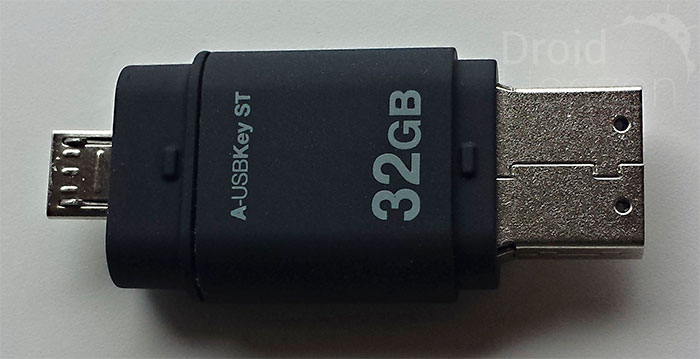 In terms of a flash drive, this is a decent if unremarkable offering. There's no status LED or retractable connectors, but also thankfully no crapware preinstalled. You also get a cap to cover whatever connector you aren't using.
The A-USBKey ST appears to be good quality, with a nice soft-touch plastic outer shell and inside Bidul have used Samsung branded memory which inspires confidence.
Testing the speed I got around 4.3 MB/second during writes and around 18 MB/second while reading, which is pretty average for a USB 2.0 device.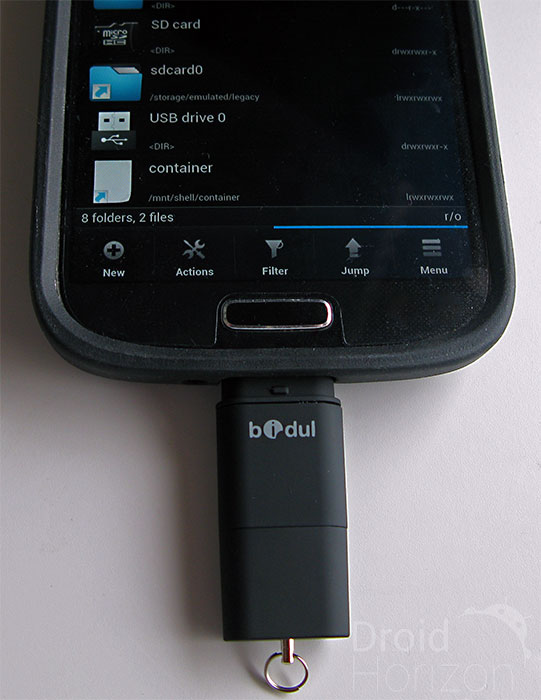 On connecting to my S4, Samsung's file manager opens and display it's contents. You can then use another file manager if you prefer. You get full access to the files so you can easily transfer them or open them directly from the drive – video playback from the stick is perfect. You get a mount notification which you can click on to safely unmount the drive.
Your experience will vary depending on what device you're using (for instance Nexus devices require something like the Nexus Media Importer app), so you'll need to do a little research into how (and if) your device handles USB OTG before you buy.
The drive is small and compact, and you should be able to continue to operate your device with it connected without it getting in the way too much. It is wider than a standard micro USB cable, so unfortunately the cut-outs on some cases won't be large enough to accommodate it.

The A-USBKey ST is available in 8, 16, 32 and 64GB versions, with the 32GB version pictured costing £24.99 on Amazon UK and $34.99 on Amazon US. This is a little expensive compared to other flash drives available with this capacity, but if you factor in the additional cost of buying an OTG cable and the added convenience then I think it's well worth the price.
Overall the Bidul A-USBKey ST is incredibly handy and unless you've high performance demands or have completely embraced the cloud, then you'll also find it really useful. I'll definitely be looking for this type of twin connector arrangement when buying flash drives from now on. You can check it out on Amazon or the (french) Bidul & Co website link below…