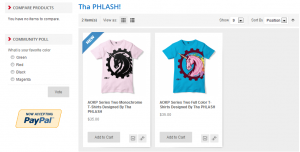 Awesome and highly respected icon maker, street artist turned T'shirt designer Tha Phlash has joined forces with Cruzerlite for what I guess are limited edition apparel. Throw into the mix AOKP's love of Unicorns and swagger, these truly are fantastic for Android enthusiasts. (If it's your kinda thing, which it kinda is for me)
Priced at $35 plus free shipping inside the US.
Under £30 posted to the UK, I reckon as a guess.
Hit the link HERE which will take you to the order page.