"The Pocket Socket 2 is a hand powered generator that charges electronics by hand crank. It generates up to 10watts of electricity at 120 volts. That is enough power to charge a wide range of devices."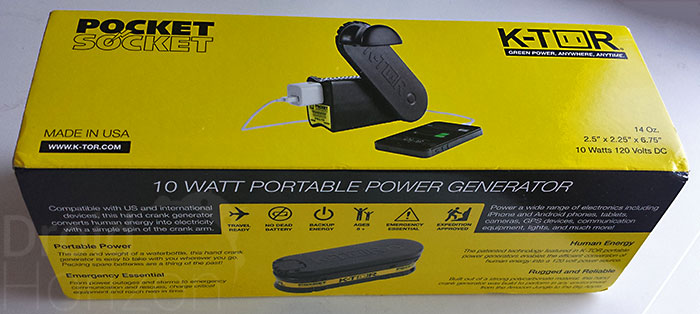 This product was developed by K-Tor in the United States and so the socket that it provides is a standard 120v US power connector. This allows plenty of flexibility to power almost any American gadget requiring 10W or less.  Of course you just need to add a travel adapter to be able to use any device with a non-US connector that supports 120v.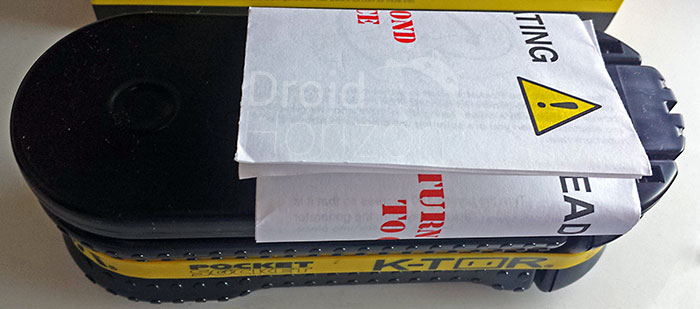 Packaged in a cardboard box, the Pocket Socket's crank handle folds neatly against the body when not in use and is kept in place with a large yellow rubber band. My father would approve as he loves keeping his stuff together with rubber bands. The band can also be used to give more hold to whatever you have plugged into the socket.
Made mainly from black polycarbonate plastic and at almost 7″ long and over 2″ wide, the Pocket Socket weighs 425 grams – feeling like the equivalent of a small water bottle when you carry it around. Definitely portable but you will notice you're carrying it over long distances.
Open the handle, plug in your device (which for most Android devices will likely be a USB wall charger) and you're ready to go.  Simply hold the grippy plastic body with one hand and start cranking the handle in either direction (good whether you're left or right-handed) to begin charging your device.  Check out the video below to see it in action…
The Pocket Socket requires at least 2 revolutions per second before it starts generating power. This doesn't sound like a lot, but keeping this up for an extended period of time can get tough. K-Tor recommend taking a break after 3-5 minutes of cranking.
The 10W generated by the crank can provide a 2A charge via a suitable 5v USB wall charger. This is enough to charge most smartphones and tablets at the same speed as when connected to the mains, but unfortunately this won't be enough to support the newest (Qualcomm) quick charge capabilities of the latest flagship handsets. This is a shame because getting 24 minutes of use from 1 minute's cranking would be a huge improvement over the manufacturer's claim of just getting one minute talk time.  K-Tor also sell a pedal powered "Power Box" capable of a 20W output which would be a better bet for quick charge compatible devices.

As it stands, if you're dreaming of powering your gear solely using your own energy then I think the Pocket Socket will be a disappointment. It is rightly marketed as an emergency tool that doesn't require sun or wind, not a replacement for other sources of power. Realistically if you do have access to an alternative source of power then you're unlikely to want to sit cranking away for extended periods of time.  However if you're in a bind then this will get you enough juice to call for help or charge a LED light.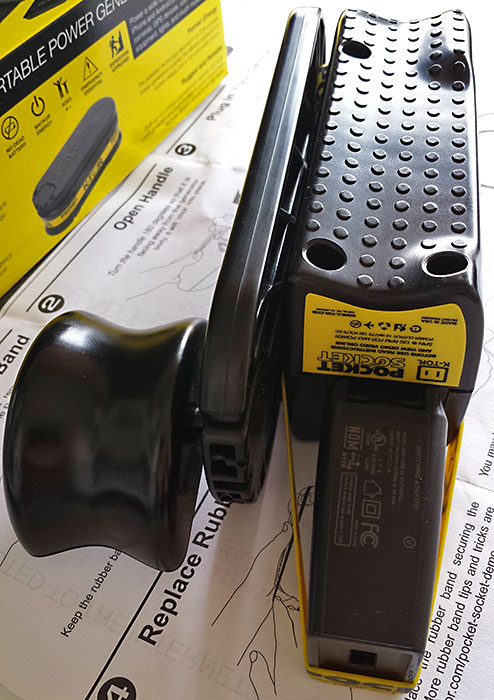 The Pocket Socket 2 is currently available for $59.95 on Amazon US, which is justified considering the development that went into it, how well built it is and that it has a higher power output than it's competitors. However for a short to medium term trip I think you'll find it much more convenient spending the equivalent money on a couple of good power banks.
While more a last resort tool than long-term source of unlimited free energy, Pocket Socket 2 does exactly what it claims to. It could really bail you out if you're likely to end up stuck somewhere needing to make a call without any source of power.  Once the zombie apocalypse arrives, I'll be cranking away so that I can play Dead Trigger 2 while safely boarded up inside my house.  For more details of the Pocket Socket 2, check out the link to the K-Tor website below…