I really enjoy geting to try out different things for review purposes. Every once in a while I get one that I end up nearly infatuated with the particular product. Off and on for the last week or so, I've monkeyed around with WinnerGear's Micflip. On the surface, it looksl ike any other USB charging cable, where it's Mirco where it plugs into the device, and type A where plugs into the charging port. No biggie there. What makes this so nice is that BOTH ends are FULLY reversable. So, it's the convenience of type C, while retaining the compatibility that everyone is still used to. They have accomplished this by fashioning the head to fit properly  in either direction, while still retaining full functionality.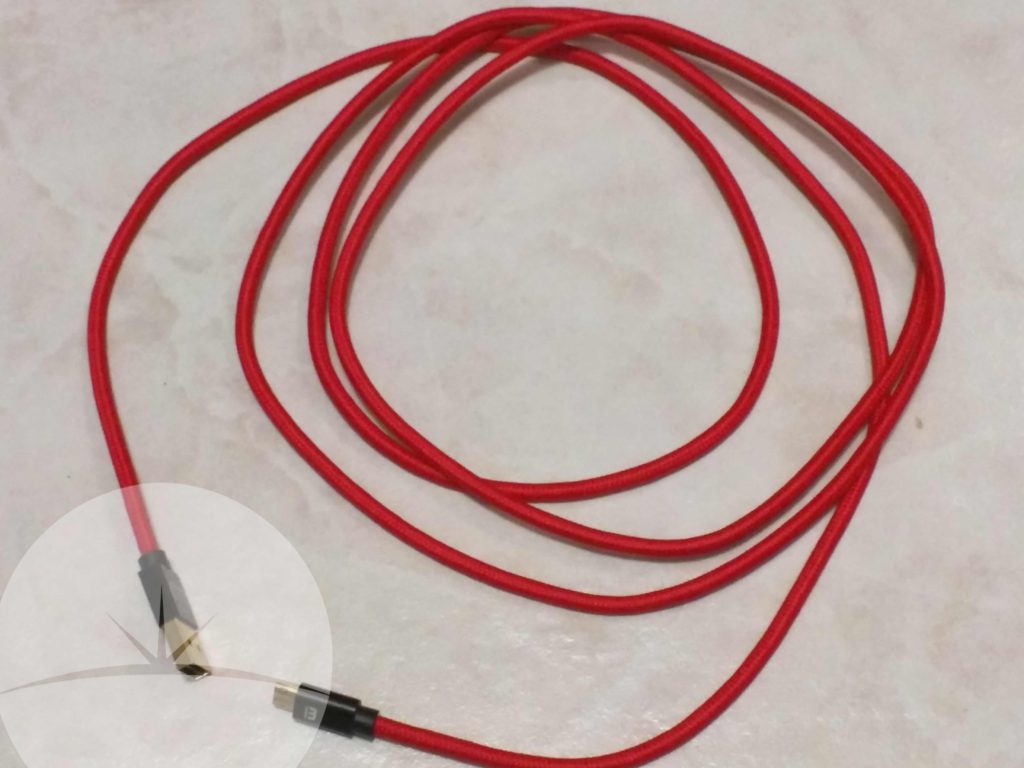 The cable that I got is colored gold ont he connectors proper, black plastic for the mount, and the cable proper is 6 feet long, covered in a bright red braid. Hving reviewed braided cables before, I was familiar with the idea. Starting with that, the braid is semi-stiff, and significantly reduces the cable's ability to kink up, or form into a knot. It also adds a measure of durability to it, over the conventional soft plastic that's seen on most cables, but it's not something you can mistake for full on "armor", as you can begin to  case it to fray
 with just your thumbnail. So, don't expect it to survive cats and the like, but again, it the braiding is superior to the conventional cables. As for its performance, that was also as good as any other cable that I've used. I tested my phone out (stock Nexus 6 running 7.0 with a 3,220 mAh battery) using both my regular charger and cable, then swapped it out for the MicFlip. Both carried a 15% charge over twenty minutes, so there was no loss there.
  There isn't much more to add to this review. The cable can be plugged in, with either end being twisted around either way due to both ends being fully reversable. Using this cable, gone are the days of having to fiddle with making sure that the end of it is facing the proper direction. Frankly, Idon't know why it took this long for someone to come up with, and execute, this idea. Needless to say, this is going to get a ten from me. WinnerGear is curently offering a half of deal, on their bundles of cables. The cables are cheaper in larger bundles, with all bundles are 50% off right now.
——————————
Update, on Dec 24th: When I tested this cable, it was done at home, using the cable like I would any other. Once I finished the review, I began using it my car, in the hopes of alleviating the need to fiddle with the cable when plugging in my phone in the dark of winter, or when in a rush. Unfortunately, I found that the cable doesn't "lock" into place nearly as well as the conventional Micro USB cable does. Frequently, with how my phone rests on my dash while charging, the cable would wiggle loose enough that it was no longer charging, and thus I had to fiddle with this cable MORE than with others. So rather than giving this a ten like I wanted to, I'm giving this cable an 8. If your handset is charging on a desk or dresser where the cable can rest comfortably, this is a great cable. If there is an inadequate amount of slack, or pressure is on the handset's USB port, this is likely going to be an issue for you, like it did for me.