Huawei has launched a range of smart watches and tablets, powered by its new HarmonyOS 2 operating system today, including a new version the HUAWEI WATCH 3 Series, and the HUAWEI MatePad Pro.
Huawei has also released the HUAWEI FreeBuds 4, its next-generation open-fit Active Noise Cancellation (ANC) wireless Bluetooth earbuds, and two high-end monitors, the HUAWEI MateView and the HUAWEI MateView GT. The company took this opportunity to announce that roughly 100 other Huawei products will be upgraded to run on HarmonyOS 2, giving consumers access to a seamless intelligent experience across multiple devices in all different types of scenarios.
There are more smart devices in our lives than ever, but the experience they provide isn't always smart. Siloed systems tend to complicate interconnectivity and operations, which have ultimately led to a fragmented user experience.
HarmonyOS is designed to address this problem. As a next-generation operating system for smart devices, HarmonyOS provides a common language for different kinds of devices to connect and collaborate, providing users with a more convenient, smooth, and secure experience. It uses distributed technology to meet the varied needs of all types of different devices with a single system, enabling flexible deployment as needed. HarmonyOS also combines previously independent devices into a cohesive and holistic Super Device, that integrates all hardware and resources to freely leverage the capabilities of its component devices based on the user's real-time needs. For developers, HarmonyOS allows cross-platform development and cross-device deployment of apps, making the development of apps across devices easier than ever before.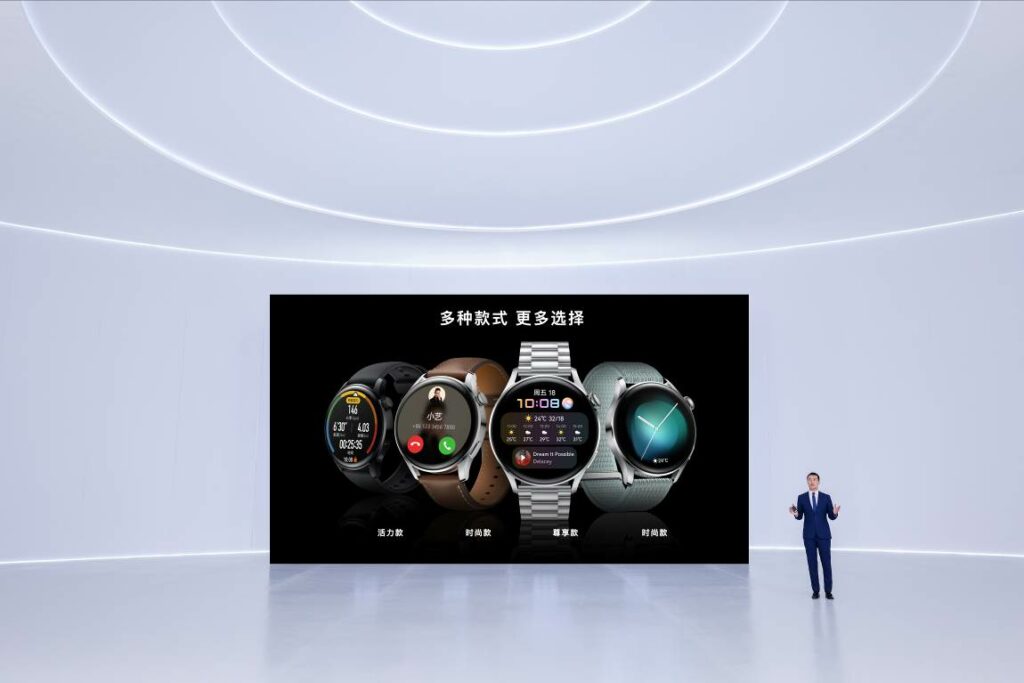 HUAWEI Watch 3 Series
Huawei's brand-new flagship smart watch, the HUAWEI Watch 3 Series, redefines fashion on your wrist. Featuring a curved glass screen and 316L stainless steel case, this stylish watch comes complete with a brand-new 3D rotating crown that senses different levels of pressure and provides haptic feedback in response to user input, making the watch both comfortable to wear and easy to operate.
The HUAWEI WATCH 3 Series also serves as a professional fitness & health manager, that supports more than 100 workout modes. In addition to a broad range of healthcare support options, the watch can now monitor skin temperature with a new, high-precision temperature sensor. It also supports fall detection and SOS functions so users can monitor and manage their health in real time.
The HUAWEI WATCH 3 Pro features an ultra-long battery life, which lasts five days in smart mode and 21 days in ultra-long battery life mode. The HUAWEI WATCH 3, in turn, has a battery life of three days in smart mode and 14 days in ultra-long battery life mode.
The HUAWEI WATCH 3 Series also allows you to make and receive phone calls and listen to music using the same phone number and data plan as your smartphone.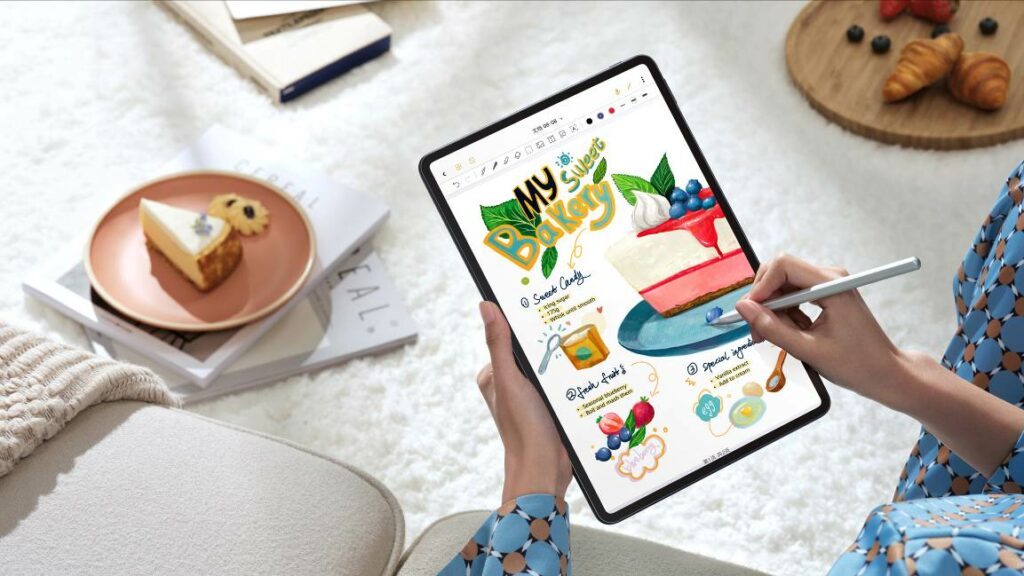 HUAWEI MatePad Pro
The new HUAWEI MatePad Pro features a stunning 12.6-inch OLED FullView Display with a 90% screen-to-body ratio, the highest among all tablets currently available on the market. Every display comes with a ΔE color difference of less than 0.5 for incredibly high color accuracy, delivering a crisp, color-accurate picture that is on par with professional monitors. The HUAWEI MatePad Pro also has an ultra-high contrast ratio of 1,000,000:1, and supports a DCI-P3 color gamut.
Equipped with Kirin 9000 series chipsets, the HUAWEI MatePad Pro delivers incredible levels of performance. Supported by the distributed data management and task scheduling capabilities of HarmonyOS, the tablet can work together seamlessly with smartphones and PCs to double your productivity and creativity in different scenarios, whether you're in the office or at the drawing board.
The HUAWEI MatePad Pro also supports Multi-screen Collaboration with PCs. The tablet can become a drawing board in Mirror mode and a monitor in Extend mode. It also supports cross-device file dragging and dropping, delivering a more efficient and collaborative multi-device experience.
The second-generation HUAWEI M-Pencil was unveiled together with the HUAWEI MatePad Pro. The new smart pen features a new platinum-coated nib for high-precision handwriting and ultra-low latency, accurately differentiating between 4,096 levels of force. The HUAWEI M-Pencil supports FreeScript, which converts handwriting in any input box into digital text in real time. In addition, intelligent interactions such as double-tap to switch, Instant Shape, and Instant Table make handwritten input more seamless and natural to fit your unique workflow.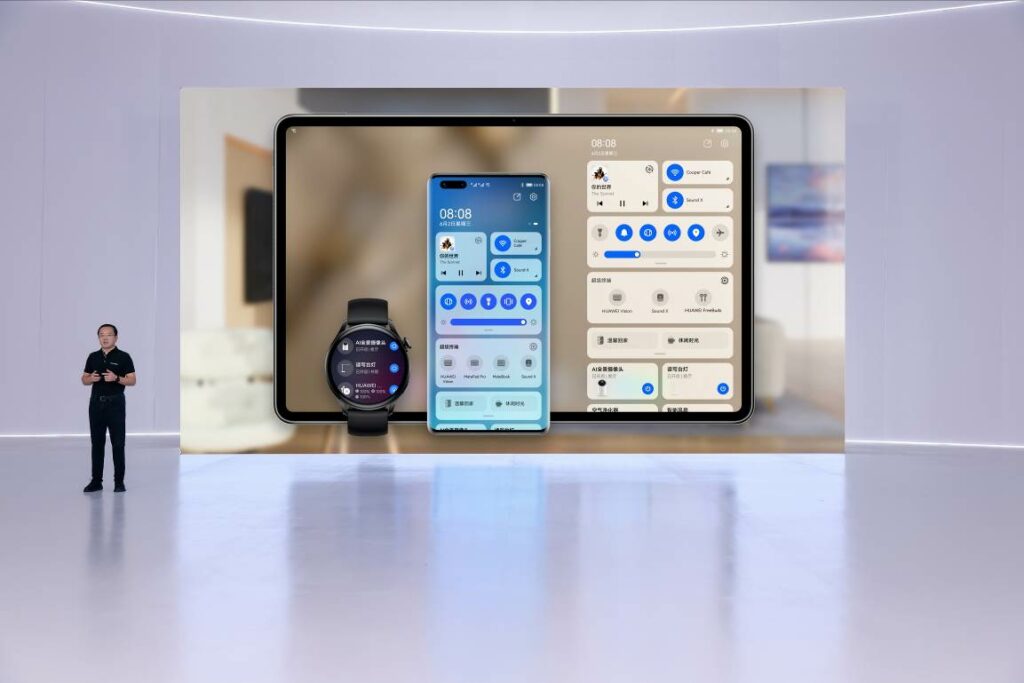 An entirely new interactive experience
 Multi-device interaction with HarmonyOS makes working across multiple devices as simple as controlling one. The new Control Panel supports simple and intuitive connections through a drag-and-integrate feature that allows users to freely connect the devices they want based on specific scenarios.
For example, if you want to watch a movie at home late at night, all you have to do is open up the Control Panel and drag the smart screen icon to your phone icon, and the movie jumps directly from your phone to the TV. If you're wearing your HUAWEI FreeBuds 4, you can then drag the earphone icon to the phone icon, at which point the movie will play on your smart screen while rerouting its sound through your FreeBuds. This is just one example of the Super Device experience.
HarmonyOS 2's new Task Center allows apps to travel between different devices at will, without installing them on each and every one, so that all functions and services are available whenever and wherever they're needed. On any device that's part of a Super Device system, you can see the tasks running on all other devices[5]. If you want a bigger display for mobile gaming, you can simply swipe up and hover to bring up the Overview Screen, and then transfer the game to your HUAWEI MatePad Pro to continue the fun.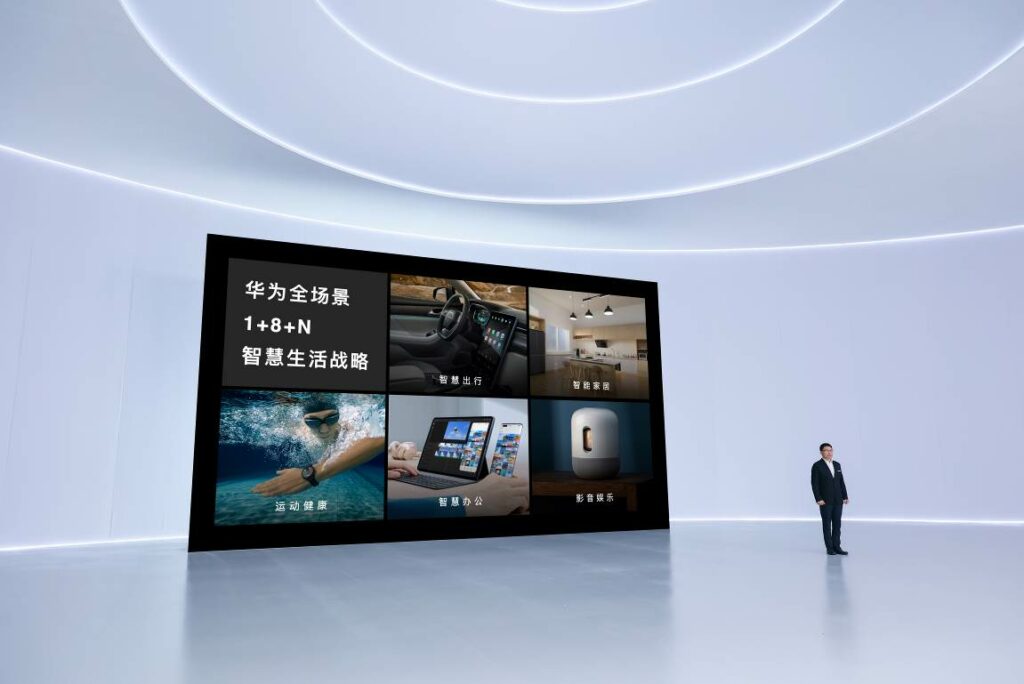 The new HarmonyOS Home Screen is more streamlined and organized than ever. You can swipe up on apps to generate Service Widgets[6] that display real-time, easy-to-access information or services without having to open the app itself. You can customize the size of the Service Widgets, tap apps and swipe up to display their widgets, and tap any vacant location on the home screen to hide them. Service Widgets can also be used to access Atomic Services, which can be easily called on and shared in the Service Center without the need to download or install anything, making it easier and more convenient to access functions like news aggregation[7].
In terms of look-and-feel, the beauty of innovative interaction lies in the aesthetic details: The specially designed HarmonyOS Sans font and natural Gravitational Animations, offer a consistent user experience across all HarmonyOS devices.
HUAWEI HiLink has been upgraded to HarmonyOS Connect to equip more non-Huawei devices with smart features. Smart home devices can be connected to your mobile phone with a single tap
Comprehensive performance gains for more privacy and security
HarmonyOS 2 runs even more smoothly than the last generation of EMUI. A HarmonyOS 2 phone can maintain read/write speeds similar to those of a new phone after 36 months of use, even with very little storage still available on the device.
HarmonyOS 2 keeps opened apps running in the background so that your tasks are always available where you left off. You can return to the last action or page on a given app even if you have dozens of other apps open. For example, if you were on a shopping app looking at a product, then you switched to another app to send your friend a message, and then opened up your browser to search for something else, you can now return to the last page you were browsing on your shopping app without a hitch. What's more, you can enjoy a longer battery life with a HarmonyOS 2-based device. After upgrading to HarmonyOS 2, the HUAWEI Mate 40 Pro can run Game for Peace for 5.1 hours straight[8].
Huawei is committed to protecting user privacy and security. HarmonyOS inherits and further builds on the leading privacy and security technologies found in EMUI. Our core design principle is to ensure that only the right person can access the right data with the right device, ensuring the security of each access to each device, as well as the security of each act of storing, transmitting, and using data across all scenarios. When multi-device collaborative identity authentication is activated, users can only unlock their phones with a combination of facial recognition on their smartphone and a special check that ensures that the user's watch is the one that's connected to the phone.
In addition, HarmonyOS manages user data by category and protects devices by level, setting specific security thresholds for Super Devices. Only devices that meet strict security requirements can access data corresponding to their security level, making sure that users can make use of Multi-device Collaboration features with true peace of mind. HarmonyOS apps go through rigorous testing throughout development, release, installation, and use to ensure they deliver a secure experience in a clean ecosystem.
"We are surrounded by more and more smart devices these days, and are now in a world where all things are connected," said Richard Yu, Executive Director and CEO of Huawei's Consumer Business Group. "Every single one of us is a part of this fully connected world, as is every device. We look forward to working with more partners and developers to build a thriving HarmonyOS ecosystem and provide even better experiences, products, and services to our customers the world over."
For more information please visit: http://consumer.huawei.com