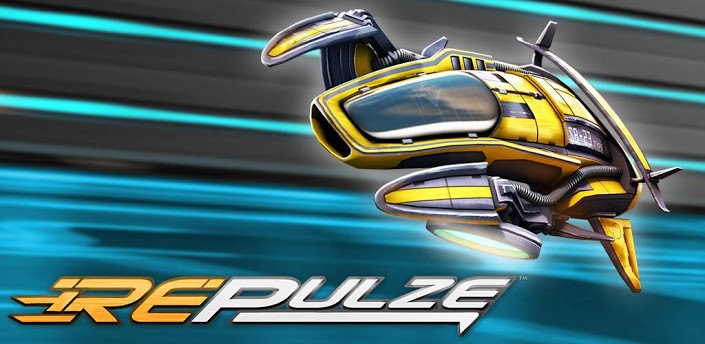 Repulze – Review
I had initial problems installing this game as it wasn't available for my device. I emailed the developers and got a response on the same day saying they will fix the issue. They did a couple of days later, its always good to know when a game as a good set of guys behind them.
When you think of Wipeout what comes to mind hovercraft racers, futuristic circuits, and a pumping soundtrack? Well now you can also be thinking about the new release from the creators of Reckless Racing, Repulze.
Repulze shares many similarities with WipEout, but the major difference is the lack of weapons or combat of any kind. You have to speed through the course picking up boosters.
Hitting your top speed in Repulze is all based around polarity. As you race around, you switch between green and red. Passing through three green gates when you're green will not only increase your momentum but it'll also grant you some speed boost to use, which you can activate by tapping the centre of the screen. But passing through green when your red will have the opposite effect, this time around red isn't always bad.
This makes the race more interesting as you have to constantly switch from red to green otherwise all that hard work will be gone and so to your gained speed. This game is based on speed and not combat so there are no rivals when you're racing. The game is based on getting the best speed and a certain amount of boosters. The time you spend on the track also bags you experience points, which you can use to advance your level and gain access to more vehicles.
The only way to get to the next race is to complete the previous one. Meaning you have to dedicate your time into this, to progress through it. The great soundtrack though makes this a lot easier to do.
Although to look at it, this game seems like a Wipeout ripoff, this is very untrue. The gameplay demands your utmost attention, and the speed of some of the later vehicles is amazing. Its also a great looking game and a pleasure to look at.
Features:
Super-fluid racing action with stunning graphics.
Quick-to-learn touch and tilt controls but challenging to master.
7 hypersonic Repulze hovercraft.
24 gravity defying tracks with lots of different challenges.
Three game phases with varied play:
Energy Gates, Magnets, Shortcuts, Ghosts, A.I. Opponents, Weapons and Combat.
Online Leaderboards using Fuse Connect (same as the Reckless series).
Optimized for Xperia PLAY.
Features optional IAPs for players who want to unlock things faster.
Link for the app is included below: