Review: Verus cases for the HTC M9
The lovely people at Verus have been nice enough to send over a couple of cases to the office to protect the behemoth M9. Though I am using the S6 Edge as my daily driver, the M9 is still a nice phone in its own right and needs protection from drops.
Verus HTC One M9 Case Verge Series
This is the Verge case, which comes in two parts. The first layer is a thin TPU case that secures around your HTC One M9. Then there's a hard case that goes on top of that. It is available in red, dark silver, military green, satin silver, and shine gold. I have to admit I really like the look of the red colour.
The feel in the hand is great as it matches the M9 with a brushed metal look. I found it really comfortable to hold, and not once did it slip out of my hand. There are the obvious cut outs on the back for the camera and the dual-LED flash. As well as two cut outs on the bottom for a micro USB port and a 3.5mm headphone jack. The power button and volume rockers are protected in a easy to click material.
Unlike some cases which take away from the look of the phone, I feel like the Verge could be an official HTC accessorie. It's also thin enough to not add too much bulk to the hand, while not loseing out of protection. Verus is using just the TPU layer at the top and bottom, to allow signal to transmit into your device. That means it won't affect your signal for voice and data, as well as WiFi, Bluetooth, and NFC.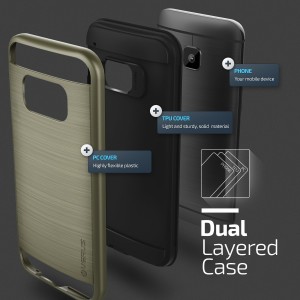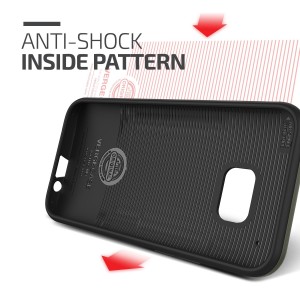 http://veruscase.com/verus-htc-one-m9-case-verge-series.html
Verus HTC One M9 Wallet Case Layered Dandy Series
The Dandy series wallet case is for the sophisticated M9 user. This has a premium feel to it, the red leather with stitching reminds me of those big arm chairs by a fire place. Even the stitching is done to a high grade making it look great. You can store three cards in the case along with money. But you dont have to worry about it opening in your pocket, as Verus has added a strong magnetic latch holding it in place.
Protection is concentrated on the front, back and sides. The top, bottom and buttons are left bare, but if you drop the phone it normally ends up on a corner anyway. It also means ports can be accessed easily and the IR blaster works great.
I did have a couple of issues with the case, though this may be more down to the style of the case. The case flips open and is held back by the magnetic clasp however in this mode you are unable to take pictures with the rear camera, so you have to have the case "half" open. The answering phone calls in this mode causes your cards and cash to be exposed to everyone when talking on the phone.
Overall I would say this is a great case for individuals who travel for their work or those who want a sophisticated look for their phone. It is also a great way to minimize items that you carry with you so if you are going out you can store your id, cash and credit cards along with your phone. I would definitely recommend purchasing this case.
http://veruscase.com/verus-htc-one-m9-wallet-case-layered-dandy-series.html
Check out these cases and more below: