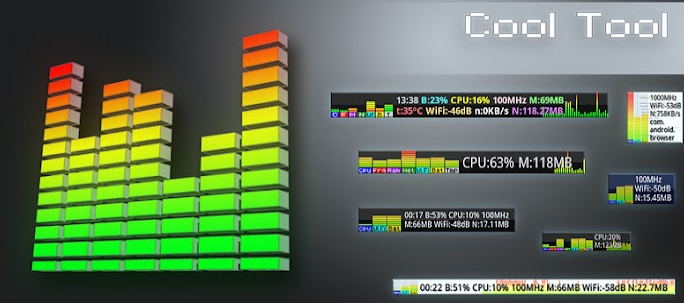 This utility allows you to monitor a various system info in "always on top" floating window (overlay mode).
Available features:
– CPU Usage meter
– Free RAM meter
– CPU Frequency indicator
– 2g/3g/Wi-Fi Traffic meter
– Battery Level
– Battery Temperature
– Battery Current (mA)
– Wi-Fi Signal Level
– Time/Date indicator
– GSM Cell Signal Level (Samsung Galaxy S2 and Galaxy Note are not supported due to firmware bug!)
– Number of fixed GPS satellites
– Most resource-intensive processes
– Task Killer
Also there is nice real time graph on background.
Press Show Panel button to enable dashboard. You can drag floating window over the screen or double tap to open settings.
This application allows you to:
– Easy diagnostic problem processes that consume resources excessively.
– With Cool Tool you can monitor full-screen applications (games, video players, browsers).
– Monitor your Internet traffic without closing the browser window.
– Make your battery level always visible, with accurate percentage scale.
– Monitor how good your CPU governor switches between CPU frequencies in idle/stresses
Options, options with more options.
Basically this Cool Tool lets you add a plethora of graphs, timers , units of measurement, to your status bar so you know exactly your GPU, CPU, battery level, temperature whatever you have set. Highly customisable and themes can be downloaded to add a little extra eye candy. (From The Play Store)
Cons
Can be a bit overwhelming at the start to get your head round. Maybe a basic introduction which is common nowadays?
Can be a bit busy. Not really sure why you'd want so much going on in your status bar, maybe just a few options would do for the average user.
As always we have provided a link HERE for you to have a look yourselves. Enjoy